About Us
Published ten times a year, MedicalLab Management magazine is the peer-to-peer information source for clinical laboratory management. Delivering valuable content in a meaningful way, MLM provides clinical laboratory managers and directors with:
Unbiased articles written by peers
Practical, actionable, real-world examples
Purchasing research
Decision-making processes
New products in the marketplace
Managing Efficient Diagnostic Laboratories And Business Management And Guidance
MEDLABMAG captures the goals and direction of Ridgewood Medical Media in its efforts to provide relevant and useful information to our readers. It is our desire to help bring efficiency, business management skills, and peer-to-peer guidance to medical laboratory administrators in order to improve the value and impact of diagnostic testing.
Recent Popular Articles
Current Issue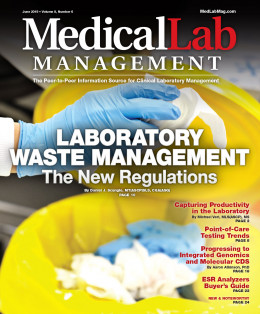 Subscribe to our Email Newsletters!
In The Loop!
Digital Edition
Special Announcements