No Time for Quality? Reasons to Reevaluate and Reinvest in a Lab Quality Program
September-October 2013 - Vol. 2 No. 5
- Page #6
Article Category:
As the quality manager of National Jewish Health Advanced Diagnostic Laboratories, one of 23 College of American Pathologists (CAP) 15189 accredited laboratories worldwide, I am often contacted by leaders from laboratories across the United States inquiring about the quality framework in our lab. They want to know how our complex, highly esoteric laboratory accomplishes its quality goals and how the organization is successful in allocating time for such initiatives. Regardless of the level of certification or accreditation a laboratory holds, quality is an integral part of the services that clinical laboratories provide.
Many of the laboratory quality system components that laboratorians believe are optional best practice guidelines, such as complaint management and the development and ongoing evaluation of quality indicators, are in fact legally required. However, a common complaint is that production demands supersede quality initiatives when it comes to priorities in the lab. While striving to meet production expectations is certainly a necessary element of lab workflow, the overall costs of poor quality negatively affect patient safety, accreditation and regulatory status, reimbursement, and workplace culture, as well as introduce legal ramifications and costs to the laboratory regardless of operational expectations and production demands. Therefore, a robust quality management system should not be viewed as optional; it should be essential to clinical laboratory operations.

Patient Safety and Organizational Culture
Laboratory professionals are entrusted by patients and their providers to perform the testing that will lead to 60-70 percent of all medical decisions.1 If laboratories do not produce reliable and accurate results to enable providers to make appropriate clinical decisions, then operational factors such turnaround time and per-test cost effectiveness become meaningless; each and every specimen we receive belongs to a patient who is counting on us to provide accurate and timely results that will impact their clinical care.

Embedding an emphasis on quality into the fabric of a laboratory's organizational culture can reap many benefits for the overall organization. Employee involvement in quality activities has been tied to increases in employee morale.3 Increased morale fosters increased loyalty, resulting in lower staff turnover rates and minimized recruiting and training costs, which saves the organization money. Because employee engagement and empowerment are important aspects of an effective quality system, employees should feel supported, recognized, and heard by lab management. Engaged employees are more productive, take fewer sick days, project a positive attitude, and are more loyal to the organization. Likewise, broadcasting employee success in quality improvement initiatives instills pride in the effort to gain an exceedingly high level of quality.3 It also solidifies staff presence in the overall achievement of laboratory's strategic goals. Employees working within established quality management systems are more satisfied and motivated once there are defined roles and responsibilities, management accountability, established training procedures, and a well-defined picture of how the roles of the employees affect quality and overall success.4

Another important benefit of embedding quality in an organization's culture is the manner in which a quality mindset can promote a shift away from the traditional blame culture that is still prevalent in many health care institutions and toward a model of systems thinking. Traditional accountability systems in the laboratory have focused on punitive actions when errors occur, as opposed to placing emphasis on learning from those errors and eliminating their root causes.5 Systems thinking, also called systems approach, focuses instead on what failed within the system to allow an error to occur.2 Systems thinking starts with the assumption that all employees want to do their jobs well and allows blame for an adverse event to be placed on failures in the system instead of on individuals. Finding failure in a system instead of an individual removes the emotional aspect of an event and fosters an environment conducive to staff participation in problem resolution.6

Accountability is a concept that many lab leaders wrestle with as they steer toward understanding and accepting the idea of a blameless culture within the context of laboratory errors. Fortunately, Just Culture is a useful framework that can aid in deciphering the complex nature of deciding how best to hold individuals accountable for mistakes in the laboratory and is compatible with systems thinking. It provides a uniform and systematic approach for accountability related to laboratory errors through the use of a classification system including human error, at-risk behavior, and reckless behavior.6 To learn more about Just Culture, refer to www.justculture.org.

Cost of Poor Quality
Maintaining a high level of quality in a clinical laboratory is expensive. Accreditation fees, proficiency testing, quality control, internal auditing, event investigations, collecting quality metrics, and implementing quality improvement initiatives all cost money. However, it is important to assess the potential and real costs associated with poor quality in the laboratory. Poor quality in the lab not only forces an organization into a reactive mode of problem solving, but it also creates a higher cost burden than a laboratory with an effective quality infrastructure experiences. Reruns performed due to quality control failures can significantly increase testing costs and cut into a lab's bottom line. Furthermore, according to a recent study, correction of errors across all phases of laboratory testing can consume 12-35 percent of technician time.7 This equates to approximately 1.0 to 3.0 full time equivalents (FTEs) per 10.0 FTEs employed in the laboratory dedicated solely to correcting errors.

In addition to the extra labor and time necessary to remediate poor quality errors, production is likely to be adversely affected by the costs of poor quality, both tangibly and intangibly. A laboratory can realize tremendous operating cost reductions simply by addressing the root causes of errors in a proactive manner. When calculating the cost of poor quality in the laboratory, it is necessary to look at each error from a strategic, long-range view. The initial costs that are associated with a failure, such as rework and lost income associated with billing for that particular test, are often what first come to mind, but these costs are usually just the tip of the iceberg. In order to get the true picture of the costs of poor quality, it is necessary to consider the full impact of each error, including cost of investigation, report preparation, testing delays, process redesign and implementation, education and retraining, lost business, damage to reputation, and potential litigation that can result.8 It also is critical to understand that not all costs associated with poor quality can be measured in financial terms and attempting to do so can diminish the impact.8 For example, laboratory managers would have a difficult time assessing reputation damage or an increase in turnaround time in financial terms, but these are clearly costs of providing poor quality services.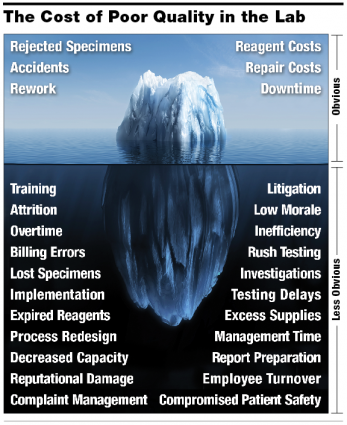 Malpractice and Legal Costs
Costs associated with litigation and malpractice claims resulting from laboratory errors are a subset of the overall cost of poor quality to a laboratory. A study involving more than 300,000 diagnosis-related claims over a 25-year period (1986-2010) demonstrated that diagnostic errors were the leading type of paid claims at 28.6 percent of claims analyzed and represented the highest proportion of total malpractice claim payments at 35.2 percent. The total of diagnosis-related payments over the 25 year period was $38.8 billion (adjusted for inflation).9 Diagnostic errors (which include lab errors) resulted in death more often than other types of allegations in the study and were the leading cause of claims-associated death and disability.9 An article published by the Wall Street Journal in 2006 reported that while malpractice claims for pathology errors are relatively low, they are the second most costly type of error.10 Not only can malpractice claims related to laboratory services be incredibly damaging to a laboratory's reputation, as well as that of its employees, but the impact on an organization's or individual's financial well-being also can be devastating.

Criminal charges are another possibility in these cases. It is important to recognize that these charges involve individuals, such as laboratory directors or staff, and are not filed against the organizations by which they are employed. For example, a person who behaves in a grossly negligent manner that results in the accidental death of another person may be liable for involuntary manslaughter.11 Over the last 20 years, there has been a marked increase in the number of criminal prosecutions related to medical malpractice cases centering on the charge of reckless endangerment of patients. An instance of such a prosecution related to laboratory malpractice includes the no contest plea of Wisconsin medical laboratory officials that resulted in charges of reckless homicide after they misinterpreted cytology tests of two women who later died of cervical cancer.11

Customer Attrition
Measuring customer satisfaction is a requirement of CAP accreditation.12 Customer satisfaction is an important indicator of the effectiveness of a comprehensive quality program and for the last two years, the results of a National Jewish Health Advanced Diagnostic Laboratories customer satisfaction survey have revealed that quality of services is the single most important factor to our customers.13 A different, 2009 study involving 138 laboratories in which over 4000 physician surveys were evaluated supports this conclusion and the category of laboratory services most frequently selected as most important was quality and reliability of results at 31.7 percent of responses.14

A laboratory's client retention rate is a key indicator of quality and customer satisfaction. Since quality is the most important factor for a customer's selection and continued utilization of a laboratory, it follows that any perceived deficiency in the quality of services provided could result in the loss of clients and associated income. Conversely, many customers will actively seek out a laboratory with a formal quality management system.4 Laboratories accredited by the CAP 15189 scheme stand out among the competition when it comes to quality infrastructure.

Trends in Reimbursement
Today, insurance payers are implementing a reimbursement model called pay-for-performance (P4P), or value-based purchasing, designed by the Center for Medicare and Medicaid Services (CMS) in part to improve the effectiveness and safety of patient care.15 Reimbursement for medical services has long been based on a fee-for-service model whereby physicians are reimbursed for the quantity of services performed with little regard to quality, efficiency, or outcomes. Alternatively, the P4P model rewards health care providers for meeting predetermined performance measures. Private payers also have begun implementing P4P reimbursement models, which utilize formulae that incorporate the quality criteria in lieu of quantity of services delivered.16 It has been speculated that clinical laboratory services will be increasingly subject to reimbursement based on the quality of services provided.16, 17

Regulatory Requirements
Quality systems and ongoing assessment across all phases of testing are legally required by federal legislation under the Clinical Laboratory Improvement Amendments (CLIA) for non-waived testing.18 Therefore, laboratory directors are responsible for the overall operation and administration of the laboratory and for assuring compliance with applicable regulations. This includes establishing and maintaining written policies and procedures that implement and monitor a quality system for pre-analytic, analytic, and post-analytic phases, as well as for general laboratory systems [see SIDEBAR]. Each lab is required by this legislation to include a mechanism for quality assessment to help ensure continuous improvement of its performance and services through ongoing monitoring that identifies, evaluates, and provides resolution to identified problems. Quality control, competency assessment, patient confidentiality, complaint investigation, proficiency testing, environmental monitoring, validation, calibration, equipment maintenance, and corrective actions are not only best practices, but they are legally required by federal law.18 The CLIA requirements for quality can be found in the Code of Federal Regulations, Title 42, Part 493 (42 CFR 493).

Accreditation by CAP, through their Laboratory Accreditation Program, also requires each laboratory to have an effective quality program in place. These requirements are outlined in the Laboratory General, Team Leader, All Common, and technical specialty checklists. The Team Leader checklist requires that the laboratory director be actively involved in the design, implementation, and oversight of the lab's quality management activities, including the monitoring of key indicators; investigation of problems, with corrective/preventive action as appropriate; maintenance of patient safety; analytic quality control; and ensuring the quality of tests referred to outside laboratories.19 Other areas the laboratory director has explicit responsibility over include proficiency testing, quality control, laboratory personnel qualification, and the provision of a safe laboratory environment in compliance with OSHA and other applicable regulations, as well as best practice guidelines. Active involvement of the laboratory director in a quality system is legally required, but beyond that, their participation is paramount to ensuring quality patient care and patient safety.20

The Laboratory General checklist details specific components of a quality system that accredited labs are required to implement and maintain as part of a quality management plan, which include evaluation of effectiveness, event management, tracking and analysis of quality indicators, customer satisfaction, document control, specimen and record retention, self-inspection (internal auditing), quality control, and laboratory safety.12 The All Common and specialty checklists outline quality management requirements in relation to the analytic phase, including areas such as proficiency testing, standard operating procedures, critical results, test method validation, and reference intervals.21 CAP checklists can be purchased through www.cap.org either for informational purposes or for accreditation preparation.

Summary
Given the abundance of evidence supporting the active development and implementation of an effective quality program, quality management in the laboratory should not be considered a voluntary activity. The regulatory and financial benefits of good laboratory quality, in addition to its positive impacts on organizational reputation and workplace culture, are all compelling reasons for a laboratory to make the appropriate investment in quality management. Ultimately, the most important priority for any clinical laboratory quality program must be patient safety. Quality programs should be designed to meet all legal requirements, to maximize profit, and to enable strategic goals to be met, but above all they should be designed as safety nets to catch and eliminate errors that could adversely affect patients.
---

Jennifer Dawson, MHA, DLM(ASCP)SLS, QIHC, is the manager of quality management for National Jewish Health Advanced Diagnostic Laboratories. She is responsible for overseeing regulatory affairs and the quality management system for all lab services, including phlebotomy, pre-analytical, client services, microbiology, immunology, complement, molecular, mycobacteriology, microbiology, pharmacokinetics, histology, and point-of-care testing. Jennifer successfully led the laboratory through CAP 15189 surveillance in March 2013. Her areas of interest include quality management in the pre-analytical phase and development of quality metrics across all phases of laboratory testing.

References
Forsman RW. Why is the laboratory an afterthought for managed care organizations? Clin Chem 1996;42(5):813-6.
Valenstein P (ed). Quality Management in Clinical Laboratories: Promoting Patient Safety Through Risk Reduction and Continuous Improvement. Northfield, Illinois: College of American Pathologists; 2005.
Astion M, Messinger B, Ahlin P, et al. Patient Safety Focus: Collected Wisdom on Patient Safety. Clin Lab News. July, 2010; 36(7).
Let's not forget the benefits of ISO 9001. 9000 Resource: Plan Do Check Act website. http://9000resource.com/index.php/lets-not-forget-the-benefits-of-iso-9001/ Accessed September 3, 2013.
Morris S. Just Culture-Changing the Environment of Healthcare Delivery. Clin Lab Sci. 2011 Spring;24(2):120-4.
Marx D. Patient Safety and the "Just Culture": A Primer for Health Care Executives. New York: Trustees of Columbia University; 2001. Available at: http://www.psnet.ahrq.gov/resource.aspx?resourceID=1582.
Koppal T. Ask The Expert: Trends in Laboratory QA/QC. Lab Manager Magazine. March 2012; 7(2): 50.
Noble M. Calculating the Costs of Poor Quality in the Medical Laboratory. Presented at the inaugural Canadian Quality Congress, Seminar on Medical Laboratory Quality Management. August 20, 2009.
Saber-Tehrani AS, Lee HW, Mathews SC, et al. 25-Year summary of US malpractice claims for diagnostic errors 1986–2010: An analysis from the National Practitioner Data Bank. BMJ Qual Saf. 2013;22:672-80.
Landro L. Hospitals Move to Cut Dangerous Lab Errors. Wall Street Journal. June 14, 2006:D1.
Eisenberg RL, Berlin L. When does malpractice become manslaughter? AM J Roentgenol. 2002;179(2): 331-5.
Laboratory General Checklist. College of American Pathologists. January 2012.
National Jewish Health Advanced Diagnostic Laboratories. 2012 and 2013 Client Satisfaction Survey Data.
Jones BA, Bekeris LG, Nakleh RE, et al. Physician satisfaction with clinical laboratory services: a College of American Pathologists Q-probes study of 138 institutions. Arch Pathol Lab Med. 2009 Jan;133(1):38-43.
American Medical Association. Principles for Pay-for-Performance Programs. Available at: http://www.ama-assn.org.
McLeod P. WellPoint's New Pay-for-Performance Program to Pay Hospitals More for Meeting Quality Measures. Dark Daily website. www.darkdaily.com. November 4, 2011.
Herriman L. Creating a Value-Driven Laboratory: Opportunities in the New Marketplace. G2 Intelligence webside. www.G2intelligence.com. Accessed September 3,2013.
Department of Health and Human Services, Centers for Medicare and Medicaid Services. Clinical laboratory improvement amendments of 1988; final rule. Fed Register. 1992(Feb 28):7173 [42CFR493.1407(e)(5-6), 7176 [42CFR493.1445(e)(5,13)].
Team Leader Checklist. College of American Pathologists. January 2012.
Williams RB. Quality Management: Lab Director's Role. College of American Pathologists presentation. May 16, 2007. http://www.cap.org/apps/docs/education/lapaudio/pdf/051607_presentation.pdfAccessed September 3, 2013.
All Common Checklist. College of American Pathologists. January 2012.
---
CAP 15189 – A Quality Management Program

CAP 15189 accreditation is based on the International Organization for Standardization's (ISO) 15189 standard for technical competence and quality management in medical laboratories. This program seeks to improve patient safety and reduce risk by outlining standards for best practice in lab quality and competence. CAP 15189 is a voluntary, non-regulatory accreditation that does not replace a laboratory's CAP accreditation through their Laboratory Accreditation Program or the federal Clinical Laboratory Improvement Amendments (CLIA) certification. Rather, CAP 15189 compliments CAP accreditation and laboratory quality management systems.


---
SIDEBAR
Areas of Risk to Patient Safety
Areas of laboratory testing that could potentially compromise patient safety include pre-analytic, analytic, and post-analytic operations, in addition to general operations that span the Total Testing Process (TTP). The following are examples of operations in each testing phase that pose a threat to patient safety if not managed appropriately:

Pre-analytic
Patient and specimen ID
Test order accuracy
Order transmission
Specimen collection
Specimen handling
Data entry
Analytic
Establishment of reference ranges
Introduction and validation of new tests
Quality control
Reference lab qualification
Post-analytic
Reporting of routine and STAT tests
Critical results reporting
Error correction
Result interpretation
Administration of blood products
TTP
Personnel training and competency
Turnaround time
Information management
Inattention to quality in any of these stages can lead to devastating patient safety related events.1 Therefore, defined laboratory processes that lend themselves to managing through a quality program include those that are measurable, prone to variation, actionable and linked to patient or customer needs such as those with great clinical importance.2
Like what you've read? Please log in or create a free account to enjoy more of what www.medlabmag.com has to offer.
Current Issue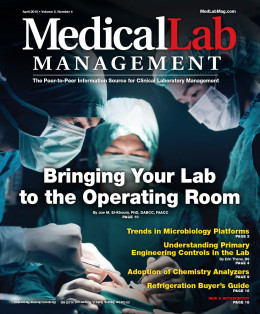 Subscribe to our Email Newsletters!
In The Loop!
Digital Edition
Special Announcements