Clinical Chemistry Automation: Vendor Proposals
July-August 2014 - Vol. 3 No. 4
- Page #8
Article Categories:
There are few technology-centric projects in the clinical laboratory as time consuming, complex, and convoluted as the replacement of clinical chemistry instrumentation and automation. In general, such a project requires multiple stages, each with its own list of steps and goals. However, as with any initiative of this type and magnitude, forging a strong and well-thought-out foundation is essential for overall project success. Prudence dictates that the process for acquiring a device that often represents the most significant financial investment a laboratory can make in testing systems (as well as the greatest impact on test menu and overall operations) requires a plan that guides the following concepts in order:
Selection of vendors
Field evaluation of technical performance
Extensive and detailed criteria for systems evaluation
Review of vendor proposals
Negotiation of contract terms
Implementation planning and project execution
Staff training
Optimally, laboratory managers and administrators should be responsible for creating and managing the majority of the elements of this plan with support from the purchasing and legal departments. At Virtua Health (Virtua), a comprehensive health care system comprising four hospitals and a range of ancillary services serving southern New Jersey, the aforementioned methodology framed the approach taken by our laboratory services department during an 18-month project designed to upgrade our chemistry automation at two hospital labs, and to acquire appropriately sized analyzers at two other hospital labs and one free-standing, emergency-department-based lab. The current configuration consists of eight analyzers and two robotic automation units producing 4.2 million individual analyte results per year. In order to reach this operational state, we employed a request for proposal (RFP) process to manage this upgrade and replacement project.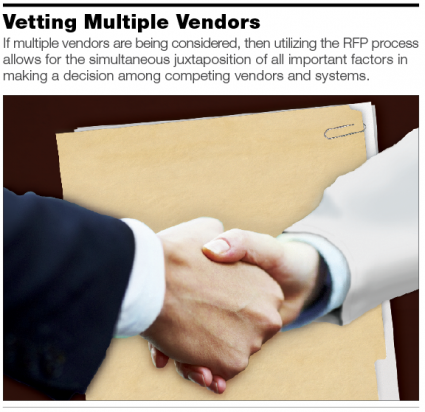 Rationale for Upgrade or Replacement
The sophistication of technology utilized in clinical chemistry has undergone progressive development throughout the last few decades. Aside from the expanded test menus and upscaling of instruments to match various sized clinical labs, automation and middleware also have evolved and become adaptable to labs of varying complexity. At Virtua, the main factors driving our desire to both upgrade and replace our previous chemistry analyzation technology were the projected advantages derived from employing middleware, such as more robust rules-based logic for autoverification, and to ensure that our testing systems would provide superior quality in terms of methodologies, testing consumables, equipment reliability, and vendor support.

An additional driver was the need for a system that would support staff restructuring by being less dependent upon multiple technologists for operation. Finally, like most other hospital-based laboratories in today's health care reform environment, we are tasked with curtailing and managing our expenses to a much greater degree than I have observed at any time in the past. Thus, the project's cost stability and predictability also were important factors in the acquisition process.

Determining the Appropriate RFP Process
When vetting the initial stages of a proposed change in chemistry analyzer use, if a lab intends to renew its contract with an existing vendor, an RFP is probably not necessary, as any negotiation over terms would be restricted to that single vendor. However, if multiple vendors are being considered, then utilizing the RFP process allows for the simultaneous juxtaposition of all important factors in making a decision among competing vendors and systems. The RFP model employed in our organization uses a basic template to cover the organization's desired contracting terms and conditions (activities solely controlled by materials management and legal administrators), yet must be customized to the specific acquisition in question. In this case of acquiring new and upgraded chemistry analyzers, the most important custom components contributed by lab management included an addendum that requested specific operating and physical specifications to be provided by each vendor under consideration, as well as a summary of information gathered during site evaluations of existing customers of the specific vendors.

Keep in mind, not all lab administrators have the ability to employ the RFP process in their contracting activities. For those organizations where limitations are placed upon operating departments, such as mandates for contracting with sole or dual source vendors through GPO membership, the RFP may not be practical or necessary. That being said, facilities that employ the RFP process should consider certain essential elements.

The RFP Template
The RFP template should be readily available from the materials management (purchasing) department or from the legal department. This template should provide general information about the organization, describe its contracting policy, detail its supply chain model, provide the direction and policy for the bidding process, and list any other contract requirements, terms, and conditions. Many of the contract requirements may be described in greater detail in the addendum.

The RFP Addendum
The laboratory-provided addendum serves multiple purposes and highlights factors that are both informational and critical to you as a customer. It provides structure for the alignment of responses from each vendor for comparative purposes and it allows for the creation of a scoring matrix to serve as a decision-making tool for each factor or issue. In our experience, the use of a computerized spreadsheet most easily facilitates these uses. Examples of the kinds of issues that can be captured in the addendum are:
Physical Considerations: The development of a system footprint via computer-aided design (CAD) to assess projected space modifications, power and water requirements, waste capture, compressor requirements, and ergonomic issues
Methodologies: Establish operational characteristics, including history capture (proficiency testing) and turnaround time (TAT) for specific assays such as troponin, intraoperative parathyroid hormone (PTH) monitoring, and lactate
Maintenance Burden: Determine scope of (ie, daily, weekly, monthly, etc) and address preventive maintenance incidents and response mechanisms
Middleware Evaluation: Will this be self-driven or be based on packaged rules? Interface implications also must be addressed (ie, are LIS interface costs covered?)
Other Covered Costs: What factors, such as necessary water systems, employee training, freight (both instruments and reagents), and physical installation and movement of equipment will be included?
Non-covered Costs: Are there any hidden costs?
Implementation Plan and Timeline: Gain commitment on the level of ongoing vendor support and evaluate the timeline for realistic goals
Service Quality and History: Validate all claims made through consultations and site visits to existing customers
Recall History: At a minimum, review the FDA website and perform basic Internet searches for any recalls or other publicized quality issues. Keep in mind, all vendors have likely enacted recalls of some magnitude, but not all recalls are created equally. A pure number does not tell the whole story, so be sure to perform due diligence in this area
Failure-to-Perform Clause: Establish and detail what would happen if the system or reagents do not perform to specifications and determine whether options are available to customers for interim recovery measures
Other RFP Considerations
Logistical Requirements
Depending on a facility's required testing volume, chemistry analyzers can vary significantly in both size and weight; for those seeking a high-throughput device, the physical space and logistical engineering requirements can be substantial. Therefore, it is commonly necessary for departments outside the lab to provide input into the implementation process. Plant operations or facility engineering likely will need to be consulted to determine the proper physical space, electrical needs, and compatible cooling and compressor mechanisms, as well as help resolve any waste generation issues. Likewise, the information technology (IT) department will surely need to evaluate the acceptability of any and all software attendant to the proposed systems, as well as their relative vulnerability to unauthorized access. Today, almost every operation performed in the laboratory that involves testing systems also is an IT project.

Of note, workflow analysis is now a service offered by most bidding vendors. Regardless of whether the lab is fully vested in Lean or Six Sigma methodologies, it is wise to take advantage of this value-added service. Do not take it at face value, though; be sure to validate all vendor claims with your own comparative analysis.

Vendor Bidding
The final result of the RFP process should elicit the vendors under consideration to provide a sealed bid and response by a specified date, and the purchasing department should manage the receipt of all responses. Receipt date should be recorded and all bids should be opened simultaneously with that date also recorded. This activity should be coordinated with representatives of all key stakeholders and decision makers to begin the review and evaluation of bids.

The Project Team
As a laboratory manager, it is customary to lead and direct subordinate staff, but projects of this magnitude should never be shouldered by a single decision maker. Thus, a team approach is preferable in terms of ensuring the engagement of key stakeholders. In our case, in addition to myself, the project team comprised all site-based operations directors, the primary chemistry manager, chemistry lead techs, chemistry staff techs, the LIS manager, the pathology medical director, and our primary purchasing agent.

Resolving Step One: The RFP
After weeks of internal review, vendor clarifications, scoring of key factors, and evaluation of projected financial impact and ongoing costs, our team settled on a ranking of the top three vendors that responded to our RFP. In most cases, the competing vendors fulfilled our expectations. However, we were surprised and quite disappointed by the responses we received in some specific areas. At this juncture, we are unable to divulge specific details about these areas, but suffice it to say that every project of this type is likely to have some unanticipated outcomes. To wit, a certain level of preparation for disappointment is necessary to remain realistic about the ultimate success of the project.

With voluminous binders of information in hand, one may be tempted to feel that the job is almost over. However, the RFP process is just the first step in a complex process. After struggling through the establishment and customization of the RFP, vetting all the responses, and settling on a single preferred vendor, the second step is the final contracting phase, which will be discussed in a future article. In the meantime, do not neglect a final important step—this is a valuable mechanism for teaching and mentoring others on the laboratory's pathway to leadership through the management of future projects they may be assisting on or leading. A laboratory administrator's lasting legacy should represent much more than the technology introduced into the lab. The greatest value in these processes is in providing, by example, a thoughtful and codified management pathway to follow.
---

Robert Neri, DLM(ASCP)PACM, FACHE, is the assistant vice president of laboratory operations at Virtua Health in Voorhees, New Jersey, where he is responsible for strategic planning and all lab operations across a multi-hospital health care system. Bob earned a BS in biology from the University of Connecticut, a master of health sciences degree from Quinnipiac University, and a master of business administration with a focus on health care administration from St. Joseph's University. Previous positions have included operations director for Main Line Clinical Labs in Radnor, Pennsylvania, and director of diagnostic services at Montgomery Hospital in Norristown, Pennsylvania. Bob also is former executive vice president of the Clinical Lab Management Association (CLMA).
Like what you've read? Please log in or create a free account to enjoy more of what www.medlabmag.com has to offer.
Current Issue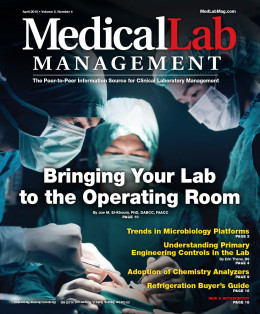 Subscribe to our Email Newsletters!
In The Loop!
Digital Edition
Special Announcements