Expanding the Molecular Laboratory
January-February 2015 - Vol. 4 No. 1
- Page #6
Article Category:
Impact on Patient Quality Experience
The decision to bring new polymerase chain reaction (PCR)-based assays in house has not always been an easy one. Instituting regulatory-based quality-assurance guidelines for new tests and instrumentation can significantly delay implementation timelines. However, in-house, rapid, real-time PCR testing can provide clear clinical benefits compared with older testing methods, not the least of which are improved turnaround times (TATs) and increased specificity and sensitivity. On the flipside, when bringing PCR assays in-house, it is important to consider the cost-per-test, which is higher in comparison to culture or ELISA methods, and the lab usually absorbs this cost. Furthermore, there is a risk for cross-contamination of the amplified DNA material.

Although the emergence and understanding of PCR-based assays and attendant advantages appeared to outweigh the disadvantages, many labs still hesitated to bring PCR testing in-house until 2012, when everything changed. At that time, a number of rapid, real-time PCR instruments became available, creating healthy competition and making acquisition of these instruments more affordable. As a result, labs that previously sent out PCR tests began to acquire some of the smaller platforms that proved advantageous. As adoption of this technology accelerated, the laboratories of Virtua Health System—a comprehensive health care system consisting of four hospitals serving southern New Jersey—became willing participants.

Expansion of PCR Testing at Virtua
Virtua's Microbiology and Molecular Diagnostics department provides testing for all Virtua facilities at a consolidated laboratory site within the hospital, which is located in Voorhees, New Jersey. Staffed with approximately 15.5 dedicated FTEs, this consolidated lab performs comprehensive microbiology services, including bacteriology, serology, virology, parasitology, mycology, and limited mycobacteriology.

The lab's initial foray into molecular testing began in 2006. By 2011, molecular services included testing platforms for Neisseria gonorrhoeae and Chlamydia trachomatis; for methicillin-resistant Staphylococcus aureus (MRSA) and Clostridium difficile; and for detecting cystic fibrosis gene mutations. Simultaneously, the microbiology lab continued to perform a variety of immunoassays for viral and bacterial antigens, including respiratory syncytial virus (RSV), influenza, rotavirus, mycoplasma, Lyme, measles, varicella, and campylobacter. By employing new automation, such as an automated specimen processor, for traditionally manual processes, such as plating, the department was able to dedicate a few FTEs to permanently staff these new molecular services.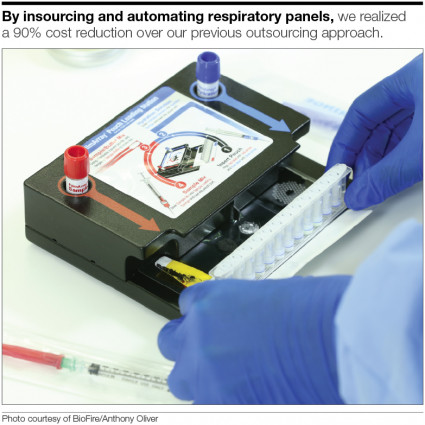 Improvements in Quality
The immunoassays we formerly utilized to detect viral infections, such as influenza A/B and H1N1, had limited sensitivity. As a result, our infection control physicians had little confidence in the results of our rapid influenza test, especially for the population of pediatric patients we serve.

In December 2012, at the inception of a significant, statewide influenza surge, a vendor obtained FDA clearance for a respiratory panel and launched an automated instrument with the ability to detect a panel of 17 viruses and three bacterial pathogens. Our microbiology and molecular lab selected this technology as its method of choice for respiratory testing of our pediatric patients. Prior to bringing this instrument on board, we sent respiratory panels to a local reference lab at very high cost. In-sourcing this test panel reduced our expenses by more than 90%, while reducing TAT from 48-72 hours to less than two hours from specimen receipt in the lab to test. Bringing this assay in-house not only enabled us to quickly and accurately assist in the diagnosis of respiratory disease, it also reduced pediatric lengths of stay.

Thus far, we have found any difficulties in validating the multiplex PCR assay to be minimal, and our lab staff quickly assimilated the technology due to its ease of use. The instrument utilizes only a small sample volume to produce a multitude of test results, which is a valuable feature, particularly when working with pediatric samples. Currently, we anticipate FDA approval and release of additional pathogen panels to expand our molecular service line.

Additional Test Panels Speed Results
The introduction of this multiplex infectious disease platform was followed quickly in the marketplace by competing multiplex assays. Virtua has been using two such multiplex infectious disease platforms since 2014. In addition to Group B streptococcus, MRSA, methocyllin-sensitive S. aureus (MSSA), and C. difficile, an enteric bacterial panel was launched recently to detect Salmonella spp., Campylobacter spp. (jejuni/coli), Shigellosis disease-causing agents (Shigella spp. and enteroinvasive Enterococcus coli [EIEC]), as well as Shiga toxin-producing E. coli.

Such testing provides tremendous advantages. Current stool culture-based testing for enteric pathogens is complex, time consuming, and may yield false-negative results from non-viable pathogens. Immunoassay methods are available for some, but not all, of the major bacterial pathogens, meaning that culture-based testing is still needed. The majority (>90%) of cultures are negative and usually require at least two to three days before results are reported. Furthermore, the manual process of culturing requires stringent care during pre-analytic, analytic, and post-analytic procedural steps. Ultimately, bacterial culture, and the more traditional ELISA, antigen, and serological testing in microbiology, make troubleshooting and root cause analysis difficult. These tests have few internal controls to guide breakdowns in processes or to detect technical errors. Resolving result errors often requires returning to the original specimen and repeating sample processing, which, in turn, delays results.

QA and QC in Molecular Testing
Quality assurance (QA) and quality control (QC) are common terms in all clinical laboratory disciplines, but it is important to remain cognizant of these governing concepts, regardless of the technology employed. QA is the practice that encompasses all procedures and activities directed toward ensuring that a specified quality of product is achieved and maintained, whereas QC is a set of procedures designed to monitor a test method and its results to ensure appropriate test system performance. Simply, these terms define the processes that labs establish to assure reliable test results, even (or especially) with the use of technology and automation. Despite manufacturers establishing on-board, built-in controls and system checks, regulations, such as CLIA '88, reaffirmed that two levels of QC per test, per day, are required for all labs performing clinical testing. Likewise, accrediting agencies, including the College of American Pathologists (CAP) and the Joint Commission, advocate the practices set in place by CLIA '88 and consider the lack of daily QC or failed QC to be in conflict with patient safety goals. Both agencies mandate that laboratories implement QA of test results during pre-analytic, analytic, and post-analytic processes.

In molecular diagnostics, these regulations are used in most clinical laboratories to ensure the quality of test results by mandating verification of the patient sample during pre-analytic processes. Traditional QA dictates the assignment of two points of patient identifiers on all test devices and sample aliquot containers. Most molecular instrument software has built-in QA capabilities by equipping the instrument with a bar-code scanner and the test devices with a bar code in order to automatically link the patient sample to the testing device. This process removes the human error associated with manual data entry, which, traditionally, has been a leading cause of labs reporting incorrect patient results.

After the analytic phase, the software for the test device uploads the results directly from the instrument and populates the patient result fields. The test operator reviews the post-analytic results before they are verified and sent to our reporting systems. Despite built-in QC and external positive and negative controls run with each batch of molecular tests, systemic factors remain that may account for test failure.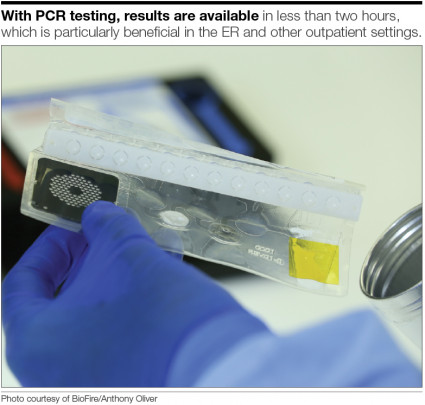 Addressing Potential Quality Error Points
As with other diagnostic methods, molecular testing is susceptible to external technical and environmental conditions. In the past, most molecular testing devices required multiple procedural steps for sample preparation, including adding reagents and transferring the sample to the test device. These processes allowed for technical failures in pipetting, temperature monitoring, and reagent storage. Additionally, random errors caused by interfering substances or bubbles in the test device can account for any number of failed test runs.

To help bolster QA and QC activities, the molecular laboratory should routinely perform a root cause analysis of failed assays to detect any systemic and random errors. This assists in ensuring technical staff competency, while also ensuring that the instrument is operating within established specifications. The first step is to confirm sample identification by visually comparing the original container to any aliquot label on the test device. Next, QC results and temperature and humidity logs should be reviewed. Actual operator competency can be verified by having a second operator run the assay and compare the results. If variation in test results occurs, a known CAP or American Proficiency Institute (API) analyte is used to assess competency. Keep in mind, during the root cause analysis, the operator should be directly observed during all pre-analytic, analytic, and post-analytic processes. Finally, if no known cause for continued failures is found, the instrument should be removed from service and the manufacturer should be notified.

Current molecular systems are fully automated, so using the standard daily two levels of control may seem excessive; nonetheless, ensuring patient safety is paramount. Most ELISAs, immunoassays, and antigen tests are only semi-automated and utilize more manual methodology, so two levels of daily QC are essential. In general, removing manual sample pipetting and assigning bar codes to samples and testing devices can significantly hone accuracy during the pre-analytic and analytic stages where transfer and testing is performed. Furthermore, post-analytic sample results can be uploaded directly from the bar-coded testing device, which then links the final output to the initial patient sample. These automated processes help to bring peace of mind to QA and QC activities in the molecular lab.

Anticipating New Methods
We are currently awaiting the launch of an additional enteric parasite panel for detection of Giardia lamblia, Cryptosporidium (parvum and hominis), and Entamoeba histolytica, the three parasitic pathogens most commonly identified in the lab. The current method of manual trichrome staining and subjective review of the stained slide is time consuming, and the low frequency of positive smears creates technical proficiency issues and added staff stress. As a result, regulatory agencies demand biannual proficiency testing for staff to keep them up-to-date with new or unusual pathogens and to assess and maintain competencies. The new enteric PCR multiplex assay would remove the subjectivity of technician smear review, improve TAT, and decrease hands-on time, freeing technicians to perform other tasks in the lab. We anticipate that the stool culture bench will become obsolete as labs acquire PCR testing to detect stool pathogens. The sensitivity and specificity of PCR enteric assays will allow accurate diagnosis of gastroenterologic illnesses and eliminate, or reduce significantly, the need for repeat testing.

In addition, a new PCR assay for influenza was a welcome replacement in labs that test for influenza A, B, and H1N1 using an immunoassay. We implemented this influenza PCR multiplex assay in 2013 because the assay promised to increase accuracy and sensitivity and because it aligned more closely with clinical signs and symptoms. Prior to using this platform, we relied on a tried and true immunoassay for influenza testing, which did not correlate well with patient signs and symptoms. In addition, the timing of respiratory sampling for influenza immunoassay testing in the emergency department often occurs well after the onset of symptoms, which is too late to maximize influenza immunoassay testing sensitivity. PCR testing eliminates this timing issue.

MTB Testing
Today's PCR assays also hold promise for improving diagnostic outcomes in patients with Mycobacterium tuberculosis (MTB). Currently, our laboratory provides limited smear-only results to clinicians and sends out all positive liquid samples detected by our mycobacterial growth indicator tube system or Lowenstein-Jensen medium slants to our reference lab for identification and susceptibility testing. Conventional diagnosis of drug-resistant TB relies on mycobacterial culture growth and a subsequent drug susceptibility panel; this prolonged process usually delays treatment and negatively impacts length of stay and infection control practices. The PCR assays now available simultaneously detect the presence of TB and identify strains resistant to rifampin.

Future of Molecular Testing
Many late adopters still insist that the cost of PCR testing is a deterrent to acquisition. This is understandable, as laboratory-testing reimbursement remains in flux. It is sometimes difficult to reconcile the long-term benefits of PCR testing with immediate budgetary considerations. Our laboratory implemented PCR testing because it provided a shorter TAT than that provided by culture, it allowed us to remove multiple peripheral instruments and biochemical regents, and it freed technicians to perform other conventional testing. However, PCR testing is not a panacea and the quality issues must be considered. Failed test runs are a matter of concern when amplified DNA material creates cross-contamination from test cartridges or test strips that are handled improperly.

Fortunately, environmental contamination is less of a concern now that many platforms have eliminated open test devices. Still, a biosafety cabinet is required for the initial sample inoculation inside the test device. Furthermore, validation requirements are based on traditional regulations, and our labs found comparing ELISA to PCR to be problematic. To accumulate samples for validation, long-term sample storage had to be available. In addition, freeze-thaw cycles are different for both methodologies, and results often are uncorrelated because sensitivities and specificities differ between the methods. Additionally, Clinical Laboratory Standards Institute (CLSI) documents are not readily available for laboratories adopting new molecular test procedures. To facilitate this process, labs should ask their vendor representatives for existing customer references. As a lab director, it is wise to reach out to existing customers who may readily share fresh validation samples and provide procedural and validation guidelines.

Conclusion
The Virtua molecular lab has seen continued improvements since implementing PCR testing. Among them are the elimination of pipetting, the adoption of temperature-specific procedural steps, reduced hands-on time for technicians, minimization of peripheral instruments to monitor, and reduced TAT. These advantages lead to improved detection of pathogens, compared with conventional methods. As hospitals are continually striving to reduce hospital-acquired infections that go unreimbursed by payers, infection control efforts rely heavily on accurate test results from molecular and microbiology laboratories. In addition, accurate detection impacts length of stay and reimbursement based on nationwide infection rates. Virtua laboratories continue to strive to create a continuum of care that assists clinicians in the accurate and timely diagnosis of diseases.
The future of molecular platforms and test menus promises continued rapid expansion as culture-based testing is at least partially replaced by rapid, real-time PCR. Many still justifiably argue that the culture remains a better diagnostic methodology because it quantifies organisms and alerts clinicians of failed antimicrobial therapy. The need for culture-based testing will, therefore, continue, but PCR testing can help to promote more efficient use of resources and improve patient outcomes.
---

Marcia Pindling-Watkins, MS, MT, M(ASCP), has been the corporate manager of the Microbiology and Molecular Diagnostics laboratory at Virtua Health in Voorhees, New Jersey, since 2006. Prior, she was the Microbiology/Molecular laboratory manager at Mercy Health System in Darby, Pennsylvania. Marcia received her medical technology and pre-medicine degree from York College and her masters degree in pharmacy and allied health management and education from St. John's University. She is pursuing a doctoral degree at Drew University and was the coeditor for the May 2014 Clinical and Laboratory Science Institute Guidelines: Protecting Laboratory Workers from Occupationally Acquired Infections.

Robert Neri, DLM(ASCP)PACM, FACHE, is assistant vice president of laboratory operations at Virtua Health in Voorhees, New Jersey, where he is responsible for strategic planning and all lab operations across a multi-hospital health care system. Bob earned a BS in biology from the University of Connecticut, a master of health sciences degree from Quinnipiac University, and a master of business administration with a focus on health care administration from Saint Joseph's University. Previous positions have included operations director for Main Line Clinical Labs in Radnor, Pennsylvania, and director of diagnostic services at Montgomery Hospital in Norristown, Pennsylvania. Bob also is former executive vice president of the Clinical Lab Management Association (CLMA).
Like what you've read? Please log in or create a free account to enjoy more of what www.medlabmag.com has to offer.
Current Issue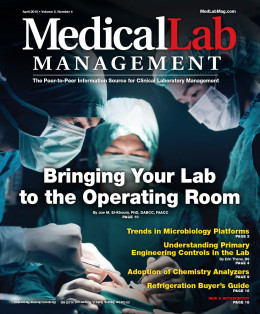 Subscribe to our Email Newsletters!
In The Loop!
Digital Edition
Special Announcements