Test Utilization in Pain Management
April 2016 - Vol. 5 No. 3
- Page #10
Article Categories:
The goal of significant financial gains is not typically what attracts individuals into the practice of laboratory medicine. Rather, an interest in the medical field and a desire to be involved in the continuum of patient care is what draws highly capable individuals to become laboratory technicians, technologists, physicians, managers, and directors. Despite the noble intentions of the majority of lab practitioners, certain areas of laboratory practice (as with several other areas of medical practice) have inherently greater risk for abuse. Within the practice of laboratory pain management, laboratories are in a position to provide great benefit to patients and physicians alike by helping to ensure only the proper number and frequency of tests are performed. Through these efforts, we can maximize the utility of laboratory services while avoiding the potential for abuse.
The ever-changing landscape of testing reimbursement codes most often associated with pain management is spurred by evolving technology. It is rather easy to design a drug panel to be qualitative, quantitative, definitive, or presumptive depending upon a combination of codes that are most profitable. Fortunately, the vast majority of pain management laboratorians place patient care over profits. In order to continue striving for practice excellence in laboratory pain management, it is important to explore the complexities of test design in this setting while determining how best to balance test utilization, patient care, and the need to be mindful of costs in this contentious area.
Reimbursement: The Elephant in the Room
Despite its controversial nature, understanding the impact of and managing reimbursement is a necessary component of comprehensive pain management test design. That said, placing too much emphasis on this area during test design can skew the goal of proper utilization. For some pain-management-focused laboratories, the apparent profits associated with code stacking of inferior drug screening assays directly inhibit the ability to provide better testing by other methods.
While it is possible to argue that a fixation on reimbursement is necessary, proper pain management testing utilization does not begin with a discussion of reimbursement, although it should be acknowledged. Reimbursement codes will continue to change and our workflow and test design will require flexibility to evolve alongside. A careful study of how reimbursement changes and technological improvements have impacted clinical toxicology reveals the simple truth that a well-designed test today is not likely to prevail well into the future.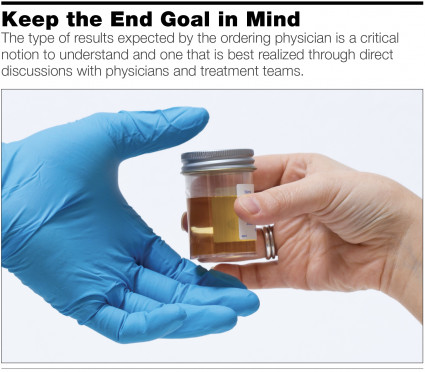 Pain Management Test Design
In order to overcome potential pitfalls in pain management test design, it is necessary to start from the beginning and design an offering for pain management compliance testing with a focus on proper utilization. Factors worth considering include patient demographics, test complexity, available technology, and (begrudgingly) reimbursement. The goal is to provide a real-life scenario for test design that will help illustrate the challenges and the immense responsibility that is placed in the hands of the clinical laboratory. By first obtaining a comprehensive understanding of the patient population served and the physician groups that will interpret the results, the lab is able to gain necessary perspective on how to properly design the test. Initial queries must be addressed including the priority of turnaround time and absolute specificity, and the influence of cost as a driving factor.
Stratify Risk Among Patients
Patient demographics are a key focus in the practice of clinical toxicology and it is vitally important to understand the goal of testing in pain management. The primary use and benefit of laboratory testing to pain management is to minimize risk while maximizing patient benefit—a process with strict parameters, which are an utmost necessity given ongoing concern and debate over opioid use and abuse. In order to minimize abuse risk, adherence to prescribed medication regimens is required, as is the detection of drug use inconsistent with what is prescribed.
Stratification of patients into varying levels of risk allows for the application of guidance on the frequency of compliance monitoring. Although no universal guidance exists, it is not uncommon for patients considered low-risk to be tested once or twice per year, while high-risk patients are tested more frequently, if not during each physician visit. The need for a wide range of risk stratification elucidates the idea that a one-size-fits-all test is not likely to be successful in providing proper utilization. Taking this into consideration, it becomes clear that in the design of test offering, it is necessary to incorporate multiple strategies.
Support Test Interpretation
Any overall pain management test utilization program must take into account the wide array of expertise of those who will be viewing the results. Some will likely have extensive training in the area of pain management and will clearly understand the sometimes-complicated aspect of drug metabolism and its effects on test interpretation. Others may operate with some understanding of trade names but have less experience in recognizing complicated metabolism patterns. Although it is unrealistic that a lab could provide a single test that would render a result matched to all levels of physician expertise, it is possible to institute a system by which laboratorians with expertise in pain management are able to provide support to ordering physicians. From seasoned bench technologists to board certified toxicologists, a trained and experienced pair of eyes reviewing and providing test interpretations is invaluable and often outshines the most sophisticated computer algorithm. Although usually only a phone call away, the laboratory is not contacted as often as it could be for many reasons, including time constraints of busy physicians and treatment teams.
If in-house expertise is available and time requirements are not prohibitive, the lab may be able to offer two versions of its testing—the first would provide results only, while the second would provide results and an interpretation (if medication information is submitted). The argument for providing two options is that for those physicians that do not require an interpretation, the added costs associated with interpretation would be misappropriated. In this scenario, the laboratory could operate seamlessly between the two tests since the analytical portions would be identical. Once laboratory results are finalized, interpretations can be applied to those where support is required.
Producing Proper Results
The type of results expected by the ordering physician is a critical notion to understand and one that is best realized through direct discussions with physicians and treatment teams. For the laboratory, this interaction can be a source of frustration if an incorrect belief system has been perpetuated over time. For example, predicting dose compliance through urine drug testing is a concept that has been proposed by some but it has not proven widely applicable. Nevertheless, treatment teams are attempting to address this core issue—that of full versus partial compliance with prescribed medications. Urine is most often the specimen of choice for compliance testing due to a substantial detection window, the potential for concentration, and relative metabolite presence. In order to present a comprehensive approach to compliance testing, serum or plasma testing can serve as an alternative specimen type when needed. But, because urine is by far the specimen of choice for the majority of compliance testing, it is important to focus on developing urine testing and identifying an outsourced laboratory for serum or alternative specimen testing needs if unable to perform in house.
Further to this, the notion that quantitation is required to interpret each urine drug test commonly stems from a misunderstanding of the screen with reflex to confirmation workflow. Typically, treatment teams are familiar with the concept of a presumptive screen that is followed by confirmatory testing; this screen with reflex to confirmation workflow is a mainstay of the forensic toxicology laboratory. An immunoassay screen is the normal front line test while some form of mass spectrometry serves as the confirmatory test. In the realm of forensic toxicology, it is important that multiple methods be used to identify a drug and that each test is linked to a separate sample preparation process enabling a trace back to the original specimen. However, in the arena of pain management testing, finding a result twice is not normally of concern; rather, the primary focus is on providing an accurate result.
If we consider the utility of an immunoassay screen, we might determine that the lack of specificity provided by many immunoassay types is undesirable. A physician prescribing hydrocodone and clonazepam will expect a positive opiate screen and a positive benzodiazepine screen. However, positive results alone are unclear, as the physician may wonder if the patient is taking the right opiate and the right benzo. For this reason, a less specific screening method is not as desirable in a setting where positive test results are the norm. With this in mind, many pain management labs lean toward using a more specific mass spectrometry-based screen, although there are a few caveats that must be considered for this approach.
Immunoassay vs. Mass Spectrometry
It is not unusual for the concepts of quantitation and confirmation to be incorrectly intertwined with the concept of specificity—a concept that is unique to the method being used and its performance characteristics. Thus, an immunoassay can be quite specific and at times even more sensitive than a comparable mass spectrometry-based assay. For example, immunoassays for cannabinoids cross react broadly with various cannabinoids resulting in fairly specific results and adequate sensitivity. In contrast, mass spectrometry-based methods typically target a single cannabinoid metabolite, and though very specific, such methods may lack sensitivity due to the inherent specificity.
It is important to remember that quantitation can be achieved with virtually any method by use of standard concentrations for comparison. Further, qualitative results can be reported from various methods as well, even methods such as mass spectrometry that have been used conventionally to report quantitative results. Overall, specificity is the primary goal of pain management testing. This can be achieved through the use of mass spectrometry, immunoassays, or any method proven to provide the required specificity. Alternatively, quantitation is often a more expensive process due to the need for calibration standards, and requires significantly more quality control effort. Further, in the case of mass spectrometry, quantitation often requires the use of isotopically labeled internal standards in order to provide the expected degree of accuracy and precision. For these reasons, it is perhaps best to provide qualitative results, and use mass spectrometry to ensure specific results without the need for follow-up testing.
Troubleshoot True Compliance
As fair warning, the decision to provide qualitative results will likely encounter resistance, with some of the expected criticism warranted. For example, if PRESENT is the only test result that would be provided for a patient being prescribed oxycodone, how is the physician to ascertain if this is true compliance or a fraudulent, direct addition of oxycodone to the urine? The answer here is not necessarily to rethink testing strategy and simply provide quantitation; even an oxycodone result of PRESENT 2200 ng/mL is not very informative on its own. Alternatively, we need to focus on what differentiates ingestion from simple post-collection addition. The answer is that with a well-designed test, additional metabolites should be included. In the example above, rather than simply reporting a result of PRESENT for oxycodone only, the presence of additional metabolites could be provided, such as noroxycodone, noroxymorphone, and oxymorphone. In the case of ingestion, we would expect to report oxycodone and at least noroxycodone as PRESENT. In the event expected metabolites are absent, the result becomes less consistent with ingestion and more indicative of an attempt to falsely indicate compliance. With this in mind, it is clear that compliance testing must incorporate relevant metabolites where possible to help with interpretation.
Determine Best Use of Mass Spectrometry
The need to incorporate metabolites into pain management testing indicates that conventional immunoassays are not generally a viable option, even if the specificity is adequate. Despite the fact that drug metabolites may be known to cross react, they cannot be discerned based on this single signal detection method. For this reason, the best choice may be a technology that is already in house—liquid chromatography tandem mass spectrometry. The specificity inherent to properly operated mass spectrometers provides a single test offering useful when positive test results are expected to be the norm. By generating the results initially with a mass spectrometer, conventional confirmation testing is no longer needed. Thus, the time from collection to final result can be streamlined and overall costs can be reduced. Though many types of mass spectrometry are available, from high resolution time-of-flight to the mixing and matching of quadrupole and/or time-of-flight mass spectrometry, it is almost always ideal to take advantage of existing knowledge of mass spectrometry and apply that extensive expertise into the area of pain management testing.
A Test Utilization Example
Once the framework for pain management testing is established, it is important to review the impact that reimbursement may have on its success. Though pain management testing is not generally designed to maximize reimbursement, it is important to remain aware of how the lab positions itself to compete against those less concerned with utilization. In reviewing the decision making process for our example, we have decided to conduct qualitative testing on urine specimens that will include the major drugs of abuse as well as the drugs most commonly prescribed in the area of pain management testing. We will incorporate key metabolites where applicable and we will use a quadrupole mass spectrometer as our technology of choice, since in this example, experience and expertise with this technology is taken for granted. Further, the decision has been made to provide two analytically identical offerings—one to allow result interpretation for those treatment teams that need assistance, and a second to allow a reduced overall cost to those that do not.
In reviewing the latest 2016 recommendations for reimbursement, we are positioned well to recommend use of the GYYY code series.1 Depending upon the final number of drugs included, it will be possible to ensure that the testing will provide appropriate margins, adequate reimbursement, and high quality patient care. As pain management professionals, we are committed to making every realistic effort to include only necessary drug tests, and avoid adding unnecessary drug tests that simply allow for a higher priced code. Ultimately, it is necessary to spend time maximizing workflow efficiency to ensure costs remain affordable for all involved parties.
Conclusion
The challenges faced by physicians in their effort to help patients manage chronic pain are compounded by the challenges the laboratory faces in test design. The role of the laboratory is to help guide patient care through careful test design, continuous communication with end users, and selection of appropriate technology to enhance quality. By understanding how the testing we provide impacts patient care, we can better align our thinking, our efforts, and our input into these evolving areas of laboratory medicine. Focusing on patient care and proper utilization while we design our test offerings allows us to best treat our patients and obtain peace of mind. In the end, we can be confident in our test menu, proud of our decisions, and well aware that before long, we will likely start the entire process over again.
Reference
Centers for Medicare & Medicaid Services. Calendar Year (CY) 2016 Clinical Laboratory Fee Schedule (CLFS) Final Determinations. www.cms.gov/Medicare/Medicare-Fee-for-Service-Payment/ClinicalLabFeeSched/Downloads/CLFS-CY2016-Preliminary-Payment-Determinations.pdf Accessed: 3/11/16
---

Frederick G. Strathmann, PhD, DABCC (CC, TC), is a medical director in toxicology and the associate scientific director of mass spectrometry at ARUP Laboratories, as well as an assistant professor of pathology and an associate member of the Interdepartmental Program In Neuroscience at the University of Utah School of Medicine. He received his MS and PhD in pathology and laboratory medicine from the University of Rochester, where he was a post-doctoral fellow in the department of biomedical genetics. He completed a ComACC approved Clinical Chemistry Fellowship at the University of Washington in Seattle.
Like what you've read? Please log in or create a free account to enjoy more of what www.medlabmag.com has to offer.
Current Issue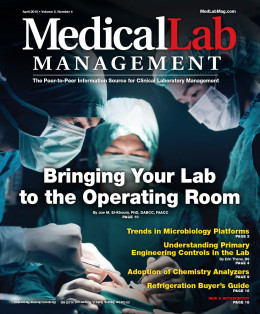 Subscribe to our Email Newsletters!
In The Loop!
Digital Edition
Special Announcements