Planning and Designing a Hospital Transfusion Service
September 2016 - Vol. 5 No. 7
- Page #14
Article Categories:
The opportunity to plan and design a new transfusion service operation may not present itself often, but when it does, applying a full understanding of the scope of required functions will help establish the basis for a comprehensive and efficient transfusion service that meets the near– and long-term needs of the organization. By partnering with experienced health care architectural and design consultants, transfusion service department managers can plan and create a high functioning and workflow-driven transfusion service.
In 2012, Geisinger Health System, headquartered in Danville, Pennsylvania, approved the construction of a new, full-service laboratory that included a robust transfusion services operation. Throughout the year-long planning and design process, the transfusion team was integral in providing their essential workflow knowledge and suggestions for improvement over previous operations, and in advising the architects and designers on desired physical layout. During this process, the combined teams developed a common set of functions that assisted in determining the best design to support the various transfusion service workflows.
Transfusion Service Functions
There is a set of common functions that can be customized to the individual facility when planning and designing a new or renovated blood transfusion service. These functions include:
Receipt of blood products
Storage of blood products
Receipt of patient specimens
Testing of specimens and products
Preparation and distribution of blood products
Integration into supply chain
Proper management of waste stream
These functions are illustrated in greater detail in FIGURE 1 as a process flow diagram. Transfusion blood products including, but not limited to red blood cells, plasma, and platelets, flow into the transfusion service department from outside sources and must be received, removed from shipping containers, in-processed, and moved to storage. The product flow also includes testing of blood products for proper blood type to verify labeling, and identifying a location to store containers before returning them to vendors. Once in-processed, products are moved to storage areas pending the need for preparation and distribution.
Patient specimens represent the other incoming process flow. Specimens arrive in the laboratory, preferably to a single location, and are typically received electronically (ie, using bar code scanning for LIS entry), processed and tested, and resulted. Processing and testing actions require ample physical workspace for both automated and non-automated tasks.
The blood product and specimen flows come together when there is a need for a product for specimen testing, which begins the combined flow of blood product processing and distribution. Orders are received and cross-matched, enabling the blood product to be made ready for distribution, a process that must interface with the blood product user, either at a pick-up window or other distribution point, such as through a pneumatic tube system. Blood product return flow also must be accounted for, which may lead to blood products being placed back in storage or moved to the waste stream if unacceptable upon return.
Translating Workflows Into Design Layouts
From an architectural standpoint, it is best to begin a project by viewing the operation at a high level in order to gain an understanding of the fundamental functional parts of the departmental program and strategize how to organize them in order to promote efficiency, regulatory compliance, and create a comfortable sense of place for staff. That said, it is certainly beneficial to be familiar, at least at an intermediate level, with detailed functions and operations of transfusion services before finalizing a design concept.
The architectural and design team will develop the design concept in part by creating process flow diagrams that identify the steps required in a given activity and propose a way to accomplish them. By understanding workflows, the architect can design physical space to accomplish the required activities in the sequence suggested or required by the process and workflows.1 For blood banks and transfusion services, we identify four major functions:
1. Receiving
2. Storage
3. Testing
4. Distribution
Storage of supplies, the supply chain restock process, and the waste stream are the final considerations in the overall flow of the facility. Once the process flows are identified, they must be converted into the design layouts.
An analysis of workflow diagrams can aid in the development of proper adjacencies and relationships between the major functions.
Receiving:
a. Areas are designated for receiving blood and blood products from couriers or pneumatic tube stations with donor segments, products are logged in, routing to product storage or to ABO testing area is designated, transport container coolant and waste are disposed, and empty containers are routed back to the entry area
b. To encourage lean, efficient operations, the receiving area is best located adjacent to product storage and testing areas
Product Storage:
a. Workspace is allotted for in-processing activities related to product storage
b. Products are placed in refrigerators, freezers, and platelet incubator/rotators expeditiously for storage under proper conditions
Testing:
a. Ideally, testing areas are adjacent to test preparation areas and proximate to product storage areas
b. Initial testing is completed using automated instruments when possible
i: If additional testing is not required, specimens are stored (refrigeration)
ii: If additional testing is required, specimens are transported to non-automated testing areas
Distribution:
a. Blood product orders are submitted from critical locations in the hospital, such as surgery and the ED, to the blood bank through the LIS
b. Crossmatch testing is performed
c. Compatible units are retrieved from blood product storage and are labeled for distribution
d. Distribution is acknowledged in the LIS
e. Blood products are provided to the customer through a service window, pneumatic tube station, or other method
With the understanding of the functions and adjacency relationships, the architect develops a block concept plan (see FIGURE 2). Finally, a written program is used to develop a functions checklist and determine the proper size of each area.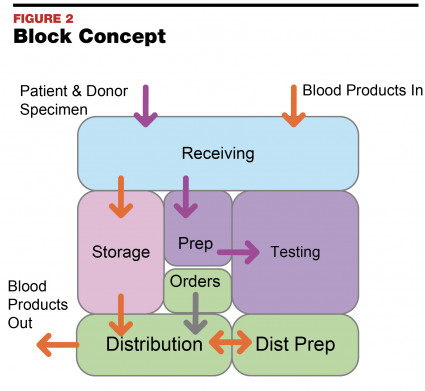 Instituting the Design Concept
An additional layer of information embedded in the design is an understanding of the context of transfusion services within the larger lab and facility structure (see FIGURE 3). The following functions are part of this context, and therefore should be visualized and understood:
Where blood products arrive in the facility
Where specimens arrive and where pneumatic tube stations are located
Where staff members arrive to pick up blood products for distribution
The path for routing trash and bio-hazard waste material out of the transfusion services department
The path for interfacing with the supply chain and routing supplies to the area
Blood bank and transfusion services connectivity to the hospital information system and how staff moves to and from the area on each shift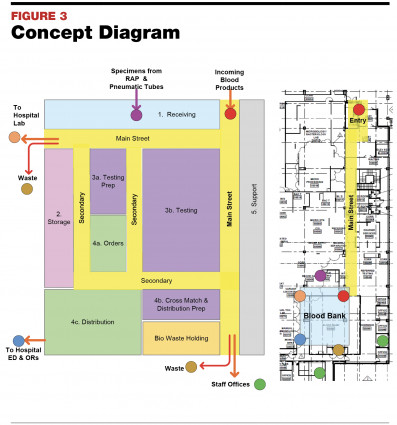 The concept diagram helps to visualize the geometry and scale of a specific blood bank or transfusion services department. This detailed layout plan identifies departmental entry points connecting the hospital to the transfusion service and blood bank, and provides the best routes for receiving blood products and specimens, as well as establishes direct connections to the clinical core lab, supply chain, and waste management functions.
Detailed Layouts
Architectural floor plan layouts are developed by following the workflow diagrams to provide a series of defined spaces for each activity in the sequence of the workflow. In reviewing a detailed plan of the receiving workplace, for example (see FIGURE 4), blood products are received at the Log In workstation on an In Cart, are scanned into the computer and are placed on an Out Cart moving from right to left. This attention to process helps meet regulatory requirements to prevent mix ups and errors.1,2,3 A similar approach is used for testing and distribution.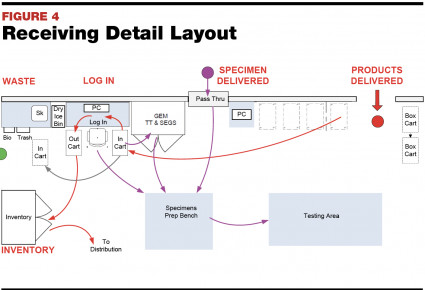 As each detailed layout is carefully located back into the concept plan, attention to the connections to the other parts of the plan is required to ensure the integrity of the overall concept (see FIGURE 5).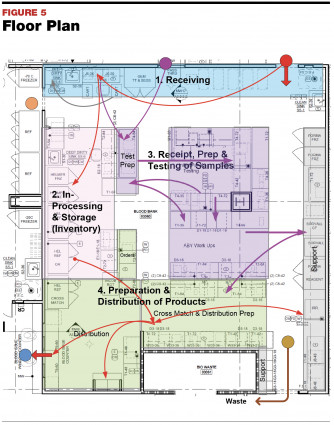 Conclusion
Designing and planning a transfusion service from scratch offers the opportunity to create efficient layouts based on well-defined workflow diagrams that describe each activity in the process and organize the workplace. Understanding the context, the regulatory environment, and the notion of providing a comfortable and enlightening place to work also are required for a successful transfusion service environment. A concept can be developed and used to organize and fuse all the parts together into a transfusion service that relates all its necessary functions to each other, as well as the greater hospital environment. Future transfusion service planners can utilize the process described herein to successfully plan and design lean and efficient facilities as a team with transfusion service input and architectural expertise.
References
US Food and Drug Administration. Code of Federal Regulations. Title 21, Vol 4: Part 211; Subpart C—Buildings and Facilities.
Fung MK, Grossman BJ, Hillyer CD, Westhoff CM, eds. Technical Manual. 18th ed. Bethesda, MD: AABB Press; 2014.
World Health Organization. Design Guidelines for Blood Centers. Facility Design and Construction Standards. Accessed: 8.24.16 http://www.who.int/bloodsafety/publications/DesignGuideBloodCentres.pdf
---

Michael J. Lopatka, MS, MT(ASCP)SBB, is the system manager of transfusion services at Geisinger Health System in central and northeastern Pennsylvania. He received his BS in medical technology from the University of Scranton and MS in Immunohematology from The George Washington University in Washington DC. Having spent 22 years in the Army as a laboratory and blood bank manager, Michael specializes in transfusion services operations. He is a voluntary transfusion services assessor for AABB and laboratory inspector for CAP.

Theodore R. Newell, AIA, NCARB, AABB, is an Architect and Principal at EwingCole, Architects and Planners in Philadelphia. He is a laboratory design innovator with over 30 years of experience and leadership in the programming, planning and design of complex facilities for blood processing, testing, and transfusion services. Ted interacts extensively with each client to formulate design concepts and provide detailed space planning to meet the needs and objectives of each project.
Like what you've read? Please log in or create a free account to enjoy more of what www.medlabmag.com has to offer.
Current Issue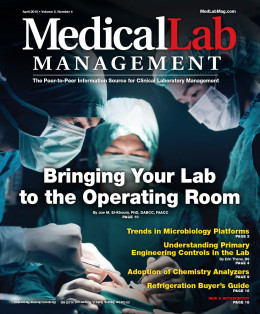 Subscribe to our Email Newsletters!
In The Loop!
Digital Edition
Special Announcements