Theranos Lessons: Déjà vu All Over Again?
January-February 2017 : Clinical Leadership & Management Review - Vol. 6 No. 1
- Page #26
The Theranos saga continues to unfold and some aspects of this scenario bring to mind the classic double speak of Yogi Berra, leaving us to wonder: Have we learned anything new or does this lesson simply serve to remind us of the complicated state of emerging diagnostic technologies?
The Allure of Disruptive Technology
The Holy Grail among marketing professionals is the introduction of a product or service in a form that did not previously exist, and then to stimulate its untapped and renewable demand. Starbucks coffee and bottled water come to mind as obvious examples. The apex of this pursuit is to be so innovative as to disrupt the marketplace, thereby creating a new industry, and displacing existing companies and value networks.
Achieving this disruptive level is a tall order for health care and the clinical laboratory, in particular. The status quo in patient care is actually revered and enforced by the oath: "Above all do no harm." New technology, however impressive it may appear in concept, is, in fact, adopted slowly, and examples abound. Flow cytometry once languished as a solution looking for a problem, whereas microbiology labs were still switching to slant tube cultures while rapid PCR testing was emerging. Even the revolution in genetics, genomics, and proteomics has made but a modest impact on precision medicine, thus far.
Despite the existence of evidenced-based medicine, often there is a significant gap in the temporal and spatial dissemination of new medical technology. Famously, Captain James Lancaster proved in a controlled study that lime juice prevented death from scurvy on long sea voyages, yet despite additional proofs, the British Navy did not introduce limes into the diet of sailors until 194 years later. And merchant marine sailors had to wait another 70 years! Unfortunately, even scientifically proven health care solutions are seldom disruptive in the span of one's own career.
This takes us to the unusual case of Theranos. Many laboratory practitioners truly believed their own laboratories were about to be severely challenged when contracts were awarded to Theranos or patients simply began to go to Walgreens for their testing. (Note that Walgreens had already been offering direct access testing at well over 100 sites for some time before Theranos came along). There were even rumors of deals wherein health systems would outsource their lab work to Theranos as "partners."
Follow the Money
It should be noted that the purported Theranos investments of $700+ million could have theoretically funded the entire laboratory budget of all critical access hospitals in the US for six months. The presumption that a new technology will produce cheap data reinforces the notion that laboratory testing is a commodity rather than a service; a concept as old as the first automated methods.
This premise requires a belief that a centralized, high-volume laboratory creates unique economies of scale, overwhelms all cost considerations, and defines value. The truth is that laboratories represent only 5 percent of a health system's costs and just 1.6 percent of Medicare's spend, while they influence all other costs. Setting fees at "half the Medicare fee schedule" for tests performed remote from the community is a sales pitch and a recipe for greater test volume, not necessarily for improved patient care. Unfortunately, this language contributes to the narrative that the government is overpaying for laboratory services. If it didn't embolden Congress and CMS to enact drastic lab fee cuts under PAMA, it certainly made arguing against it difficult.
Add to the list of hopefuls those in health system C-suites who did not bother to check with their own laboratory leaders regarding the veracity of Theranos claims. Many such individuals were all too eager to assume their own clinical laboratory services were simply a commodity and not true patient care. At a minimum, this situation rendered the lab a target for more cost cutting. And let us not forget the insurers who quite naturally rushed in to purchase cheap numbers.
Investors, partners, and consultants followed the lure of gold that Theranos seemed to offer, and they are now quite disappointed. The commentator Andy Rooney once opined that gambling is a tax on the stupid. Regardless, wagering in a game of chance at least affords the participant a statistical likelihood of success and the opportunity to weigh the amount of entertainment value inherent in the game itself. Investing for or against a business venture occurs every day in this country. However, when the true nature of a product is largely obscured, such investment can hardly be categorized as an exercise in gambling. The Securities Exchange Commission will be the ultimate arbiter in the case of Theranos.
Sadly, I know of millennials who were in awe of a new "Steve Jobs-like" role model for their generation. Let us hope they remember the lesson and forget the experience. The initial business model was to utilize proprietary equipment in a limited number of remote labs contracted with payors and providers. In other words, capture billables and enhance volume opportunities. This may not align with present strategic trends.
Ethics and Compliance
The FDA has done its job. In vitro diagnostic manufacturers have had entire repertoires of testing kits removed from production when quality control was ignored. Commercial laboratories have been enjoined when they skirted the laboratory developed testing (LDT) limitations by acquiring the lab that created the test. Individual users have always had the authority to alert the FDA to questionable products. These are all old lessons, but they remain relevant today, as the FDA announced on November 18, 2016 that they will suspend attempts to promulgate additional LDT rules until the new Administration takes office. Perhaps the system is already working and may not need enhancement.
As the Theranos approach became well known, it was apparent to even a casual laboratory observer that there would be FDA approval issues with the devices, if not the assay itself. Add to that the multitude of proficiency testing, accreditation, and licensure requirements necessary at both the Federal level and in the State of California. Had anyone with clinical laboratory experience been consulted regarding the numerous compliance hurdles facing an instrument-manufacturing and operationally performing lab startup, the outcome could have been altered. Unfortunately, bold moves were expedited and buzz terms like "inflection points" drove decisions.
When all else seems to fail there is always the possibility of a whistle blower, and so became the curious twist of Tyler Schultz, an employee who, according to reports, questioned fraudulent manipulation of proficiency testing results. He even suggested that his famous grandfather, George Schultz, should step down from the Theranos board. All of this has resulted in costly legal action, a family rift, undoubtedly an awkward Thanksgiving, and perhaps a spoiled 95th birthday celebration for George.
Bait and Switch
On August 1, 2016, I lined up early along with the throng that attended the much-anticipated first public presentation of Theranos by Elizabeth Holmes at the AACC annual meeting. It was billed as an opportunity for the audience to ask questions and included instructions on downloading an app for that purpose. The AACC panel stood ready with their smart devices to field the questions and present them to Ms. Holmes. What followed was an introductory statement by Ms. Holmes indicating the Theranos business model, that was experiencing well-publicized difficulties, was not going to be the topic of discussion. The parry to interrogatories began with, "What we are here to do is…" The balance of the session, including the Q&A, was spent selling the company's new "MiniLab" device. No audience questions were fielded. It is unclear who was more disappointed for having participated. The collective time wasted by the audience may have outweighed the damage to the AACC organizers.
This single episode exemplified many of the previous bait and switch experiences of investors, reporters, employees, insurers, health care partners, and the public. Some responsibility for disappointment lies in the hands of those who jumped at the prospect of riding a wave of success and some to those who failed to learn from history.
Conclusion
Laboratory leaders know nearly all patients prefer venipuncture over finger sticks and that testing on small volumes is already being done. This is not news. Ultimately, laboratory testing is a patient care service and not a commodity. In the case of Theranos, the old maxim holds true: If it looks too good to be true, it probably is. As seasoned laboratorians, trust your experience instead.
Disclaimer:
The views and opinions expressed in this article are those of the author and do not necessarily reflect the views of CLMA or Mayo Clinic.
---

Rodney W. Forsman, BS, is the secretary-treasurer of the Clinical Laboratory Management Association. He also is an assistant professor, emeritus, in laboratory medicine and pathology at the College of Medicine, Mayo Clinic, in Rochester, Minnesota.
Like what you've read? Please log in or create a free account to enjoy more of what www.medlabmag.com has to offer.
Current Issue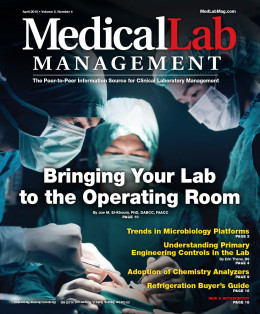 Subscribe to our Email Newsletters!
In The Loop!
Digital Edition
Special Announcements