Clinical Laboratory Design Concepts
March 2018 - Vol. 7 No. 2
- Page #8
Article Category:
When first discussing the prospects of a clinical laboratory build or redesign with clinical laboratory leaders, invariably among the primary concerns expressed is whether and to what degree flexibility can be afforded to the laboratory's operations and workflow. Steady changes in instrumentation and science (eg, implementation of new assays) puts pressure on existing physical and operational structures, often resulting in inopportune changes to the layout and organization of the clinical laboratory. Therefore, when first approaching a new laboratory design, enabling Lean principles and workflow efficiency are the prime driving goals. In modern clinical laboratories, flexibility is vital for growth.
Primary Redesign Challenges
From the vantage of an architect or designer, there are certain challenges to providing true physical flexibility that may not be readily apparent. For example, power, plumbing, and gas services are typically provided from the ceiling down and distributed horizontally through the casework system, thereby tying the building to the to the laboratory equipment and casework. Thus, changing the layout requires disruptive building modifications to relocate services and utilities. Although modular casework can enable smaller physical changes, significant reorganization usually involves substantial changes to the horizontal distribution system of services and utilities.
With this in mind, many facilities are now considering an alternative to top-down, wall-based utility and service provision. Rather, a popular new option involves an access floor system for distribution. Low-rise access flooring systems are available in 4- and 6-inch heights, making them a feasible option for both new-build labs and those looking to renovate existing spaces.
Remodeling an Existing Lab
The major concern when remodeling an existing lab is operational continuity. Lab leadership must determine whether operations can be partially or totally shut down (and for how long) and service outsourced during renovation, or whether lab instruments and casework can be temporarily relocated, vacating the area being renovated. Detailed phasing strategies are almost always required in this scenario to prevent disruption to vital operations.
Expanding into Existing Facility Space
When incorporating physical space adjacent to existing operations, be sure to take into account both the new workflow impact and the effects physical expansion has on existing operations that are highly functioning. Implementing or maintaining Lean design principles may require reorganizing existing laboratory workflow to accommodate the new space.
Performing a New Build
The opportunity to design an entirely new lab in a new building or existing space also affords the opportunity to study current workflows and make process improvement modifications to optimize operational Lean practices across all disciplines. Without learning from weaker practices, new laboratories often simply duplicate workarounds that had been developed in the existing lab. These workarounds need to be rooted out and mitigated by the new layout.
Special Considerations for Blood Bank and Immunology
In any clinical laboratory redesign, workflow, connectivity, and communication between the blood bank and the core lab must be defined. A clear separation should be maintained between incoming blood and outgoing distribution to comply with Federal Code of Regulations 21CFR 211, subpart C. These two functions are frequently separated by product storage, so the incoming blood is received, tested, and placed into inventory storage while outgoing blood is pulled from inventory storage, cross match tested, and then distributed. Physical design can heavily influence secure separation.
Given its clinical relation, automated immunology testing is frequently conducted near hematology, chemistry, and coagulation functions. Establishing and maintaining efficient workflow among these disciplines and the blood bank enables sharing of staff and good communication between related functions.
Staffing Considerations
Indeed, proper physical design can help alleviate issues that may arise among a wide range of staff members. The differences between seasoned medical technologists and new technologists can become quite apparent when both are presented with a new, "open lab concept." Often, seasoned technologists are accustomed to traditional, separate spaces where they expect to be undisturbed and uninterrupted while conducting test procedures. Alternatively, younger staff are much more likely to be accustomed to open, collaborative environments.
Therefore, designing for multiple generations and personalities in a single lab will always be challenging, yet can be accomplished through strong communication with user groups and establishing a clear understanding of best-practice workflows that address as many needs and desires of all. Focus on common ground. For example, placing louder automated equipment away from functions that require detailed manual manipulation is a decision most agree on, but this still requires consideration of workflow impact.
Modular Casework and Purpose-Built Materials
Open designs and modular casework support the demand for flexibility, but all clinical laboratory construction materials must meet regulatory requirements with respect to cleanliness, maintenance, and contamination prevention. Fortunately, certain build materials can contribute to the architectural delight of the work place. Most agree that relative quiet is beneficial in clinical lab spaces yet it can be difficult to maintain, especially in large open labs. To address this, new ceiling materials are available that offer high noise reduction coefficients (NRC) while maintaining a low absorption rate (CAC) of particles and bacteria. Incorporating base materials such as these along with modular casework within work areas provides the flexibility and aesthetic qualities labs desire while also delivering the regulatory qualities they require.
Final Thoughts
From an architectural standpoint, the approach to services and utility infrastructure impacts design and cost as much as layout. Flexible casework systems do not provide flexibility when they are anchored in place to inflexible services and utilities. Establish clear communication among design and construction personnel and clinical leaders to everyone knows what to expect.
As the laboratory continues to play a growing role in developing treatment strategies for patients in a clinically collaborative environment, the trend in organization of health care functions is leading toward a re-examination, relocation, and redesign of clinical and pathology laboratories.
---

Theodore Newell, AIA, NCARB, AABB, is an Architect and Principal at EwingCole, Architects and Planners in Philadelphia. He is a laboratory design innovator with over 30 years of experience and leadership in the programming, planning, and design of complex facilities for clinical and anatomic pathology facilities. Investing time to understand the business of laboratories, Ted interacts extensively with each client and key project stakeholders to build laboratory spaces and places.
Like what you've read? Please log in or create a free account to enjoy more of what www.medlabmag.com has to offer.
Recent Popular Articles
Current Issue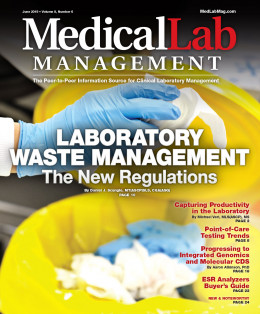 Subscribe to our Email Newsletters!
In The Loop!
Digital Edition
Special Announcements