Integrating Laboratory Outreach Across the Health System
May 2018 - Vol. 7 No. 4
- Page #10
Article Category:
The strong, nationwide trend toward health system formation persists. From small, regional systems comprised of several hospitals and affiliated providers, to mega-systems with dozens of locations delivering national coverage, health systems realize benefits and competitive advantages from increases in size and scope. These benefits derive from both horizontal and vertical integration. Horizontal integration occurs with the consolidation of multiple facilities that provide a similar service (eg, hospitals), while vertical integration is a strategic incorporation across the continuum of care (eg, hospitals, physicians, outpatient facilities, post-acute care facilities, etc). With horizontal integration, the increased scale results in economies from eliminating redundancies, increasing purchasing power, establishing standardization, and creating centers of excellence. Under vertical integration, the system benefits from ownership of the patient referral channel, implementation of a fully integrated patient medical record, and decreased migration of patients seeking specialty care outside the system.
Within an integrated system, the medical laboratory has similar opportunities. Vertical integration of laboratory services is critical to support the delivery of care in each area of patient access across the continuum. However, due to the essential nature of laboratory testing for immediate patient care, integrating laboratory services across the system raises additional complexities. This is particularly true with laboratory outreach, the process by which testing from external sources is incorporated into a hospital or health system. Individual organizations may identify outreach in different ways; some may include outpatients from employed providers, while others may consider testing from only non-affiliated sources. Regardless of the criteria used to define outreach testing, a systematic approach is required to maximize the impact of an integrated system laboratory outreach program. It is incumbent upon laboratory leadership to optimize both the horizontal and vertical integration of laboratory services within the organization.
Start with a Vision
While health system leadership may recognize that providing high quality, convenient, integrated testing is crucial to patient care, do not assume that leadership has included the laboratory in its integration plans. More likely, leadership has considered only at a superficial level that there are opportunities to realize operational efficiencies across multiple laboratories in terms of:
Standardizing equipment, procedures, systems, etc
Consolidating purchasing contracts
Reorganizing management structure and staff
Creating centers of excellence
As laboratory leaders, we recognize the complexities associated with implementing each of these opportunities. Further, the laboratory outreach program is rarely considered when system leadership prioritizes integration initiatives. However, when developing a system-wide vision for the laboratory, the outreach program must be included. Successful laboratory outreach programs extend the brand and image of the health system into the community, enhance patient and provider satisfaction, provide local turnaround time, and help support key health system initiatives across the continuum of patient care.
Identify an Executive Sponsor
An administrative champion can provide support, make key decisions, spearhead change, and communicate laboratory needs to executive leadership. Depending on the individual cultures of the various hospitals under the single governance of the system, decision-making and implementation may be challenging. Some hospitals may wish to remain fully autonomous, some may embrace complete alignment and standardization, and others may desire an autocratic process. Because of differing cultures and expectations, staff also may be resistant to change.
Effective leadership is critical to aligning laboratory services (including the laboratory outreach program) across multiple sites. Leadership may assume that the largest facility has established best practice in every area, yet it is not uncommon for mid-sized, community-based hospitals to have stronger and more successful outreach programs than their larger counterparts. It is important to approach the outreach evaluation as neutrally as possible, with an open mind to community and provider dynamics, local competition, current outreach laboratory strengths, and unique market needs.
Assess Outreach Program Capabilities
Within each health system, it is likely that the individual laboratory outreach programs will demonstrate various levels of maturity, sophistication, and success. The first step in optimizing outreach activity system-wide is to establish a baseline inventory of each laboratory's business, including financial, customer, and material assets.
Current Outreach Business Status
For each outreach program, first identify the customers and locations, then quantify the associated volumes and revenues. Key points to assess include:
Market area (geographic coverage)
Market segments (physician office, skilled nursing facility, industry, hospitals, etc)
Customers (specific offices and locations)
Outreach test volume (total and per customer)
Outreach volume as a percentage of total laboratory volume
Outreach net (collected) revenue (total and per customer)
Outreach net contribution (operating income)
Outreach business model (part of hospital laboratory, separate Tax ID, NPI, etc)
Outreach billing mechanism (UB04/CMS1450, CMS 1500, client bill, etc)
Insurance contract status
It may not be possible for the laboratory to quantify every aspect of its outreach business; however, to create an effective asset, the laboratory must be able to measure and monitor the key performance indicators listed above.
Current Outreach Performance
Each market has unique dynamics and challenges related to the strength of its competitors and individual patient or provider preferences. It is important to understand how local outreach programs have developed and how they leverage competitive advantages to survive in their specific markets.
For each hospital outreach program, identify the following:
Estimated market share
Current trend in gaining or losing market share (and reasons)
Customer satisfaction (survey results)
Patient satisfaction (survey results)
Competitive advantages and strengths
Program weaknesses
Competitive Analysis
It is essential to understand the program's competitors and their market share trajectories. Perform a competitive analysis that identifies the following:
Primary competitors
Competitors' advantages and strengths
Competitors' weaknesses compared to hospital outreach program
Market share trajectory (and reasons for gaining or losing)
Current Outreach and Health System Infrastructure
Vertical integration requires the health system to create a supportive infrastructure for providers and non-hospital-based patient care locations. This infrastructure may encompass:
Information technology (system-wide electronic medical record or interface to existing physician office system)
Outpatient locations
Logistics or courier routes between health system locations
Supply stocking and distribution
Sales or provider relations staff
Health system marketing, branding, and promotion
Billing
Registration
Laboratory outreach-specific infrastructure includes:
Call center/customer service department
Problem resolution
Outreach-specific software (CRM, courier tracking, etc)
For many laboratory outreach programs, some of these items likely required substantial investments in the past. Although it is not always appropriate or possible, there may be opportunities to leverage some areas of health system infrastructure to either expand or consolidate outreach support services. To perform a thorough inventory and carefully quantify all assets, owned either by the laboratory or the health system, utilize a simplified inventory grid (see FIGURE 1).
Evaluate Data and Outreach Structure Options
While time-consuming, the data collection phase is critical to identifying the best business and operational structure for the laboratory outreach program. The inventory assessment may identify areas of obvious redundancy and duplication, which translate into opportunities for consolidation and integration. Some decisions will be obvious, and others more difficult. This is to be expected. Additionally, there may be laboratory-specific best practices or unique market dynamics that will factor into decision-making.
Across the country, there are many outreach program models, though no one model can be singled out as the best solution. Each market is unique, as is each health system's culture, which must be considered when aligning the outreach program with the health system vision. Some systems allow for a high level of local autonomy; others are more autocratic, using a top-down process. As such, there are many system outreach program variations, including:
Individual Outreach Program – each hospital laboratory maintains its own outreach program, with a separate infrastructure and unique processes.
Hub Outreach Program – regionally located (usually larger) hospital laboratories within the system are outreach hubs. Specimens collected in a defined region are transported to a regional hospital for testing. A local hospital may perform stat testing if required. Infrastructure may be managed regionally or at the corporate level.
Shared Service/Turnkey Infrastructure – the outreach infrastructure is managed entirely at a corporate level with testing performed in local hospitals. The local hospital pays for the use of the health system resource.
Core Outreach Laboratory – market size and geography notwithstanding, all outreach activities, including infrastructure and testing, are performed at a single location. Regardless of the source of the specimen, it is tested in a centralized location and all patient interactions and customer relationships are managed by core program staff. There may be exceptions to the testing location for stat testing, but localized outreach testing is minimal.
Critical Considerations
When evaluating options for a health system-wide laboratory outreach program, the operational and infrastructure aspects are quite straightforward. Unfortunately, they are not the most important aspects to be considered. Health systems risk critical missteps by not anticipating the downstream impact of making changes to an existing outreach program. Consider the following aspects of a successful laboratory outreach program:
The laboratory has more interactions with patients than any other service line in a health system. Patients develop loyal relationships with laboratory staff.
The additional test volumes from a laboratory outreach program provide better utilization of staff and lower the overall cost per test.
The net financial contribution (profit) from a laboratory outreach program may comprise a substantial portion of a hospital's net operating income.
As the delivery of health care shifts from the inpatient environment to outpatient and ambulatory locations, rapid turnaround time for laboratory testing is essential.
Now, consider the potential missteps realized by implementing a system outreach model that shifts all outreach testing from a community hospital to a regional hub or core laboratory:
Possible disruption of local patient and provider relationships
Decline in local outreach test volumes increases cost per test
Loss of outreach revenue and associated profit impacts the local hospital's bottom line
Possible loss of local jobs
Potential for increases in turnaround time as testing is transported to another location
Each of these missteps underscores the importance of starting with a vision. Depending on the health system's structure and financial incentives, making changes to an existing laboratory outreach program can have unintended, negative consequences. At a system level, it is expected that volumes and revenues will remain the same or increase. However, if volumes and revenues are reduced at individual locations due to changes in system structure, the individual locations should not be penalized. Leadership must clearly articulate a vision for the health system, and the laboratory outreach program must be aligned with that vision. To do so, system leadership must understand the associated opportunities and risks, and align incentives for health system member facilities accordingly.
Health System Partners as Customers
Although it is not considered true outreach, laboratory standardization can include internalizing testing within the health system. There may be tests that some sites send to a reference laboratory, while other sites within the health system perform those tests. Internalizing this testing can generate cost savings and increase efficiencies. However, it is important to consider the testing from health system members as an essential health system integration activity, not a profitable revenue source. Many hospitals struggle to successfully internalize testing because they charge an outreach or external fee schedule. Health system hospitals are reluctant to keep testing within the system when it costs more than sending it to a reference laboratory. In order to remove barriers to integration, pricing must remain competitive. Many laboratories use a cost-plus pricing methodology when performing testing for health system partners, in order to account for direct analytic costs (supplies and labor), transportation costs, and appropriate overhead.
Health System Integration as a Destination
As health system consolidation continues, laboratory outreach must be leveraged to retain laboratory testing within our health systems and aid in the local provision of integrated patient care. When integrating a laboratory outreach program across a health system, make small changes, perform pilot activities, pause, re-evaluate, and then continue to move forward. The key to enduring success is to ensure alignment with system objectives while leveraging location-specific best practices, recognizing local and competitive dynamics, and using data to drive decisions and track progress. Health system integration is complex and challenging; it will not occur overnight. Just as successful laboratory outreach programs are created over time, successful laboratory integration also takes time.
---

Jane M. Hermansen, MBA, MT(ASCP), is outreach and network manager at Mayo Medical Laboratories in Rochester, Minnesota. She received a BA in medical technology from Concordia College in Moorhead, Minnesota, and an MBA from the New York Institute of Technology. Jane's 25+ years of clinical laboratory experience spans clinical research; process engineering; project management; and laboratory outreach consulting, training, and facilitation.
Like what you've read? Please log in or create a free account to enjoy more of what www.medlabmag.com has to offer.
Current Issue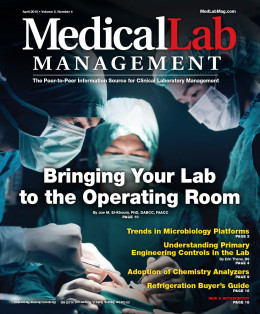 Subscribe to our Email Newsletters!
In The Loop!
Digital Edition
Special Announcements