Mar-Apr 2013
Urine Chemistry Control
By: AUDIT MicroControls, Inc
AUDIT MicroControls introduces the AUDIT MicroFD Urine Chemistry Control with two levels. The control is intended to simulate human patient samples for the purpose of monitoring the precision of laboratory testing procedures for urine chemistry assays: amylase, calcium, chloride, creatinine, glucose, magnesium, microalbumin, microprotein, phosphorous, potassium, sodium, urea nitrogen, and uric acid. Each level is packaged as two sets of five 3 mL vials. This lyophilized product has a shelf life of two years and a reconstituted stability of six days for Set 1 and ten days for Set 2 when stored at 2°C to 8°C.
Recent Popular Articles
Current Issue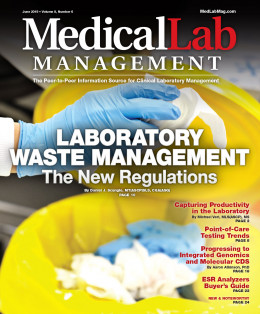 Subscribe to our Email Newsletters!
In The Loop!
Digital Edition
Special Announcements