Mar-Apr 2013
Hand-Held Semi-automatic Pipettor
By: Hamilton Company
Hamilton's Microlab 300 Series Pipettor is a guided pipetting system that provides an automated liquid handling system without complex programming. The Microlab 300 enables technicians to easily create, save, and execute complete pipetting applications. The system's user-friendly software allows technicians to adjust pipetting parameters for superior liquid handling of challenging liquids. Through Hamilton's ClickSure tips and Liquid Classes, the instrument delivers accuracy by enabling users to fine-tune pipetting speeds and delays for each liquid used. The design of the Microlab 300 system replaces the three to four manual or electronic pipettes and tip sizes required for pipetting with one, lightweight Disposable Tip Hand Probe and two ClickSure tip sizes. The digital volume and speed adjustment reduce sample preparation time by eliminating manual adjustment as well as pipette exchange steps.
Recent Popular Articles
Current Issue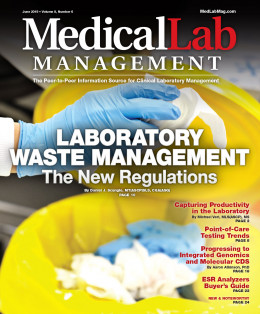 Subscribe to our Email Newsletters!
In The Loop!
Digital Edition
Special Announcements