Mar-Apr 2013
Hemoglobin A1c Testing
By: Quantimetrix
Dropper A1c Diabetes Control from Quantimetrix is a liquid, human blood-based control for laboratory and point-of-care hemoglobin A1c testing. Dropper A1c features three years frozen stability (from date of manufacture) and six months of refrigerated open vial stability for reduced waste. It also features dropper bottles for easy dispensing. The Diabetes Control system provides 21 days of open vial room temperature stability, eliminating storage problems and providing maximum portability for sites without refrigeration. It is designed for use with most major immunoassay and boronate affinity laboratory and POCT analyzers.
Recent Popular Articles
Current Issue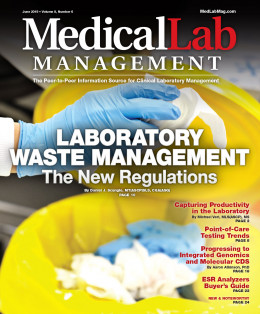 Subscribe to our Email Newsletters!
In The Loop!
Digital Edition
Special Announcements