March 2019
Cloud-Based Middleware System
By: Beckman Coulter Diagnostics
The DxONE Workflow Manager from Beckman Coulter Diagnostics is a cloud-based middleware system designed to help laboratories standardize workflows, automate processes, and consolidate information. Technologists can manage samples using autoverification, meaning only those samples that fall outside predefined ranges require manual review. From a single screen, technologists can view order information and patient demographics, and comments and flags alert users to required actions based on laboratory-defined criteria. A sample status overview feature directs immediate focus to items in need of attention. Patient-associated results are consolidated on one screen, organized in graphs and by historical data, strengthening the utility of information for operational and patient-care decisions.
Beckman Coulter Diagnostics
Recent Popular Articles
Current Issue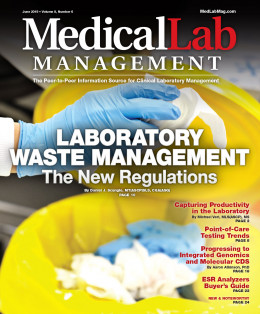 Subscribe to our Email Newsletters!
In The Loop!
Digital Edition
Special Announcements