March 2019
Revenue Cycle Management System
By: XIFIN, Inc
XIFIN announces the Revenue Performance Management (RPM) 10, designed to help diagnostic providers improve revenue, performance, and client and patient engagement. A diagnostic-specific revenue cycle management (RCM) solution, the RPM 10 incorporates machine learning capabilities for next-generation business intelligence visualization and analytics, along with new tools to address growing patient responsibility needs. XIFIN RPM 10 supports compliance and analytics requirements, as its learning-enabled diagnostic RCM system delivers a FASB-, GAAP, and SOX-compliant, GL-ready financial package. Diagnostic providers are able to benchmark their performance, enhance business decision-making, and negotiate better payor contracts. In addition, the system can help improve patient and client engagement, with a patient responsibility estimator and patient-friendly statements within its expanded portal capabilities. This allows diagnostic providers to help their patients understand the out-of-pocket costs for ordered tests and provides a pre-payment option.
XIFIN
Recent Popular Articles
Current Issue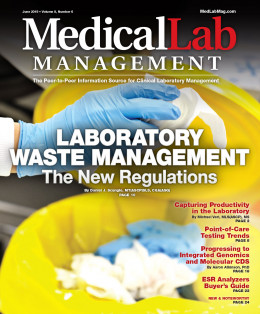 Subscribe to our Email Newsletters!
In The Loop!
Digital Edition
Special Announcements