---
Update & Improve the Outpatient Laboratory
A Q&A with John Park, MS, MT(ASCP)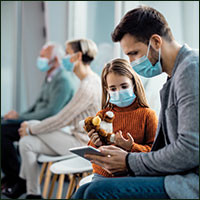 As the outpatient laboratory works directly with patients, the process for reintroducing this service after a remodel and in light of the on-going COVID-19 pandemic has had to adjust accordingly. One major change is that prior to the pandemic, the outpatient lab operated primarily as a walk-in service, whereas now, it is almost entirely appointment based. Due in large part to our pre-pandemic update, we know how many patients we will see at any given time and what their needs are. Notably, the lab does not turn away patients who walk in, but we highly encourage appointments through community outreach, and we plan to retain this model moving forward.
CLICK HERE to read more about the technical (and non-technical) necessities for a new laboratory operation and how to maximize such a project.
---
Do You Know . . .
Whether your new instrument or technology ROI has come true? CLICK HERE to read How to Build an ROI for Capital Acquisitions, by Dennis Winsten, MS, FHIMSS, FCLMA, wherein he discusses how often the ROI is rarely obtained information, and how to avoid this pitfall by realizing a true return on investment.
---
---

CLICK HERE to view MLM's Refrigeration Buyer's Guide. This feature includes a sampling of valuable refrigerator and freezer vendors and service providers to enable safe and secure storage conditions for temperature sensitive products.



---
Your Subscription
You are receiving this message as a subscriber to
Medical Lab Management
. If you would like to unsubscribe from our newsletters, please visit
www.medlabmag.com/unsubscribe
.
If you are not already a subscriber to
Medical Lab Management
and would like to subscribe please go to:
www.medlabmag.com/subscribe
.
Please remember to add us to your address book to ensure that you continue to receive our emails in your inbox.
Sponsorship/Advertising Opportunities
Please contact your account manager at
sales@ridgewoodmedia.com
or call 201-670-0077, ext. 200.
In the Loop © 2021 Ridgewood Medical Media, LLC. You have permission to forward In The Loop, in its entirety only, provided this copyright notice remains part of your transmission. To subscribe to In the Loop, please send an email to:
listmanager@ridgewoodmedia.com
and type "Subscribe, (Your email address, and full name)" in the body.
All other rights reserved. None of this material may be reprinted without the express written permission of Ridgewood Medical Media, LLC.