---
The Full Value of Laboratory Risk Assessments
By Daniel J. Scungio, MT(ASCP), SLS, CQA(ASQ)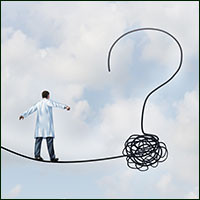 The US Occupational Safety and Health Administration requires laboratories to perform a job risk assessment for each position in the laboratory, including each employee's risk level for exposure to bloodborne pathogens. Task and instrument assessments for risk likewise are required by OSHA. These two types of risk assessments—to staff and to instruments—are equally important and there are ways to utilize risk assessments that go above and beyond what is required in order to ensure safety throughout the laboratory staff in all circumstances. CLICK HERE to read more about comprehensive risk assessments and review a few hypothetical, yet common, risk examples encountered in clinical laboratories.
---
Do You Know . . .
About the full benefits of IL-6 testing for COVID-19 and beyond?CLICK HERE to read Benefit of Interleukin-6 Testing for COVID-19 Patients by Joshua Hayden, PhD, DABCC, FAACC, and Alan Elliott, MT(ASCP), wherein the authors discuss the benefits of IL-6 testing for COVID-19 patients, as well as other scenarios where lung inflammation is key.
---
---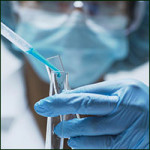 CLICK HERE to read Rapid Deployment of New Laboratory Operations, a Q&A with Danyel H. Tacker, PhD, DABCC, FAACC, on her experience opening a new laboratory operation in a compressed time frame.






---
Your Subscription
You are receiving this message as a subscriber to
MedicalLab Management
. If you would like to unsubscribe from our newsletters, please visit
www.medlabmag.com/unsubscribe
.
If you are not already a subscriber to
MedicalLab Management
and would like to subscribe please go to:
www.medlabmag.com/subscribe
.
Please remember to add us to your address book to ensure that you continue to receive our emails in your inbox.
Sponsorship/Advertising Opportunities
Please contact your account manager at
sales@ridgewoodmedia.com
or call 201-670-0077, ext. 200.
In the Loop © 2020 Ridgewood Medical Media, LLC. You have permission to forward In the Loop, in its entirety only, provided this copyright notice remains part of your transmission. To subscribe to In the Loop, please send an email to:
listmanager@ridgewoodmedia.com
and type "Subscribe, (Your email address, and full name)" in the body.
All other rights reserved. None of this material may be reprinted without the express written permission of Ridgewood Medical Media, LLC.