---
Your Medical Laboratory Management Market Resource
By David McCormick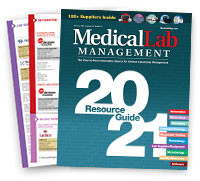 Given the wide range of products and services now available for clinical and anatomic pathology laboratories and the burgeoning number of subspecialties and departments, finding the right combination to most efficiently run your laboratory can be a daunting task. To help address the needs of laboratory directors and department managers, we are pleased to present our third annual Resource Guide. In partnership with our online resource, lab.2finditnow.com, we are pleased to provide a refined, at-hand resource to guide your purchasing decisions throughout the year.

MedicalLab Management's third annual Resource Guide gives at-a-glance access to hundreds of medical laboratory product and service providers that can help improve the efficiency, safety, and effectiveness of your laboratory operation.

CLICK HERE to see more of what our annual Resource Guide has to offer.
---
Did You Know . . .
That your subscription to MLM is free? All clinical practitioners qualify for a free subscription, including online services, we just need you to update and confirm your subscription, annually. If it has been a while since you last checked, please visit www.medlabmag.com/subscribe to confirm your information in just a couple minutes.
---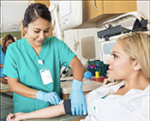 CLICK HERE To view the Digital Edition of our new clinical laboratory resource guide, which includes products and services spanning the disciplines of the clinical lab. CLICK HERE To visit our new and growing online resource: lab.2finditnow.com This list will continue to grow and be refined to best serve our readers, clinical laboratory directors and managers.
---
Your Subscription
You are receiving this message as a subscriber to
Medical Lab Management
. If you would like to unsubscribe from our newsletters, please visit
www.medlabmag.com/unsubscribe
.
If you are not already a subscriber to
Medical Lab Management
and would like to subscribe please go to:
www.medlabmag.com/subscribe
.
Please remember to add us to your address book to ensure that you continue to receive our emails in your inbox.
Sponsorship/Advertising Opportunities
Please contact your account manager at
sales@ridgewoodmedia.com
or call 201-670-0077, ext. 200.
In the Loop © 2021 Ridgewood Medical Media, LLC. You have permission to forward In The Loop, in its entirety only, provided this copyright notice remains part of your transmission. To subscribe to In the Loop, please send an email to:
listmanager@ridgewoodmedia.com
and type "Subscribe, (Your email address, and full name)" in the body.
All other rights reserved. None of this material may be reprinted without the express written permission of Ridgewood Medical Media, LLC.