---
A Lab Concierge: Improving Patient Experiences & Throughput in the Time of COVID-19
By Sean Tucker, MLS(ASCP), MBA; Terri Johnson, MLS(ASCP); and JDL Nolen, MD, PhD, MSPH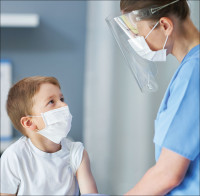 Hospitals must adhere to CDC physical distancing requirements when managing patients throughout their facilities, and these new demands are no different in the outpatient laboratory. To help alleviate the stress of health care procedures on youthful populations, Children's Mercy Hospital of Kansas City has implemented a fast-track service for clinic patients requiring laboratory services at their Broadway Clinics. This service uses a touch-free sign-in process and provides a technician phlebotomist as a "Lab Concierge" to escort clinic patients for services. CLICK HERE to read about how this novel service has improved both patient experiences and testing throughput.
---
Do You Know . . .
What the current best practices are for PPE use during the pandemic? CLICK HERE to read Best Practices for PPE Use by Dan Scungio, MT(ASCP), SLS, CQA(ASQ). An expert in lab safety practices, Dan discusses current best practices and provides additional resources for the safety and well-being of laboratory practitioners.
---
---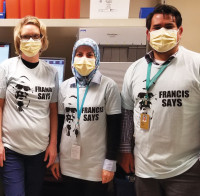 CLICK HERE to read COVID-19: A View of the Beginning in the US, a Q&A with Mary Munchak, MBA, MT(ASCP), director of laboratory services at EvergreenHealth in Kirkland, Washington. As one of the first US hospitals to treat patients with COVID-19, Mary shares her unique perspective and lessons learned.






---
Your Subscription
You are receiving this message as a subscriber to
MedicalLab Management
. If you would like to unsubscribe from our newsletters, please visit
www.medlabmag.com/unsubscribe
.
If you are not already a subscriber to
MedicalLab Management
and would like to subscribe please go to:
www.medlabmag.com/subscribe
.
Please remember to add us to your address book to ensure that you continue to receive our emails in your inbox.
Sponsorship/Advertising Opportunities
Please contact your account manager at
sales@ridgewoodmedia.com
or call 201-670-0077, ext. 200.
In the Loop © 2020 Ridgewood Medical Media, LLC. You have permission to forward In the Loop, in its entirety only, provided this copyright notice remains part of your transmission. To subscribe to In the Loop, please send an email to:
listmanager@ridgewoodmedia.com
and type "Subscribe, (Your email address, and full name)" in the body.
All other rights reserved. None of this material may be reprinted without the express written permission of Ridgewood Medical Media, LLC.