Using Expert Review to Prevent CMS Audits
Summer 2012 - Vol. 1 No. 1
- Page #8
Article Category:
with Christopher P. Young, CHC, President, Laboratory Management Support Services (LMSS)

Medical Lab Management: What are the most common regulatory vulnerabilities that lab is facing today?
Christopher P. Young: Given the government's perception that weak practices exist in billing, there is a strong regulatory focus therein, with a specific emphasis on the order itself: how the order is received, how it is interpreted, what steps are taken, and how this is documented. For example, signatures are expected to be on all requisitions to ensure the physician's intent is reflected, although this is not required by law or regulation. Audits and demands for refunds commonly occur with test orders, especially custom panels, where it may appear that the lab interpreted the order differently than the auditor would.
When challenged on a billing issue, too often the laboratory does not give this situation appropriate attention. Simply assigning an administrative employee the task of gathering and photocopying all related documentation is not a sufficient response. Rather, every request from an auditor should receive expert review, in other words, the issue and all supporting documentation should be reviewed from the perspective of the auditor to ensure that the information included in the initial response is sufficiently thorough and complete. With this approach, obvious problems are averted, such as responding with insufficient documentation to answer an order rejected as not specific enough. Once lab is involved in multiple rounds of appeals, not only is the auditor going to be annoyed, but also, precious staff time is wasted and payments are delayed. Instituting expert review as a matter of course will improve the efficiency of your responses.
The billing manager should conduct the expert review in conjunction with the compliance officer. The hospital compliance officer may not necessarily know the details of a particular lab process, but they should be knowledgeable about all associated laws and regulations, and have a clear understanding of what the auditor will expect in the response. Administrative tasks, such as copying records, can and should be assigned to an administrative employee, however, no documentation should leave the lab until it has been reviewed by the billing manager and compliance officer. It is the responsibility of this team to review all of the information and determine if it meets the documentation requirements that the auditor expects. The goal of this team is to head off any unnecessary problems by providing all of the information necessary for the auditors to properly interpret what they are looking at. By delivering diligent information at the outset, you can avoid the trap wherein the auditor develops a negative perception about your processes.
The expert review process should not require a large amount of time to complete as the reviewers will have a thorough understanding of the regulations and will recognize what the response should focus on. It is important that labs develop an expertise in responding to government audits to ensure efficient resolutions and avoid unnecessary and potentially problematic complications. Simultaneously, labs should gain experience by conducting their own audits.
MLM: How can you identify the billing issues that carry the most risk?
Young: While it is important to track national trends, it is best to start locally and identify the areas of concern for your local Medicare administrative contractor (MAC), recovery audit contractor (RAC), or your zone program integrity contractor (ZPIC), and then consider national trends. Oftentimes issues that are identified on the national level are handled differently depending on the zone, or the local contractor. Avoid spending time on issues that will not be of concern to your contractor; not only does this waste resources, but it also prevents you from devoting energy to those issues your contractor is looking at. To help manage this, stay current on your particular RAC's issue list.
Start with your contractor's website and join their list serv in order to receive periodic updates. These will provide a sense of how the contractor operates and what is happening that is new to lab. It is also wise to become a member of a compliance professional association so that you can stay abreast of policy changes as well as evolutions in professional practices. A compliance association will keep you apprised of coming guideline changes, allowing for sufficient time to prepare. Be sure you are receiving a regular newsletter or other source for global compliance information. I always recommend attending at least one conference a year so that you can avail yourself of current educational opportunities and interact with other people doing the same job.
In the ideal situation, your facility would have a compliance committee whose members are assigned specific responsibilities covering each area of the operation. For example, the staff member in charge of billing would be responsible for tracking all of the billing issues in your area; thus, one person is not solely responsible for managing overall compliance. The downside to this approach is that it is somewhat more difficult to track all of your compliance expenses. This can be a challenge, as one way to prove a program is effective is to demonstrate the commitment of appropriate resources. Therefore, it is important to track all compliance related expenses.
MLM: How often should internal audits be updated to capture changing regulatory focus?
Young: Anytime your regulator changes focus, those same changes should be reflected in your internal audit. In addition, any internal workflow changes—such as starting a new line of business—require a full understanding of the related rules and regulations, and internal audits should be adjusted at this point as well to ensure effective coverage of any new rules.
MLM: Does that make the case for having a designated lab compliance officer?
Young: Given the unique issues associated with lab billing and regulations, it is almost mandatory to assign a single person responsibility for audit compliance and I highly recommend creating a lab compliance position. This person will coordinate with the other compliance officers in the system to avoid duplication of efforts and to ensure that none of the lab policies conflict with hospital policy. Quite commonly, the medical records department will have a different perspective as to what is required for a claim, such as signatures on requisitions. Furthermore, any conflicts between hospital and lab policies must be identified and then rectified. This is often a part-time position, although the larger your operation and the more active your outreach program is, the more resources the position will require.
When an auditor has a concern, they will direct their questions to the compliance officer. If there is no lab compliance officer, the hospital compliance officer will be responsible for gathering any data. Keep in mind that hospital compliance officers, faced with questions about lab billing that are outside their area of expertise, may serve as a champion to establish a lab compliance officer position. Too often, responsibility for lab compliance is either unassigned or the title is simply tagged onto another position with no support or training offered, until a problem arises. Rather than spending time and resources on audits or, even worse, having lab be completely unaware of demand letters for refunds, lab should proactively address compliance to create an efficient and effective operation that generates timely responses when problems arise. To make the case for a lab compliance officer, focus on the resulting financial benefits as well as the alleviation of regulatory risk.
MLM: What training resources are available for this role?
Young: Unfortunately, such resources are scant. The government compliance guidance—The OIG Compliance Program Guidance for Clinical Laboratories—has not been updated since its publication in 1998, and certainly no compliance program should be based on a 14-year old document. Nonetheless, many programs are based on that document rather than current risks and vulnerabilities. I recommend joining the Health Care Compliance Association (www.hcca-info.org) to gain an understanding of what it means to be a compliance officer, as this role significantly differs from standard lab duties. HCCA also has excellent resources on how to make the case for compliance resources.
The lab compliance officer position initially will require a significant investment of time and resources to build a compliant program. The goal being that once the program is established, the time required to maintain compliance will be reduced considerably. Thus, the budget for the first two years—during which the program is being established—will be considerably higher than for year three and onward. A strong program should include a mechanism for ongoing training and for policy and procedure updates so that most changes will require only a few tweaks to existing processes and systems. Of course, major changes, like establishing a new line of business, will be more resource intensive.
MLM: How often should internal compliance audits occur?
Young: A new audit plan should be created every year and the types of audits you will conduct should be based on any issues that arose in the previous cycle or during prior audits. Also, be sure to accommodate any anticipated changes planned for the year, such as a new computer system adoption.
Include a schedule in the audit plan for the various audits; at a minimum, compliance program audits should occur annually but other audits like billing and coding or physician relations should be scheduled as appropriate for the risks in those systems.
I strongly suggest that internal audits be conducted prior to the start of the budgeting process. The audit will provide the necessary data to demonstrate the effectiveness of your compliance program and in the event of a problem, you will be asked when your program was last updated and how you ensure that it is effective. Keep in mind that simply having an audit plan in place is not sufficient if your audit is not effective. An effective audit provides a comprehensive view of your regulatory compliance and it highlights any areas that require additional attention. Of further benefit, the audit will help clarify the budget requirements for the next year. Audit results should be reported to the board annually and timing this presentation to precede the new budget cycle will make the board aware of any additions that need to be made in the coming year.
MLM: How can you ensure that your compliance program is effective?
Young: Begin by coordinating with the hospital compliance officer, who manages this process in many facilities. For example, if the hospital compliance officer is conducting all of the sanction
checks on new hires, there is no need to duplicate this effort. However, if there is a group of physicians who interact only with the lab, you may be responsible for running these sanction checks, and the same thing applies to lab vendors.
Basically your effectiveness audit should be centered on the OIG's Seven Fundamental Elements of an Effective Compliance Program (see Table 1). These key elements must be taken into account and policies should be developed to achieve each element. For example, in addition to designating a compliance officer and a compliance committee, you also must outline the responsibilities of each member. Furthermore, there must be a plan for how internal audits will be structured and what areas will require focus, and up-to-date policies and procedures must be in place for each of these focus areas. To maintain effective communication, consider establishing a hotline that will protect the users' anonymity. Likewise, ensure that education and training programs effectively improve staff compliance activities.
MLM: What area of compliance is the most challenging?
Young: Policy and procedure development generally presents the biggest challenge because these need to be created for every process and they must reflect actual activity. Policy creation cannot be done sitting in a closed office; rather, one must observe practices as they occur to avoid creating policies that do not reflect real practice. Once the policies are complete, identify key areas and establish control points to ensure these steps are being followed. An effective auditing program will be based on these control points.
Keeping policies and procedures current is an equally difficult task that requires consistent updating. Simply relying on an off-the-shelf program may present the appearance your lab is meeting regulatory requirements, but without constant review and updating, the program will suffer and could create additional risk for the laboratory. Changes to policies and procedures often require corresponding changes to training. When done right, maintaining education and training programs takes a lot of work; adjustments must be made throughout the year to accommodate new employees, changes in regulations, changes in processes, etc. At the end of the year it is important to update the whole package to ensure that the annual compliance training for all employees reflects the most current information.
MLM: How do you validate the effectiveness of your education program?
Young: Naturally, there is an audit for that; at the conclusion of every training session, simply include a 10-question test that focuses on the key elements of the training. Include questions such as: Who is the compliance officer? Do you know the process for making a complaint or reporting a problem? What is your role in achieving compliance?
Three months after the training, select a random group of employees and retest them. This will provide better data on the effectiveness of your training. If 80% of retested staff miss the same question, that part of your training requires improvement. When selecting employees for a training audit, be sure to stratify the selected group to include managers and supervisors, as well as frontline employees. You also want to stratify the group based on length of service—new staff members, those who have been on staff for a few years, and long-term employees. Finally, review employee records to determine whether staff are being trained as scheduled. If a staff member needs to be prompted multiple times to attend training, this must be addressed with a documented disciplinary action.
---
Christopher P. Young, CHC, owner of Laboratory Management Support Services in Phoenix, Arizona, is an independent consultant specializing in regulatory matters and developing compliance officers and programs for clinical laboratories. A compliance professional with 20 years experience in laboratory compliance and over 40 years working in clinical laboratories, Chris is certified in health care compliance (CHC) by the Health Care Compliance Association. He also serves as the laboratory representative on the Medicare Carrier Advisory Committee for Arizona and is CLMA's representative on the Pathology Coding Caucus. He writes and speaks locally and nationally on health care and laboratory compliance issues, Medicare/Medicaid billing and other laboratory topics.
---
Effective Resource Allocation
When you bring a consultant into the lab, you certainly expect them to leave you with a report when their analysis is done. Once the report is in hand, the lab department often convenes to discuss how the consultant did not understand that there is not sufficient money for this, or time for that, or that staffing is simply insufficient to support such change. It is not unusual for a consultant to leave you with a report that tells you what you need to do, but does not explain how to make the time, staff, and money available to do so. Oftentimes, the consultant's recommendations sit on a shelf and are not properly addressed for just that reason. Thus, I always recommend against bringing in a consultant unless you are prepared to deal with the resulting message. If you are confident you already know what the message will be, do not spend your money on consulting fees, instead, focus on addressing the issues that you know exist.

Consultants often are bought in to resolve an internal dispute over resources or to support a position that has not previously received internal support, in other words, to tell us what we already know. Unfortunately, this does not solve the underlying problem that created the initial resistance to change. Generally resistance is driven by a lack of available resources to create change or an inability to change the way in which solutions are considered. In such cases, it is best to allocate your resources to improving the efficiency of your current processes, and then request the additional resources to achieve your goals. Look for opportunities to get more value out of work that is already being accomplished; for example, add additional data points to your compliance audit to identify weaknesses in your billing processes. The audit will be conducted regardless, so it is a perfect opportunity to provide useful data to other departments, saving them from designing an entire new audit process. Similarly, you can request that the business office share their denial reports with you, so that you are not duplicating their efforts. By avoiding the compartmentalization of tasks, you can increase your overall efficiency and free up resources to drive the future change you envision.
---
Table 1.
Seven Fundamental Elements of an Effective Compliance Program
In their Compliance Program Guidance for Clinical Laboratories, the Office of Inspector General (OIG) in the Department of Health and Human Services identified seven fundamental elements for developing an effective compliance program:
Implementing written policies, procedures, and standards of conduct
Designating a compliance officer and compliance committee
Conducting effective training and education
Developing effective lines of communication
Enforcing standards through well-publicized disciplinary guidelines
Conducting internal monitoring and auditing
Responding promptly to detected offenses and developing corrective action
US Department of Health and Human Services, Office of the Inspector General. Publication of OIG compliance program guidance for clinical laboratories. Federal Register 1998;63(163). http://oig.hhs.gov/authorities/docs/cpglab.pdf
Accessed July 2, 2012.
Like what you've read? Please log in or create a free account to enjoy more of what www.medlabmag.com has to offer.
Current Issue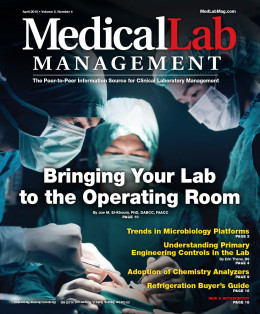 Subscribe to our Email Newsletters!
In The Loop!
Digital Edition
Special Announcements