Privacy Policy
In an effort to properly balance the benefit of providing information to our visitors with the desire to protect individual privacy, MedicalLab Management has taken reasonable precautions to secure the personally identifiable information available through online services on the Site. The contents of this web site are offered to you conditioned on your acceptance without modification of the terms of use agreement, and notices contained herein. Your use of this web site constitutes your agreement to all such terms, conditions, and notices.
MedicalLab Management may collect and use personally identifiable information of individuals for purposes of supporting MedicalLab Management programs, services or operations.
MedicalLab Management reserves the right to use this information to contact a user of this site ("User") regarding account status, changes to the Policies, or other matters relevant to the Sites or the information collected.
MedicalLab Management may at times provide aggregated information to third party entities conducting commercial or philanthropic activities approved and sponsored by MedicalLab Management. Any personally identifiable data that is shared is limited to that which can be found on a standard mailing list and only to those parties www.medlabmag.com considers relevant to our users.
When a User subscribes to an email list or provides an email address for other purposes, the subscriber's email address is recorded and used for future MedicalLab Management email distributions. The address may also be used for general MedicalLab Management email announcements. A subscriber's email address will never be disclosed to a third-party entity external to MedicalLab Management.
Personally identifiable information that is voluntarily disclosed by the User through the interactive portions of the Service, along with any substantive information disclosed in the User's communication, can be collected and correlated by third parties and may result in unsolicited messages from other users or third parties. Such activities are beyond the control of MedicalLab Management and we assume no liability for these activities. The User should exercise caution when deciding to disclose personally identifiable information.
Certain aggregate information may be collected by MedicalLab Management to gather broad demographic statistics, analyze site usage trends, evaluate site performance and recommend improvements to the Site. Individual user information is not identified in this process.
MedicalLab Management may disclose to third party entities certain aggregate information or related data. This information may include personally identifying information where specifically authorized by you or in the good faith belief that the disclosure is reasonably necessary to comply with the law or legal process, to enforce these Site Policies and/or the Terms & Conditions of Use for related online services, or to protect the personal and informational safety of users or the public in exigent circumstances. This information may also be released as necessary to protect the rights or property of MedicalLab Management or as MedicalLab Management determines is reasonably necessary to maintain or efficiently operate online services.
To access information that the www.medlabmag.com site may have stored, please visit our "Privacy Center" here.
Non-personal information and data may be automatically collected with "cookies" through the standard use of the Site. Cookies are small text files employed by various web sites to recognize repeat users, facilitate ongoing site access and usage, track usage behavior and compile aggregate data to allow content improvements and targeted advertising.
No usage behavior from www.medlabmag.com, outside of the aggregate, will be shared with any third party without user permission.
MedicalLab Management makes no warranties, express or implied, and assumes no liability or responsibility for any errors or omissions in the content. MedicalLab Management will not, under any circumstances, be liable for any damages of any kind relating to the use of any materials from this website, including without limitation, any special, indirect, incidental or consequential damages, that may arise from any use of, inability to use, or reliance on the site and/or the materials contained on the site whether the materials contained on the site are provided by MedicalLab Management, or a third party.
The Site may be linked to other sites or resources that are not maintained by MedicalLab Management. In addition, MedicalLab Management may sometimes permit third party entities to offer subscription and/or registration-based services through the Site. MedicalLab Management provides these site links only as a convenience to our visitors. The inclusion of any link does not imply an endorsement by MedicalLab Management of any of the policies of the other sites, nor does MedicalLab Management assume any liability for the actions, content or privacy policies of any linked sites.
All information contained on the Sites remains the property of MedicalLab Management and may not be reproduced in whole or in part by any person or entity without the written permission of MedicalLab Management. Furthermore, the use of the Sites to reproduce or store personally identifiable information in a retrieval system by any means, electronic or mechanical, or the use of addresses or other information contained in the Sites for any public, private, commercial or political purpose is strictly prohibited.
Current Issue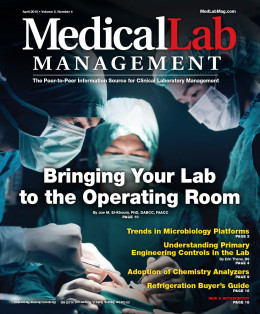 Subscribe to our Email Newsletters!
In The Loop!
Digital Edition
Special Announcements