RoboCourier from Swisslog
Fall 2012 - Vol. 1 No. 2
- Page #17
The nature of clinical laboratory services demands that the flow of specimens (and their related identification and analytic information) to and from the central lab remains fluid, efficient, and transparent. However, in a busy lab environment, accounting for the delivery of specimens from the units back to the lab can be haphazard and inefficient, particularly considering the fact that this process is usually highly human-factor dependent. Therefore, ensuring that the process of specimen collection and transport to the lab is as standardized as possible is a general goal of most clinical labs. Until recently, specimen delivery options have been limited to static systems (such as pneumatic tube delivery) or human systems, such as appointing support staff members or technicians to perform this function. While both methods have beneficial and challenging aspects, neither addresses all three concerns of fluidity, efficiency, and transparency. However, the introduction of autonomous mobile robotics now enables labs to automate and standardize the process of specimen delivery while creating a transparent audit trail and reserving valuable and costly staff members within the lab where their skills can be better utilized.

CentraCare Laboratory Services (CCLS) delivers comprehensive medical laboratory services, consultation, and information to St. Cloud Hospital in St. Cloud, Minnesota, as well as to clinics in the area. CCLS comprises three specimen collection sites, two of which are also laboratory testing sites. Of these two testing sites, the CCLS River Campus at St. Cloud Hospital employs approximately 100 staff members to provide full-time specimen collection and clinical laboratory testing services with an average of 4,000 billable tests performed daily. The microbiology, chemistry, hematology, transfusion services, histology, and cytology departments all perform analysis from a broad spectrum of tests with additional supportive functions provided by staff from client resources, phlebotomy, specimen referrals, pathology, claims analysis, and laboratory information systems. Because of this heavy workload, the veracity of specimen collection and the efficiency with which those materials are transported to the lab are of utmost importance.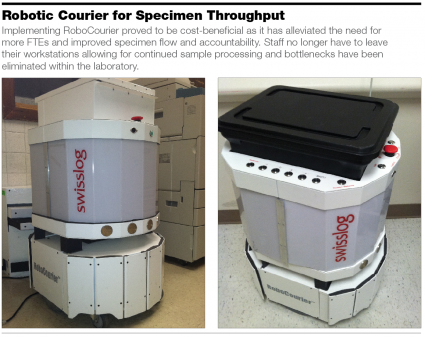 Identifying Process Gaps
Previously, our facility managed specimen delivery from the inpatient units to the laboratory via single-piece flow and the utilization of our pneumatic tube system, meaning each specimen was delivered individually to the lab through a combination of human and automated processes. However, this tended to create a bottleneck during busy times, as lacking a set schedule for all deliveries, samples would overflow into the lab. Due to the ongoing challenges of this process, our lean process improvement team decided to conduct a workflow analysis and ultimately identified specimen delivery as a necessary area for improvement.

Treat the Disease Not the Symptoms
Our initial attempt at alleviating the bottleneck was to create a centralized area in the lab for all samples to be delivered to, then leaving the responsibility of retrieving samples from this location to each individual department within the lab. The issue that formed out of this process change was how to inform each department when they had relevant samples to retrieve. Departments located furthest from the central drop zone had an obscured or blocked line of sight and there were no alert systems set up to notify them when items were ready for pick up. After investigating options to alleviate this issue, we developed a flagging system to improve visual cues, which did help to a degree.

Up to this point, specimen retrieval and delivery had always been the responsibility of lab support personnel with the assistance of technical personnel when available. However, as the delivery and dispersal of specimens became more of a collective responsibility, fewer staff members actually took ownership of this task, as they began to assume someone else would handle it. This also created a domino effect in that when the support staff left their workstations to deliver samples, they were unable to continue processing additional samples or attend to the customer service needs in their work areas; phone calls went unanswered, callers were left on hold, or samples piled up with staff left wondering if pickups had been made or assuming others had already done so. It became clear that relying on a mixed bag of human-dependent actions was not the best way to address this issue.

Consider Automated Solutions
The inefficiency of this process led to CCLS evaluating several automation systems for specimen throughput. Using our process improvement team's input and initiatives we determined that the most beneficial actions to automate were specimen retrieval, storage, and delivery. The concept of total laboratory automation did not fit the needs of all departments, nor was the financial impact of such a step appropriate for the open, lean-designed layout of our facility. For example, the anatomic pathology department is located outside of the clinical laboratory, adding further complexity to the specimen delivery process.

The idea of implementing a robotic courier was first discovered by CCLS administration at the national AACC/ASCLS Clinical Laboratory Expo in July 2009. After becoming aware of such technology, we began to research companies that provided this product type and found that Swisslog had recently added one to their product line called RoboCourier. Our health system was already familiar with Swisslog as the provider of our pneumatic tube systems, and the functions, compact size, and programming flexibility of their product was appealing to us. This also coincided with marked growth of the health system we provided services to, so CCLS was evaluating the need to hire additional FTEs in order to meet the increase in laboratory test volume, which included more collection and delivery personnel.

Transferring Workflow
In January 2011, Swisslog provided us with the opportunity to place and evaluate the RoboCourier for a one-month trial period. They introduced the product, which arrived with the nickname Rocky, to our team and worked with us on the initial programming and workflow design. The timing of this placement was critical, as we were undergoing an extensive remodel of the clinical laboratory, and departments and locations were being shifted.

Upon completion of the construction project, a tour was offered to our health system executives in order to highlight the improved laboratory layout and to thank them for their support. We also wanted to demonstrate how the robotic courier would fit into the new design and provide additional workflow benefits while limiting the need for additional FTEs. The executive team witnessed the interaction between Rocky and the laboratory staff, and noted how quickly the robot had become established as a member of the team. We also took this time to present our case for purchasing the robot, which included initial cost impact, long-term financial benefit, and improved workflow management. A financial impact statement was required for review by the health system CEO and based on our experiences during the trial period we were able to demonstrate the cost benefit of this system in terms of mitigating the need for more FTEs, as well as improvements in specimen flow and accountability.

Produce Workflow Efficiency, Reap Cost Savings
Currently, we only use the robot during the day and evening shifts, as there is a limited number of staff on the night shift schedule and we deemed robotic delivery of samples to a potentially unmanned department as counterintuitive. Swisslog provided initial documentation and direct education on system management, and they continue to provide ongoing support when new programming solutions are available. The support services coordinator was trained on and is responsible for the basic programming of the robot. This includes verbal messages, modifications to specimen drop zones, length of time within those zones, and minor floor plan updates.

Even after using the RoboCourier for just the brief trial period, we quickly realized the benefit of consistent test result turn around times throughout the day due to consistent and scheduled specimen delivery. Staff in the specimen receiving area no longer had to leave their workstations and instead could continue to process samples to send for the next delivery. Sample throughput became much more fluid and we no longer have the issue of sample bottlenecking in the laboratory. Of additional consideration, unlike an FTE, Rocky does not make vacation requests, take meal breaks, or request sick leave (other than the maintenance check-ups twice a year when downtime is limited to a few hours). To date, the RoboCourier from Swisslog has not only proven to be a valuable member of our workforce, but also a cost benefit to our facility.
---

Cindy Johnson, MS, MLS(ASCP)CM, has served as the director of laboratory operations for CentraCare Laboratory Services since December 1998. She currently serves as chair of the ASCLS government affairs committee.



Jeremy Angell, BA, PBT(ASCP)CM, is the support services coordinator at CentraCare Laboratory Services. He is active as both the ASCLS-MN scientific assembly chair and chair for pre-analytics.
Current Issue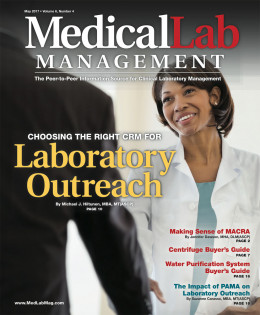 Subscribe to our Email Newsletters!
In The Loop!
Digital Edition
Special Announcements