Developing Successful Budget Initiatives
Jan-Feb 2013 - Vol. 2 No. 1
- Page #8
Article Category:

Q&A with Robert Neri,
DLM(ASCP)PACM, FACHE


Medical Lab Management: What is the management philosophy that drives your overall automation planning?
Robert Neri: My greatest management concerns here are twofold: Finding ways to produce greater efficiency in operations and accommodating the fact that the laboratory workforce is shrinking, albeit not as quickly as anticipated due to the current state of the US economy forcing many older workers to remain in the workforce longer. Regarding the first concern, all things being equal we invariably gravitate toward addressing the need for automated, high-volume testing platforms first, such as for routine chemistry, then work towards automating lower volume platforms later, such as for immunohematology. In other words, we always approach the acquisition of automation with the goal of gaining the biggest bang for our buck, up front.

MLM: To what degree is the hospital C-suite involved in budgeting for the lab?
Neri: Much of our automation can be and is acquired through the normal course of contracting with vendors for lab equipment as an operational expense, rather than having to lobby for capital funding through the C-suite. Fortunately, many vendors in the laboratory market have made it quite easy to acquire their ancillary automation platforms, thereby limiting the need for the lab to make the case for automation purchasing on a capital level.

However, for those project areas where capital funding is the only way to acquire necessary equipment, such as in anatomic pathology, today's fiscal environment demands that the lab produce a compelling argument based on overall cost and labor efficiencies gained through such an acquisition. While this has essentially always been the case, the current economic environment makes this process much more challenging, due in large part to the many and various reasons for shrinking reimbursements.

MLM: How do you approach automation life cycle management from a budgeting perspective?
Neri: When automation acquisition is funded through operating budgets, managing life cycles is much less of an issue than for capital acquisitions. In the former case, the impact of upgrades can usually be accommodated in the budget because you are keeping your costs fairly level over a contract term and only increasing when volume or system age demands newer technology. On the other hand, acquiring capital funding usually means competing with other parts of your organization for a limited amount of funding.

MLM: How do you plan for the next year's automation budget versus a five- or ten-year budget?
Neri: Much of budgeting for automation—as well as other testing overhead—is tied into general operating expenses, so the year-over-year plan tends to be the same as what already would be established for overall budgeting. Life-cycle expectations for platforms and automation usually run from five to seven years. However, many labs are precluded from budgeting for increased expenditures to any great extent and therefore tend to hold onto their analyzers and automation for a longer period of time. While this can result in a facility performing testing and operations using analytical equipment beyond intended life cycles, ultimately it is the organization's overall financial situation that will dictate the degree of replacement necessities.

MLM: What laboratory departments are currently automated and what areas are you considering upgrading to meet overall automation goals?
Neri: We are currently running fully automated routine chemistry and immunochemistry processes, followed by hematology, including automated slide making and staining. We also have automated blood banking for type and screening, followed by microbiology (automated plating), and most recently, our molecular testing systems are undergoing the same evolutionary path that other of our disciplines already have toward discrete analysis and sample handling.

The latter is where most of our attention will be focused in the near term. Yet to come is automation for urinalysis. While this is a function we feel is somewhat overdue, I have yet to be presented with a proposal for urinalysis automation that makes financial sense, ie, a proposal that does not include a marked increase to our per-unit urinalysis testing cost.

MLM: How did you choose the types of automation to adopt and what, if any, automation did you have to omit from your current budget?
Neri: As would be expected, if you only work with suppliers with which you have had positive experiences, they will attempt to guide you only to their products. Accordingly, all lab administrators should be aware of competitive advantages between various suppliers. No matter what testing system you are considering acquiring, due diligence in evaluating the market is always necessary.

To our great fortune, there have been no automation requests made by our laboratory that have not been met. Keep in mind, though, that we do not budget for software or automation that we cannot fully support with positive financial and workflow projections.

MLM: How do you tie in your department's goals with those of the institution in the planning and budgeting process?
Neri: This is an important consideration, as laboratory management should always be able to tie every goal of the lab—from increased workflow efficiency to better patient and staff satisfaction—to the imperatives and initiatives of the organization. So, if our lab is informed that a particular clinical service will be initiated, we first assess the impact this new service will have on the lab, determine the necessary additional resources the new service will entail, seek to tie in service and revenue goals with those additional resources, and forecast labor impact. In today's tight fiscal environment, significant effort must be made to avoid revenue shrinkage, so accurately forecasting impact on expense structure becomes all the more important and must be weighed against desired service enhancement from the lab.

MLM: Have you had success with an interdepartmental support approach to budget acquisition?
Neri: Yes we have; we were able to make an interdepartmental case for the installation of an advanced pneumatic tube system in the newest hospital in our health system. This advanced system services every unit of the hospital, but is used primarily for laboratory operations. Pharmacy is the secondary user of the system and a few other departments use it as well.

Currently, this new system is very heavily employed as it handles forty to fifty thousand tube transactions every month. Manual movement of specimens is now very limited and by mitigating this non-value-added activity, our staff are able to be much more productive and increase their activity in the patient units.

MLM: What are the key steps to getting administration's support for lab budget initiatives?
Neri: When approaching your administration for financial (or even moral) support for lab initiatives, it is always important to present data that clearly indicates what the defined benefits will be. Most overtly, the data should project success in growth of outpatient (billable) volume and deliver proven cost efficiencies for both labor and non-labor costs. As previously indicated, there should be evident linkage to the organization's strategic imperatives and objectives.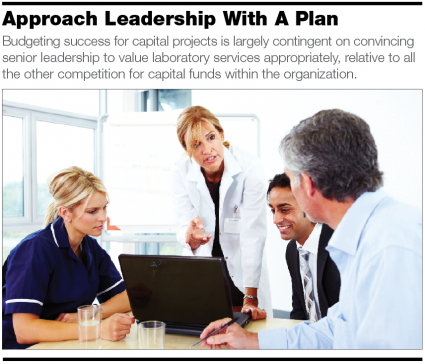 MLM: Once a technology has been acquired, what is the best way to manage ROI data?
Neri: Rather than focusing on the ROI for one specific test system, we track our overall cost-per-test over time, continuously. This process results in a macro metric rather than a micro metric, and this is the type of data most administrations are likely to focus on. Remember, not every technological acquisition will result in an immediate cash flow increase or return. However, if the impact of the acquisition leads to greater efficiencies in the larger scheme, then it makes sense to invest in order to advance.

MLM: Why and how often do you reevaluate your long-term goals?
Neri: Given the increasing rate of change in the laboratory, reevaluation of long-term goals is a continuous process. That being said, sometimes we are locked into contracted agreements with suppliers that keep us tied to specific systems or platforms for lengthy periods. Even so, suppliers often are willing to interrupt their own contracts and negotiate system upgrades, which can be quite advantageous for customer labs. I have seen this willingness to negotiate become more frequent in recent years.

MLM: Can you describe a recent successful budgeting initiative for your lab?
Neri: One of our recent successful budgeting projects was making the case for the capital purchase of a molecular testing system. In preparing for this budget request, we determined that our costs for outsourcing the tests in question to a specialty lab were over $2,400 per patient. In reviewing the potential costs related to in-sourcing the tests on the new platform, we projected a significant savings with the direct costs reduced to $139 per patient. This degree of savings makes the decision easy for administration and the resulting in-sourcing of these tests also signaled a sizeable reprieve for our reference lab budget. While home runs like this do not come around all that often, the more opportunities you seek, the more you will find.

MLM: What tips would you share with other lab directors in approaching the budgeting process?
Neri: It seems to me the key to budgeting success for capital projects is largely contingent on convincing senior leadership to value laboratory services appropriately, relative to all the other competition for capital funds within the organization. Because the lab often is depended upon by numerous other departments within a hospital or health system, a case may be made that the end results will be a direct boon to those other departments. Developing a quantitative as well as qualitative measurement of the positive ramifications of a technological acquisition should prove fruitful to your case.

From an approach standpoint, be sure to clearly convey that the acquisition does in fact tie into your organization's mission and goals, and will enhance services with efficiency improvements and/or provide direct and positive support to other programs. The laboratory can neither live in a silo nor be perceived as a black box department.
---
Robert Neri, DLM(ASCP)PACM, FACHE, is the assistant vice president of laboratory operations at Virtua Health in Voorhees, New Jersey, where he is responsible for strategic planning and all lab operations across a multi-hospital health care system. Bob earned a BS in biology from the University of Connecticut, a master of health sciences degree from Quinnipiac University, and a master of business administration with a focus on health care administration from St. Josephs University. His previous positions have included operations director for Main Line Clinical Labs in Radnor, Pennsylvania, and director of diagnostic services at Montgomery Hospital in Norristown, Pennsylvania. Bob also is former executive vice president of the Clinical Lab Management Association (CLMA).
Like what you've read? Please log in or create a free account to enjoy more of what www.medlabmag.com has to offer.
Current Issue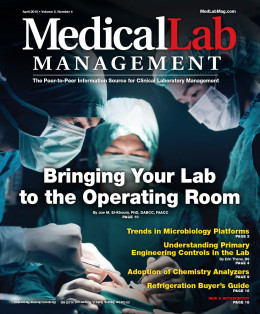 Subscribe to our Email Newsletters!
In The Loop!
Digital Edition
Special Announcements