Establishing Effective Lab Staffing Strategies
Mar-Apr 2013 - Vol. 2 No. 2
- Page #2
Article Category:

Q&A with Bill Remillard, MT(ASCP)
Technical Operations Director, PAML, LLC
& Eastern Washington Providence Hospital Labs


MedicalLab Management: What are the key factors for determining optimal staffing ratios in the lab?
Bill Remillard: A good place to start is with historic productivity measures. We maintain these data for each section within the lab, including cytogenetics, molecular diagnostics, clinical chemistry, toxicology, mass spectrometry, cytology, histology, and so on. While maintaining such data is essential, it is equally important to analyze it in the appropriate context. For example, you must account for any changes in the complexity of testing as well as any changes in the test mix in order to accurately determine departmental productivity, since the addition of highly complex tests or automated tests will have an immediate impact on productivity. Benchmarking your performance against outside data can be helpful but challenging in an esoteric testing area since external comparative data is difficult to obtain and validate.

In addition to the complexity of testing, regulatory requirements will also impact the specific staffing mix. Labs conducting esoteric testing, for example, may need to employ technical directors at the MD and PhD level to provide the necessary technical guidance and interpretative skills.

MLM: When new services are implemented, what staffing adjustments need to be considered?
Remillard: First, the lab must establish staffing policies that are aligned with all applicable regulatory requirements for every geographic area serviced. Because our organization is a national reference lab, we are keenly aware of the regulatory requirements for every state in which we serve clients.

Once the staffing policy is established, the lab must work with technical leadership to identify the optimal skill set for the new services being implemented. Because our organization offers varied services that include numerous disciplines, we staff areas with a balance of generalists and specialists and focus our training and competency programs to fill in any knowledge gaps. For example, in our bioanalytics lab, where we utilize tandem mass spectrometry, we have a number of generalist clinical lab scientists with very little formal separation science training. For this pool of employees we focus our training on the science associated with the testing. In this same area we hire chemistry degreed personnel and provide training and clinical experience to prepare them to pursue a categorical certification in clinical chemistry through ASCP.

MLM: How do you plan testing needs by shifts?
Remillard: Much of this is determined by patient care requirements, sample stability, and market driven competitive requirements. The majority of reference labs have excellent on-line test directories, which are a good source for quantifying what the market requires for in-house turnaround times (TATs). The challenge is to then use business intelligence tools (such as data mining software) to clearly identify all other aspects of TAT, including sample collection to shipment, arrival at lab, and availability of sample at the bench for testing. For batch tests we look at sample arrivals to optimize run start times. Additional runs or instruments are added based on the need to improve throughput and to meet client needs.

MLM: What human resource issues pose the greatest risks to patient safety?
Remillard: Maintaining staffing ratios with an adequate number of senior staff is always a chief concern in esoteric testing areas. It can take three to nine months to adequately train staff in high complexity testing areas. Retention of this skilled staff becomes critically important, as turnover can significantly impact quality and service levels.

Laboratories must remain vigilant in training their staff on the close connection between lab testing and patient outcomes. The staff must be keenly aware of quality assurance and quality control, yet not be lulled into thinking that quality control will catch all clinically significant errors. Leveraging IT resources to monitor patient medians and setting appropriate delta checks is helpful in preventing lab errors. Robust staff training along with competency assessments that address quality assurance issues are extremely important, as are regularly scheduled internal audits of the quality system.

MLM: What effect does just culture have on error reduction in the lab?
Remillard: Our organization is jointly owned by two Catholic health care systems, and as a result, our culture is faith-based with a strong emphasis on care for the poor and vulnerable. The lab's corporate culture is aligned with the mission and values of our parent companies and this is intentionally encouraged via mandatory leadership training for all management staff. Our annual employee engagement survey measures employee engagement, and each department is required to create a yearly action plan to address employee concerns.

Creating an environment of just culture enhances employee retention, which typically corresponds with error reduction. While we constantly work to create error-free processes, it is important to remember that one can never underestimate the value of experienced technologists, especially in a highly complex lab environment.

MLM: How can departmental leadership offset the risks from dwindling staff pools in the clinical lab?
Remillard: We are fortunate to be associated with an accredited clinical laboratory training program at Providence Sacred Heart Medical Center. This program trains up to 14 CLS and four CLT individuals per year. The majority of our new hires come through this pipeline, having recently completed their bachelor's degree with the requisite coursework. As a result, we currently have a good mix of new and more experienced technical staff.

Clinical lab leadership has a responsibility to do a better job of getting the word out to high school and college students of the variety of career opportunities available in the lab. One approach is to work with local clinical lab training schools to develop seminars and presentations that detail clinical lab career opportunities.

MLM: How can automation offset these staffing issues?
Remillard: Automation has been critical in allowing the lab to keep pace with productivity demands and staffing challenges. We recently had a supply issue with blood culture collection bottles wherein we had to consider the possibility of switching to manual blood culture options if the supply issues worsened. Our microbiology department would have been brought to its knees if they suddenly had to move from automated blood cultures to a system of manual blood cultures. Automation is key for many areas, and some of the larger labs have even resorted to developing their own proprietary automation in-house for sample management and for some complex preanalytic sample extractions.

Our lab continuously reviews existing processes and critically evaluates automation opportunities. Each automation adoption must have clearly defined outcomes and management must be held accountable for achieving the established goals.

MLM: How do you encourage lab staff to adopt a team approach to managing workflow and problem solving?
Remillard: We have had a number of staff trained in change management strategy. These staff members are facilitators of the GE Change Acceleration Process (CAP) Work-Out procedures. At its core, this program is a very simple concept based on the premise that those closest to the work know it best. When the ideas of those people, irrespective of their functions and job titles, are solicited and turned immediately into action, an unstoppable wave of creativity, energy, and productivity is unleashed.

Change facilitators lead these one- or two-day sessions along with those closest to the process or problem at hand. This approach uses brainstorming and a focus on the overall process of the work to remove barriers between departments and generate action steps, with management approval and a rapid-implementation timeframe.

MLM: How can lab management best acknowledge expertise improvement and workplace contributions from staff?
Remillard: In my experience, direct communication with staff is always well received. Start by developing clear communication with departmental supervisors to gain an understanding of the specific contributions from different staff members and then directly acknowledge these contributions to the employee or team. Corporate newsletters provide another opportunity for team acknowledgements but most individual contributions are best recognized personally. Open discussion regarding how staff would like to be acknowledged is generally a good approach. We have a specific budget line item in each department for employee appreciation. The department is encouraged to meet and discuss how they would like to spend this money, and the resulting discussions have generated some interesting approaches, including gift cards, catered meals, and custom t-shirts.

MLM: What other staffing areas are important to consider in managing a lab today?
Remillard: As previously mentioned, the issue I am most concerned about is the lack of development of key positions, including technical supervisors, technical managers, and administrative directors. I encourage facilities to develop succession planning and leadership training programs to overcome this gap. While hiring for these positions from the outside is indicated at times, having two or more individuals identified in a succession planning program provides tremendous stability for any institution.
---
William S. Remillard, MT(ASCP), is the technical director for clinical and anatomic pathology at PAML, LLC, in Spokane, Washington. He is also the technical liaison for testing at PAML testing partners and joint ventures. Bill received his bachelor of science in microbiology from San Diego State University. His professional interests include process standardization, assay development, and staff development.
Like what you've read? Please log in or create a free account to enjoy more of what www.medlabmag.com has to offer.
Recent Popular Articles
Current Issue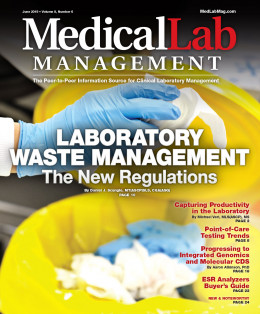 Subscribe to our Email Newsletters!
In The Loop!
Digital Edition
Special Announcements