Performance Metrics for Laboratory Outreach
July-August 2013 - Vol. 2 No. 4
- Page #12
Performance metrics are critical to demonstrating the overall effectiveness of the laboratory and identifying opportunities to improve processes. Specific metrics can be derived from operations in several key areas, including management, technical and analytic, and institutional and business. Management metrics include test volumes, cost per test, turnaround time, and quality measures such as revised reports and specimen recollection. Technical and analytic metrics include quality control and proficiency testing performance, and institutional and business metrics include patient and provider satisfaction, cost and revenue per test, FTE productivity, and service metrics such as telephone responsiveness or patient wait times.

Nationally recognized health care governing and accrediting bodies (ie, CAP, CLIA, TJC, COLA, etc) are intended to guide a laboratory's analytic and technical performance, and therefore require specific data elements from participating members. However, for a hospital-based lab outreach program, there are no governing bodies that require monitoring or measurement of outreach-specific metrics, which then begs the question, why are metrics important for outreach? The simple answer is, managing a hospital laboratory-based outreach program is like running a separate business within the confines of the hospital, and is therefore subject to conditions often not found in a laboratory confined to its own four walls. Just as a business must demonstrate profitability, transparency, good business practices, and overall effectiveness, a laboratory outreach program must do the same. Further, through the establishment of outreach program performance standards, the laboratory is able to justify staffing and infrastructure costs when benchmarked against peers who do not have similar outreach program businesses.

Outreach Benchmarking
When identifying metrics important to a laboratory outreach program, it may be easiest to categorize them based upon the audience for whom that indicator is relevant, such as the patient and the customer (provider or office staff), as well as internal ones, such as laboratory management, technical and outreach staff, and senior leadership. Once a metric is identified, the laboratory must decide how and when to measure it and determine the best avenue for communication.

The Patient
From the patient's perspective, the impression of a hospital-based laboratory outreach program is based primarily on three aspects—confidence in the quality of the laboratory's testing, satisfaction with specimen collection, and the billing process. Patient satisfaction regarding outpatient phlebotomy depends on the phlebotomy experience itself (eg, pain during the procedure, professionalism of phlebotomist, and minimization of bruising), as well as waiting times. Therefore, it is important for a laboratory to perform high-quality testing and to staff the outreach phlebotomy department with qualified and skilled phlebotomists that are patient-focused.

Many laboratories struggle to identify a benchmark to associate with patient waiting times for outpatient phlebotomy. A 1995 CAP Q-Probes study showed that patients who waited for five minutes were more likely to be satisfied with the phlebotomy experience than those who waited for ten minutes or longer.1 Furthermore, the Q-Probes study indicated that for laboratories routinely monitoring outpatient waiting times, the median patient wait time was 6.5 minutes. As a result, the recommended performance threshold for the 75th percentile was to effect a median wait time of five minutes. Another organization identified a target goal of 90% of patients waiting ten minutes or less.2 Beyond this, it may be helpful to administer a brief survey on-site to help gauge patient satisfaction with the phlebotomist and the overall experience (see TABLE 1).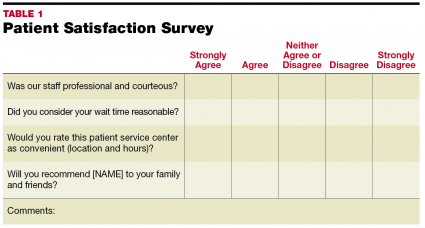 Click here to view a larger version of this Table

Ultimately, patient satisfaction is a valuable internal indicator and actual patient wait time is a valuable external indicator. Many hospital emergency departments post current, real-time patient wait times on their public websites, and while it is not practical to attempt to capture real-time data for peripheral facilities, a laboratory outreach program should be able to post on its website historic patient wait times for each patient service center. When patients know what to expect, their level of satisfaction is likely to be rated higher.

The Customer
In working with hospital-based outreach programs across the country, Mayo Medical Laboratories finds that office-based providers rank two service aspects above all others—analytic quality and turnaround time. Two other aspects that rank highly include the provision of excellent customer service and a positive patient experience. There are other differentiating service elements critical to a successful outreach program, but it is important to demonstrate strong performance on these four key aspects.

High analytic quality should already be a mandate for the laboratory, but hospital-based laboratories also are able to leverage 24/7 routine testing schedules to provide turnaround times superior to those provided by competing commercial laboratories. Because turnaround time is a competitive differentiator for an outreach program, it is a valuable performance-benchmarking indicator to monitor and communicate to customers. Be sure to focus on accurate data entry, as this process is an indicator of pre-analytic quality that can impact the veracity of test orders, report routing, and patient billing. Other indicators may include on-time courier performance, lost specimen rate, or responsiveness via telephone.

A suggested benchmark for turnaround time for routine tests (including courier transport time) is less than eight hours, a time frame that typically allows for same-day analysis (see Figure 1). Relevant service indicators for the laboratory's call center function include call response time and abandoned call rate. Ideally, the call should be answered within 20 seconds (which is the equivalent of three rings), and the abandoned call rate should be less than one percent. There are no specific benchmarks for data entry errors or lost specimens, since the common sense goal for these issues should always be zero. According to the American Journal of Clinical Pathology, one estimate places the most likely error rate from 1 in 164 to 1 in 330 events of laboratory results on the basis of a review of literature. To monitor error rates, health care organizations are beginning to use Six Sigma, a rigorous, data-driven improvement methodology, that strives for near error-free operational performance.3 In addition to the quality, service, and patient safety benefits related to keeping errors to a minimum, there are also significant cost savings for the laboratory when processes are error-free. The Six Sigma measurement methodology can be utilized to quantitatively describe how a process is performing. A generally accepted benchmark for highly rated performance in the provision of any service is 3.4 defects (errors) per million opportunities.4 This benchmark can be useful when demonstrating a laboratory's performance on quality indictors where perfection is the goal (see Figure 2).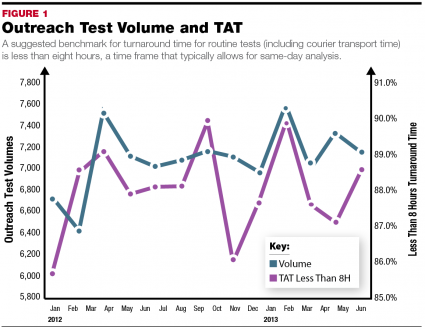 Click here to view a larger version of this Figure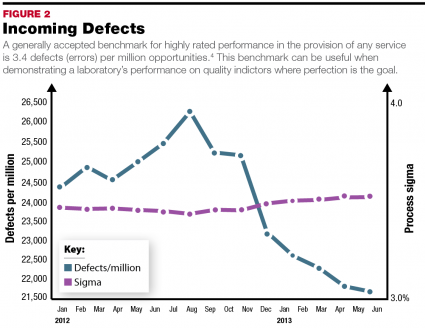 Click here to view a larger version of this Figure

Each of these four key performance indicators is important to current laboratory outreach customers, but also is necessary for new customer acquisition. These metrics and benchmarks demonstrate the laboratory's attention to meeting and exceeding customer expectations, and to show progress over time. Additionally, an outreach program that can generate customer-specific metrics is able to engage in proactive process improvement with its customers, thereby strengthening the business relationship and creating vendor loyalty.

Management and Staff
From the perspective of lab managers and staff, outreach performance metrics are required to run an effective business and are useful when developing a process improvement culture. They can be used to aid in troubleshooting problems, identifying and justifying solutions, and securing the support of staff members who are working in a changing and growing environment. Managers must be able to use both internal and external metrics, including customer and patient satisfaction scores (see Sidebar).

For front-line outreach employees such as phlebotomists, couriers, and customer service (telephone) staff, it is important to monitor operational indicators such as data entry accuracy, phlebotomy errors (eg, quantity not sufficient, hemolysis, mislabeled specimens), and customer service (call volumes, response times, and dropped call rate).5 Outreach metrics that are most important to technical staff members include analytic indicators, such as test volumes and turnaround time. When technologists are expected to work differently in response to increasing outreach program needs, a visual representation of test volumes and associated turnaround times will reinforce the message and help them see the results of their efforts. [Possible inclusion of Vol / TAT line chart] Tracking and communicating relevant indicators within each department demonstrates progress and reinforces staff members as they support changes necessary to provide excellent service to outreach customers.

Leadership
Ultimately, laboratory outreach can improve departmental efficiency (realized by lower overall unit costs), strengthen relationships with providers and patients in the community, and contribute to the operating margin of the organization, while each senior leader is charged with maintaining prosperity or solving irregularities.6,7

The Chief Medical Officer is usually focused on improving relationships with providers and overall patient care in the community, whereas the Chief Operating Officer may be focused on managing costs and efficiency within each department. The Chief Financial Officer is likely focused on lowering overall unit costs and increasing incoming revenues and the Chief Executive Officer typically oversees that the management team is aligning services in a manner that will aid in achieving the institution's future goals. The good news is that a well-run, benchmarked laboratory outreach program often is part of the solution to many of these challenges. However, in today's volatile health care environment, organizations are identifying ways to reduce costs and may see a laboratory outreach program as an easy target. After all, there are some costly infrastructure elements such as maintaining courier vehicles, paying for a patient service center location, and maintaining additional support staff FTEs. Often the positive business metrics of laboratory outreach are most useful in combating these negative perceptions.

Benchmark Financial Contributions
Specific indicators that show the financial stability and contribution of a laboratory outreach program include outreach test volumes, net (collected) revenue per test, variable (analytic) cost per test, preand post-analytic cost per test (courier, phlebotomy, customer service, registration, and processing), and contribution margin. Equally important, yet more difficult to demonstrate, is the impact that increased outreach test volumes have on the overall cost per test in the department. In order to effectively demonstrate this metric, the laboratory must be able to identify both fixed and variable costs per test, and incorporate any institutional overhead that the laboratory is responsible for as part of the hospital. Without added outreach test volumes, all fixed costs and overhead for laboratory testing must be applied to the inpatient setting, which increases the overall cost per test.

Although the health of internal metrics and the quality of self-benchmarking are the best indicators of success, senior leaders will frequently ask how the laboratory compares to others. Therefore, when comparing your own laboratory outreach performance to any external values, it is important to ensure that the measurement methodology is the same. Key outreach-specific indicators are outlined in Table 2.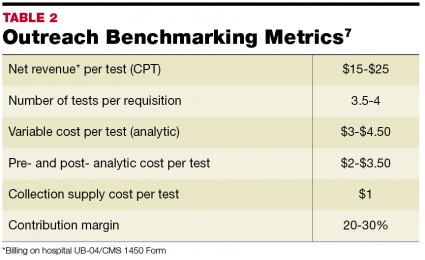 Conclusion
In order to have a successful laboratory outreach program, managers must continually monitor performance metrics and routinely communicate them to the appropriate audiences. It is unlikely that there will ever be a nationally recognized standard for outreach program success; however, there are tools available now that a manager can use. Ultimately, the most successful laboratory outreach programs will leverage a combination of external and internal benchmarks to improve existing processes and demonstrate success.
References
Dale JC, Howanitz PJ. Q-Probes: Patient Satisfaction with Phlebotomy Service Data Analysis and Critique. College of American Pathologists. 1995-04. Available at: http://www.cap.org/apps/docs/q_probes/critiques/95-04.pdf
Melanson SE, Goonan EM, Lobo MM, et al. Applying Lean/Toyota production system principles to improve phlebotomy patient satisfaction and workflow. Am J Clin Pathol. 2009 Dec;132(6):914-9.
Carlson RO, Amirahmadi F, Hernandez JS. A primer on the cost of quality for improvement of laboratory and pathology specimen processes. Am J Clin Pathol. 2012 Sept;138(3);347-54.
Nevalainen D, Berte L, Kraft, C, et al. Evaluating Laboratory Performance on Quality Indicators with the Six Sigma Scale. Arch Pathol Lab Med. April 2000;124(4):516-9.
Hermansen JM. Measuring Outreach Program Performance. Clinical Leadership & Management Review. April 2011;25(1):11-15.
Hermansen J. Developing a Laboratory Outreach Program. Med Lab Mag. Summer 2012;1(1):2-6.
Hermansen J. Expanding an Established Outreach Program. Med Lab Mag. Jan/Feb 2013;2(1):14-18.
Mayo Medical Laboratories. Customer Proforma data, 2010-2013.
---

Jane Hermansen, MBA, MT(ASCP), is the outreach program coordinator for Mayo Medical Laboratories in Rochester, Minnesota. She received a BA in medical technology from Concordia College in Moorhead, Minnesota, and an MBA from the New York Institute of Technology. Jane's experience includes clinical research, process engineering, project management, and laboratory outreach consulting, training, and facilitation.
---
Sidebar
Case Example
Within a select patient service center, patient satisfaction scores are found to be low. Data analysis shows that wait times are over 20 minutes on most days while test volumes are decreasing. Upon further evaluation, the manager learns that phlebotomy staff members are frequently pulled from that location to support inpatient needs as they are considered not sufficiently busy, and the location is closing earlier than its posted hours.

Discussion
Although this example may seem simplistic, it demonstrates the impact that staffing levels have on patient satisfaction and subsequent outreach test volumes. It is important to note that there is no industry-standard benchmark for staff productivity. Unpredictable patient arrival patterns and processes performed by the phlebotomists are not consistent across the industry and may not be consistent within a single organization. In this example, when seeking a tool to gauge staff productivity, it is best to use an internal standard and self-benchmark over time.
Current Issue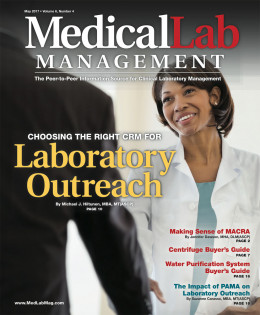 Subscribe to our Email Newsletters!
In The Loop!
Digital Edition
Special Announcements