Performance Metrics for Laboratory Outreach
July-August 2013 - Vol. 2 No. 4
- Page #12
Performance metrics are critical to demonstrating the overall effectiveness of the laboratory and identifying opportunities to improve processes. Specific metrics can be derived from operations in several key areas, including management, technical and analytic, and institutional and business. Management metrics include test volumes, cost per test, turnaround time, and quality measures such as revised reports and specimen recollection. Technical and analytic metrics include quality control and proficiency testing performance, and institutional and business metrics include patient and provider satisfaction, cost and revenue per test, FTE productivity, and service metrics such as telephone responsiveness or patient wait times.
To read the full article, please log in or register.
Current Issue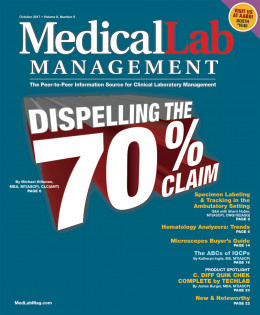 Subscribe to our Email Newsletters!
In The Loop!
Digital Edition
Special Announcements