Develop Compliant IQCPs
March-April 2015 - Vol. 4 No. 2
- Page #6
Article Category:
In less than a year, on January 1, 2016, the Clinical Laboratory Improvement Amendments (CLIA) equivalent quality control (EQC) options will no longer be allowed. As of that date, laboratories must revert to the traditional CLIA quality control (QC) requirements or have in place individualized quality control plans (IQCPs) for their laboratory tests. IQCPs are optional; laboratories will be allowed to revert to traditional QC for every test, but for laboratories that want to take advantage of electronic or integrated controls, or consider other ways to reduce laboratory errors, preparing IQCPs will be the only allowable alternative to traditional QC. Now is the best time to start preparing for the changes in these requirements, in order for laboratories to have IQCPs in place for 2015 inspections, prior to the cessation of the EQC options.

Preparing an IQCP requires some time, thoughtfulness, documentation, and a different way of thinking. Although not a difficult task, it does warrant consideration. Fortunately, once a laboratory manager or scientist has gone through the process a few times, it becomes easier to create new IQCPs faster and with greater confidence.

What Is an IQCP?
The IQCP, an optional QC plan allowed by CLIA under 42CFR493.1250,1 is a documented compilation of actions that controls the quality of a test, from the time the test is ordered, until the results are reported. The plan is customized for each laboratory's specific scope of operations and considers factors such as environment, patient population, test method, clinical use, and personnel competency. Among clinical laboratories, plans may be similar for a given test, but it is not expected that any two laboratories' IQCPs will be identical, hence the term individualized. IQCPs were born from the CLSI guideline EP23, Laboratory Quality Control Based on Risk Management.2 Although there is no CLIA requirement to do so, following CLSI guideline EP23 can help clarify the IQCP process and assist in completing CLIA-required documentation.

According to the Centers for Medicare and Medicaid Services (CMS), IQCPs have a number of advantages.1 They:
Customize the QC plan for each test in its unique environment
Optimize the use of electronic or integrated controls
Offer laboratories flexibility in achieving QC compliance
Are adaptable for future technology advancements
Incorporate multiple sources of quality information
Strengthen manufacturer/laboratory partnerships
Formalize risk management data already maintained within the laboratory
Provide equivalent quality testing to meet CLIA QC regulations
IQCPs may or may not reduce the frequency of testing liquid QC samples, but they are intended to ensure the effectiveness of the QC that is performed for each laboratory test.

IQCP-Applicable Tests
IQCPs are allowed for all non-waived tests except pathology, histopathology, oral pathology, and cytology. Keep in mind, for non-waived tests outside of these pathology areas, laboratories must, at a minimum, follow all manufacturer instructions. However, if the manufacturer does not list QC testing instructions, or the instructions are less stringent than traditional CLIA control procedures, then the laboratory must either implement traditional CLIA QC or create an IQCP for the test. CLIA does not plan to set a minimum QC frequency for laboratories that create their own IQCPs, but does stress the following QC principles1:
Performing no QC is unacceptable.
QC frequency cannot be less than that described in the manufacturer's instructions.
The documentation created for the IQCP and the laboratory's data must support the QC frequency in the IQCP.
Elements of an IQCP
Each IQCP is required to include a risk assessment (RA), a quality control plan (QCP), and a quality assessment (QA) (see FIGURE 1). Further, IQCP documents are created by following the process shown in FIGURE 2.2



Click here to view a larger version of this Figure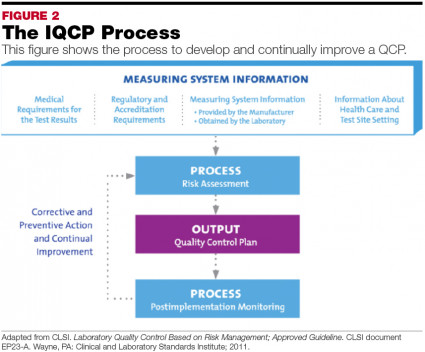 Click here to view a larger version of this Figure

Gather Information
The first step in creating an IQCP is to gather information about the measuring system (ie, the test), including the medical requirements. It is important to understand how clinicians use the test results in order to determine whether the test performs sufficiently for its intended use. For example, if a physician is monitoring a creatinine level for a transplant patient, a change of only 0.1 or 0.2 mg/dL may be cause for concern. The laboratory must, therefore, ensure that the quality of the test is sufficient to deliver meaningful results. The laboratory also should determine whether there are specific regulatory or accreditation requirements for the test, as some accreditors may have QC requirements that differ from, or are more stringent than, those of CLIA.

Additionally, the laboratory should review all information provided by the manufacturer, including the package insert, user's manual, recall history, technical bulletins or other notifications, and white papers. With regard to the package insert, be sure to note the sections on Limitations of the Procedure and Warnings and Precautions. Furthermore, check the literature to see if there are articles describing performance for the test or any other factors regarding the test, and review data collected within the laboratory (eg, QC data over time, nonconforming events, performance verification data, and any other data that may be available).

In addition to these steps, the laboratory should determine whether there are any conditions at the health care site and the test site that may influence testing integrity. Is there a unique patient population? Are there environmental concerns (eg, temperature fluctuations or humidity issues)? Finally, while reviewing all of this information, it is essential to document any items that could cause concern or lead to an error or a wrong test result. This information will be helpful for the risk assessment.

Conduct a Risk Assessment
Identify Possible Failure Points. Every day, laboratories perform numerous actions to prevent errors. By doing so, the laboratory is performing risk management—proactively preventing errors from occurring in order to reduce the risk of an erroneous result that could lead to patient harm. The risk assessment is a formal process for identifying potential laboratory errors, assessing the risk of the error, and determining actions that can be taken to prevent the error or reduce the risk of harm if the error occurs (ie, mitigating the risk).

For IQCPs, CLIA requires evidence (documentation) that a risk assessment has been performed. This information is typically compiled in a tabular or spreadsheet format, such as the table shown in FIGURE 3.2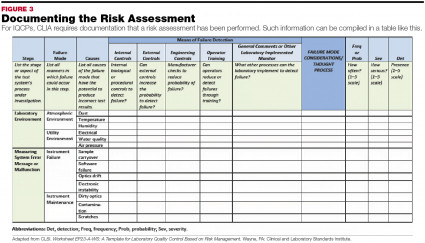 Click here to view a larger version of this Figure

CLIA also requires that the IQCP include the entire testing process, from test ordering through reporting of the test results, which means including the preanalytical, analytical, and postanalytical portions of the test. CLIA does not require the use of a particular method for performing the risk assessment, but CLSI guideline EP23 offers some tools that laboratories may find helpful. One of these tools is the fishbone diagram, shown in FIGURE 4.2

CLIA requires that a risk assessment for an IQCP consider five testing components: the patient sample, testing personnel, reagent(s), environment, and testing system.1 These focus areas correspond to the topic areas shown in FIGURE 4.


Click here to view a larger version of this Figure

Using the fishbone diagram as a tool for the risk assessment, the laboratory should seek to forecast potential failure points that could potentially lead to an incorrect test result for each of the five focus areas. For example, samples could have bubbles or be of inadequate volume, operators could be improperly trained, or the laboratory environment could have variable temperature swings. All possible issues, problems, or complications should be considered, no matter how remote the possibility, and recorded on the risk assessment spreadsheet. The spreadsheet then should contain a list of all identified potential problems. The laboratory scientists who have the most experience with the tests should help to develop the risk assessment.

Another tool that may be helpful for some laboratories is a test process map, such as the one shown in FIGURE 5 for a fingerstick test.2

The process map depicts all of the steps of the testing process, from the time a test order is received until the time the result is reported. Using this tool, the laboratory can review every step of the testing process and consider what could potentially go wrong and result in an incorrect test result. All of the potential problems are listed on the risk assessment spreadsheet. All five focus areas required by CLIA must be considered: the specimen, environment, reagent(s), test system, and testing personnel.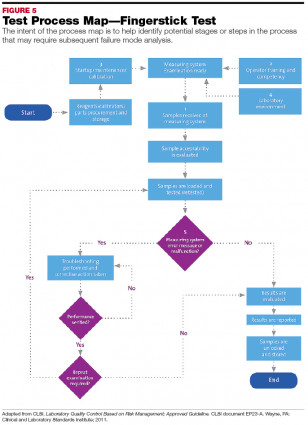 Click here to view a larger version of this Figure
Assess the Risk of Harm if Failures Occur. For each possible failure, assess:
The frequency at which the failure might occur
The severity of the harm, should the failure occur
The likelihood that the failure will be detected beforecausing patient harm
In CLSI guideline EP23, each of these issues is assessed on a five-point scale. The higher the score, the worse the problem, and the more imperative it is to devise actions to mitigate the problem. CLSI guideline EP23 explains how to use a risk acceptability matrix, or a criticality score, to help determine which potential failures require actions to reduce the risk of harm.

Determine Actions to Mitigate Risk. Once the possible failures and their risks have been identified, the laboratory must determine actions to reduce the possibility of the failure or the risk of harm. These actions can reduce the frequency of occurrence or the severity of the harm, or they can increase the likelihood that the failure will be detected. For example, operator training and competency testing can mitigate the risk of failures in procedural steps; temperature monitoring can mitigate the risk of high or low temperature influences on a test result; and running liquid QC at the start of a day can ensure that reagents and instruments are operating properly. Although these are actions laboratories are already taking, with this approach, they are linked to specific failures and risks and formally recorded in the risk assessment and the IQCP.

Create the QCP
Each of the actions listed in the risk assessment becomes the basis for the QCP. An example of a completed QCP might include:
Electronic controls at a designated frequency
Liquid quality controls at a designated frequency
Proficiency testing
Instrument maintenance
Environmental monitoring
Training and competency testing of all involved personnel
The QCP should be customized for the particular laboratory, test, testing system, facility, and population. Note that CLIA has stated that tests can be bundled together. Thus, several assays on a specific analyzer all may be considered at the same time. However, be sure to think about whether each individual test has any additional possibilities for error that are not shared by the other tests in the bundle.

Perform the Quality Assessment Regularly
The IQCP is not complete without regular quality assessments. Laboratories must verify that the QCP that is put in place is working to control errors. If an error or failure occurs, the laboratory needs to take appropriate corrective action, investigate the cause, and evaluate whether changes need to be made to the QCP. Of course, this assessment must be documented as part of the IQCP records.

Additional Resources
CLIA does not require the use of CLSI guideline EP23 or any other specific tool; rather, these tools were created to provide assistance as needed. CLSI developed an EP23 Implementation Workbook (A Practical Guide for Laboratory Quality Control Based on Risk Management) and Worksheet (A Sample Form for Laboratory Quality Control Based on Risk Management) that laboratories may find helpful. In addition, CLSI offers an online training program, EP23 Online Workshop: Risk-Based Tools to Meet IQCP Requirements, which consists of a series of modules that walk the participant through the creation of an IQCP. A final IQCP homework assignment is reviewed with the participant to identify any areas where gaps may exist. CLSI also is working on providing examples for specific areas, including microbiology. The CLSI Subcommittee on Antimicrobial Susceptibility Testing has published QC recommendations for many years. Now, they are working to prepare an example of how those QC recommendations can be included in a laboratory's IQCP for microbiology testing.

Conclusion
In summary, for each test, the laboratory needs to:
Create an IQCP for each test, or run traditional CLIA QC
Consider the five focus areas for each test
Document possible errors and the necessary actions to mitigate risk in a risk assessment table
Monitor the plan over time and improveit as needed
IQCPs should be reviewed at least annually and whenever possible failures have been identified. Creating an IQCP may seem daunting at first, but keep in mind that the laboratory is already performing many of the actions that will be formalized in the IQCP. Thinking through the testing process and the five focus areas will illuminate elements that might not have been considered before—areas in which additional actions can help reduce or eliminate errors, thereby enhancing patient care.

References
Centers for Medicare and Medicaid Services. Individualized Quality Control Plan. http://www.cms.gov/Regulations-and-Guidance/Legislation/CLIA/Individualized_Quality_Control_Plan_IQCP.html. Accessed February 4, 2015.
CLSI. Laboratory Quality Control Based on Risk Management; Approved Guideline. CLSI document EP23-A. Wayne, PA: Clinical and Laboratory Standards Institute; 2011.
---

Luann Ochs, MS, is SVP, Operations, for the Clinical and Laboratory Standards Institute (CLSI). Previously, Luann was VP for Regulatory Affairs, Clinical Operations, and Quality Management at BD Diagnostics. Ms. Ochs also has worked for Roche Diagnostics, Boehringer Mannheim Corporation, and American Monitor Corporation. She held volunteer positions with AdvaMed, the Center for Disease Control and Prevention's Clinical Laboratory Improvement Advisory Committee (CLIAC), ISO, and CLSI, including serving on CLSI's Board of Directors. Ms. Ochs holds a Master's Degree in Chemical Pathology from Indiana University School of Medicine.
Like what you've read? Please log in or create a free account to enjoy more of what www.medlabmag.com has to offer.
Current Issue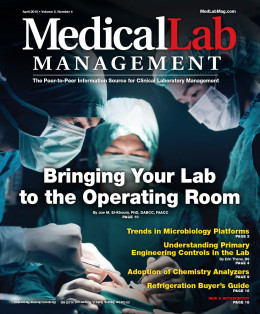 Subscribe to our Email Newsletters!
In The Loop!
Digital Edition
Special Announcements