Biologic Product Deviation Reporting in the Blood Bank
September 2015 - Vol. 4 No. 5
- Page #12
Article Category:
Given the stringent regulatory requirements for error reporting in the blood bank and the high-risk nature of transfusion medicine, an error reporting system is vital for both regulatory compliance and patient safety. When properly executed in a Just Culture environment,1 error reporting can, in fact, become the cornerstone of an effective quality assurance (QA) program both within the blood bank and throughout the clinical laleboratory. However, when error reporting is treated as punitive and trending is not used to drive quality improvement (QI) efforts, it becomes little more than time-consuming busy work that deflates employee morale. In order to ensure regulatory compliance for error reporting and optimize patient safety systems, blood bank leaders should be knowledgeable about blood bank error reporting regulations, be able to conduct effective root cause analysis (RCA), have the ability to use error trending data to prioritize QI and prevent error recurrences, and make an informed decision on whether to replace paper documentation systems with error reporting software.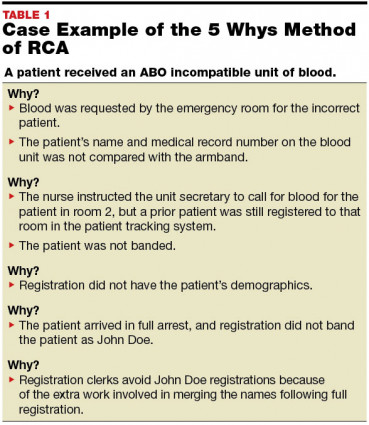 What to Report
The FDA requires investigation of any error involving blood bank products that occurs within or outside of the blood bank, which, if undetected, has the potential to compromise the safety, purity, or potency of a blood component (see A Review of Relevant Regulations at www.MedLabMag.com/bloodbankregulations). Types of errors that must be reported include:
Filing incorrect test results
Donor history errors
Blood component labeling errors
Mislabeled samples
Incorrect product expiration dates
Infusion with incompatible IV fluids
Order entry for the incorrect patient
Product distribution prior to completion of testing or record review
Post-donation information
Recalls and market withdrawals
Beyond these, it is prudent to track preventable blood component losses and delays in blood component availability. Likewise, the reporting system can be used to conduct occasional focused audits to gather data about a specific problem. Blood bank errors that occur prior to the blood product leaving your control (ie, near misses) require investigation but do not have to be reported to the FDA. At Hoag Hospital, a two-campus, 600-bed hospital system in Southern California, the phrase leaving your control is defined differently in each of the blood bank sections. In donor collections, the term includes anything that occurs post-donation. In donor processing, it consists of errors that occur post-labeling and distribution. In the transfusion service, leaving your control is defined as anything that occurs post blood-product issue.

Your error reporting system also should capture all employee or customer complaints without judgment as to their validity, provide a mechanism for staff to submit suggestions for systems changes or ways to prevent recurrences of errors, and provide for anonymous reporting, satisfying CAP GEN.20325.

Effective Root Cause Analysis
To positively impact quality, biologic product deviation (BPD) reporting must be timely and include a thorough RCA with concise documentation of all relevant facts and immediate corrective actions taken. The level of detail must be sufficient for follow-up and risk assessment. Critical to the success of any error reporting system is the previously mentioned development of a Just Culture environment in which BPDs are viewed as an opportunity to review and improve systems, not an occasion to write-up colleagues.

The overarching goal of an RCA is to determine the fundamental reason for an error, as well as any contributing factors. The process usually requires speaking with the employee(s) involved. Without discussing the incident, it can be difficult to determine if the root cause is a competency deficit indicating the need for retraining. If the employee does not recall what happened, have the employee explain how he or she normally performs the task in order to assess competency, and evaluate whether contributing factors played a role.

In Reason's Swiss Cheese Model, serious errors occur when latent conditions align along successive levels of preventative measures to allow an error to reach the patient.2 Use of the 5 Whys method of RCA can help to uncover each of the latent conditions and guide the corrective actions needed to prevent a recurrence of the error (see Table 1).

Review of BPD reports provides an opportunity to ensure standard operating procedures (SOPs) are up to date. In the event of a BPD, do SOPs cover the step in question? If so, review the SOP with your employee. If not, require that the SOP (and associated training module) be revised before closing out the report. A copy of the SOP covering the step in question should be part of the case's supporting documentation and is something the FDA will look for.

Developing a Just Culture
In recent years, Hoag Hospital evolved from a blame-free culture, which suggests the absence of individual accountability, to a Just Culture, which emphasizes transparency, systems analysis, and prevention of recurrence while still maintaining performance accountability. Establishment of a Just Culture begins with the assumption that employees have good intentions. That is, with rare exception, employees are trained professionals who want to do a good job. Thus, BPD review sessions become opportunities not to punish employees, but to restore confidence, relieve anxiety, and reiterate the goal, which is to identify systems problems and potential improvements to help prevent recurrence. Remind employees of the number of times they do things correctly. In short, be positive, not punitive. It is also critical in a Just Culture to treat near misses identically to FDA reportable BPDs, both in terms of how the events are investigated and how employees are treated.

Transparency is critical to error reduction. At Hoag Hospital, we notify the entire blood bank by email of all BPDs (with names redacted). Vulnerable steps and preventable measures are identified, and ideas for preventing error recurrence or systems changes are solicited from the staff. In this way, regular education is provided on critical SOP steps, and error prevention becomes an open exchange of ideas for improvements.

In general, it is best to disconnect BPD reporting from employee discipline. Connecting the two encourages cover-ups and lowers morale. Clearly, disciplinary action is indicated in certain circumstances, such as impairment due to drugs or alcohol, intentional disregard of policy, falsification of records, failure to report (including self-reporting), and repeated errors of the same type. Although BPDs are an objective performance measure, employee evaluations should not be used as error review sessions. We only discuss error rates during evaluations if they are on either end of the performance curve.

It is likewise critical for staff to see the results of their reporting efforts by sharing success stories. For example, when our facility went live with computerized prescriber order entry (CPOE), numerous ordering errors resulted in extra work. We used our BPD program to conduct a focused audit on ordering errors and provided trending data to the nurse managers and the IT department that resulted in noticeable improvement. This success was shared with staff members, who appreciated that the problem was addressed and that they were integral to the solution.

Lastly, use BPD data to let staff know how well they are doing. The Hoag blood bank's reportable BPD rate (reportable BPDs/units transfused) was reduced by half this past year, from .015% to .007%, with no adverse patient outcomes. This rate is included in our annual report and is a cause for celebration and pride.

Data Trending
Vital to the effectiveness of any error reporting system is the ability to trend data, in order to determine corrective actions and allocate QI resources. To determine proper corrective action(s) for a given type of BPD, users must know how often the type of error has occurred, whether multiple employees have made the same or similar errors, and the root cause(s).

Avoid implementing a system change for every BPD that occurs, as this can burden staff with excessive double-checks and result in non-Lean systems. For low-volume, low-risk errors, a systems change may not be indicated. Hoag's blood bank BPD data from last year showed that 73% of errors were simple human errors (ie, the system is sound, the tech understood what to do and had not made similar errors in the past, and there was no trend involving that particular error). Only 4.6% of the blood bank's errors have resulted in systems or SOP changes as indicated by trending data or incorporation of ideas submitted by staff for prevention of recurrence. Trending data also can help justify new capital equipment; for example, mislabeled sample data were used in the justification of Hoag's positive patient ID blood-draw system.

BPD Reporting Software
In 2006, following an FDA citation related to BPD reporting, Hoag management decided the blood bank's paper system was inadequate and acquired a BPD software program.3 In 2011, the general laboratory was added to this system. The program provides for paperless reporting, helps ensure completeness of reports, guides the RCA and corrective action process, allows for custom coding and risk stratification, provides data for our key indicators of quality, and helps ensure reportable errors are submitted within the allowable time frame using a 45-day countdown clock. The software also can be programmed to require documentation of specific corrective actions linked to the root cause. For example, if competency is determined to be the root cause, the system requires documentation of employee retraining. Other helpful features to look for when contemplating a system include electronic signature capability, the ability to electronically attach and store supporting documentation, and a means for employees to record their recollections of the incident.


Whatever software is chosen, ensure that it has the ability to provide trending data. Hoag's system has intuitive, click-view report building, allowing trending using virtually any data field or free text term within the report. Trending reports can be run by location of occurrence, SOP number, employee, BPD code, etc. A paper system can be tedious and time-consuming and result in low reporting compliance. Additionally, obtaining meaningful trending data is challenging at best. During our two previous FDA inspections, the investigator asked to review the last 10 reportable and non-reportable BPDs, which staff members were able to quickly and easily pull from a computer terminal.

Conclusion
A robust blood bank BPD reporting system, particularly an electronic one with easy trending capability, within a Just Culture, can provide a wealth of data to help optimally allocate limited QI resources. The information gleaned from a properly run BPD reporting system is a key aspect of a quality management system and should help achieve the ultimate goal of preventing patient harm. When deciding where BPD analysis falls on your list of priorities, consider the words of NASA space shuttle engineer Roger Boisjoly, whose warnings, unfortunately, fell on deaf ears. Six months before the Challenger explosion, he predicted "a catastrophe of the highest order" involving "loss of human life" in a memo to managers at Thiokol.4 The Presidential Commission investigating the Challenger disaster concluded, "faults included a lack of problem-reporting requirements and inadequate trend analysis."

References


Reason J. Human error: models and management. BMJ. 2000;320(7237):768-770.
Reason J. Human Error. Cambridge University Press; 1990.
OTIS® Occurrence Tracking Information System, Nouvation Inc.
NPR. Remembering Roger Boisjoly: He Tried To Stop Shuttle Challenger Launch. February 6, 2012. http://www.npr.org/sections/thetwo-way/2012/02/06/146490064/remembering-roger-boisjoly-he-tried-to-stop-shuttle-challenger-launch. Accessed August 24, 2015.
---
Randy German, MT(ASCP)SBB, 
is the blood bank and laboratory quality manager for Hoag Hospital, a two-campus, 600-bed hospital system in Southern California. He obtained his SBB from Barnes Hospital/Washington University in St. Louis and has experience in all aspects of transfusion medicine, having worked at both blood donor centers and large volume transfusion services. Recently, Randy branched out into the general laboratory, assuming the role of laboratory quality manager. His academic interests include hemolytic anemia and massive transfusion.


---
SIDEBAR

A Review of Relevant Regulations
In 1991, the FDA expanded the requirement to promptly report any errors or accidents that could affect the safety, purity, or potency of blood or blood products from manufacturing facilities (donor centers) to the clinical arena (transfusion services).1 In their 1995 Guideline on Quality Assurance in the Blood Bank,2 the FDA reminded industry that an essential element of QA is knowledge acquired through investigations of complaints, errors, and accidents, and that corrective action should include system redesign, staff retraining, and procedural changes, when indicated. They further pointed out that errors discovered prior to product distribution (ie, near misses) also require investigation. The FDA's 2006 Biological Product Deviation Reporting for Blood and Plasma Establishments Memorandum,3 which finalizes earlier draft guidance, replaced the collective term error and accident with biologic product deviation (BPD), extended BPD reporting requirements to FDA-registered facilities in addition to licensed ones, and required that BPDs discovered after product distribution be reported electronically to the FDA within 45 days of discovery.

In addition to the FDA's stipulations:

College of American Pathologists (CAP) Checklist item GEN.20208 requires that the quality management system include a program to identify and evaluate errors, incidents, and other problems that may interfere with patient care services.4

American Association of Blood Banks (AABB) Standard 9.0 requires blood banks to have policies, processes, and procedures for data collection, analysis, and follow-up of issues requiring corrective and preventive action, including near-miss events. The follow-up must include processes for corrective action and an evaluation to ensure that corrective actions are effective.5

Medicare Conditions of Participation requires a patient safety, medical error, and adverse event program that includes performance activities that "track medical errors and adverse patient events, analyze their causes, and implement preventive actions and mechanisms that include feedback and learning throughout the hospital."6

Both the CAP and AABB require the laboratory to provide a system for anonymous reporting of quality and safety concerns.

References
FDA Memorandum. Responsibilities of Blood Establishments Related to Errors and Accidents in the Manufacture of Blood and Blood Components. March 20, 1991. http://www.fda.gov/downloads/BiologicsBloodVaccines/GuidanceComplianceRegulatoryInformation/OtherRecommendationsforManufacturers/MemorandumtoBloodEstablishments/UCM062865.pdf. Accessed August 13, 2015.
Center for Biologics Evaluation and Research. Food and Drug Administration. Guideline for Quality Assurance in Blood Establishments. July 11, 1995. http://www.fda.gov/downloads/BiologicsBloodVaccines/GuidanceComplianceRegulatoryInformation/Guidances/Blood/UCM164981.pdf. Accessed August 28, 2015.
3. US Food and Drug Administration. Guidance for Industry. Biologic Product Deviation Reporting for Blood and Plasma Establishments. October 2006. http://www.fda.gov/BiologicsBloodVaccines/GuidanceComplianceRegulatoryInformation/Guidances/Blood/ucm073455.htm. Accessed August 28, 2015.
College of American Pathologists Accreditation Program, General Laboratory Checklist. Revised April 21, 2014. Checklist items GEN.20208, 20325, 20330.
The Standards Program Committee of the American Association of Blood Banks. Standards for blood banks and transfusion services. 29th ed. Bethesda: AABB, 2014. Standards 1.5, 9.0-9.3.
Code of Federal Regulations, 42 CFR part 482.21(c). Title 42, Public Health, Chapter IV, Center for Medicare and Medicaid Services, Subchapter G, Standards and Certification, Part 482, Conditions of Participation for Hospitals. Office of the Federal Register. Washington, DC: US Government Printing Office (revised annually). http://www.gpo.gov/fdsys/pkg/CFR-2011-title42-vol5/pdf/CFR-2011-title42-vol5-sec482-21.pdf. Accessed August 28, 2015.
Like what you've read? Please log in or create a free account to enjoy more of what www.medlabmag.com has to offer.
Current Issue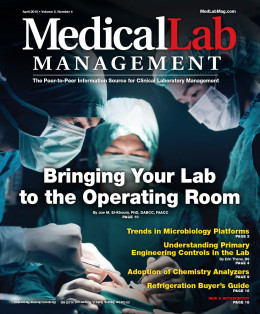 Subscribe to our Email Newsletters!
In The Loop!
Digital Edition
Special Announcements