Preparing for Evolving Laboratory Technology
State of Laboratory Technology 2015 - Vol. 4 No. 7
- Page #2
Optimization is quickly becoming the new standard for laboratory technology. New technology and software system purchases support this trend, as does a strong focus on optimizing existing technology. Laboratory directors are now tasking their staff with ensuring the full value is extracted from investments in technology.

In the third quarter of 2015, MLM began polling a random, nationwide sample of laboratory directors and administrators. We asked about the technology and automation systems currently in place, their satisfaction with those systems, and their plans to implement new or additional systems in the future. Responses were solicited via email and we received a total of 377 responses from hospital-based facilities, yielding a confidence interval 4.88 (95% +/- 4.88) based on the total population of laboratory directors, nationwide. After tabulating the results, we are encouraged by the specifics of our findings.

Systems Satisfaction
As the period of technology budget cuts is tailing off, long-term projections look favorable, and there are a plethora of solid technology options for facilities of all sizes. Several of the systems surveyed are projecting high rates of replacement or upgrades within the next few years, including hematology analyzers, microbiology platforms, and the most significant, LIS. Even relatively long-lasting technologies such as refrigerators and freezers are projected to experience significant purchasing, likely due to continual improvements to this technology and ever tightening regulatory and accreditation scrutiny. Clearly, laboratory directors recognize the value these technologies deliver and are seeking to increase their utilization even further.

Similarly, the survey results demonstrate a strong correlation between forecasted acquisition and current satisfaction. Hematology analyzers and microbiology platforms enjoy the greatest overall satisfaction ratings among the technologies surveyed; likewise, both are expecting healthy acquisitions moving forward. Fortunately, there are several options available across the market for facilities of all types and sizes, as well as attendant software and middleware to maximize output.

Top Satisfaction Ratings
Hematology Analyzers
Microbiology Platforms
Flow Cytometry
Centrifuges
Coagulation Analyzers
Water Purification Systems
Refrigerators & Freezers
Chemistry Analyzers
We also gauged those technologies over which lab management has the greatest influence in acquiring. Interestingly (and perhaps unsurprisingly), this closely matches the technology types that receive the highest satisfaction ratings. This makes it evident that the laboratory directors who exert the greatest level of control over the review and acquisition of lab technology also are the most satisfied with that technology. With this in mind, it is more vital than ever for laboratory directors to have a seat at the table when purchasing plans for laboratory technology and automation are discussed and determined. This is particularly key for systems such as the LIS that provide broad support throughout the laboratory.

Conclusion
As regulations continue to evolve for clinical laboratory practice, we will continue to monitor laboratory technology, trends, and practices that promote error reduction, improved efficiency and efficacy, and user satisfaction.

In order to best serve our readers, MLM has made available a PowerPoint slide package of this data to help support technology acquisition proposals and presentations; we hope it serves as valuable assistance as you make the case for additional investments in such systems at your facility. You are likewise welcome to incorporate the data into presentations you may make externally to educate your colleagues. Simply access the slides on our website www.medlabmag.com/slides.

Automation is only going to increase in its sophistication and application, so to be sure you are identifying the best options for your operation, we hope you will turn to MLM for guidance every month. We look forward to measuring laboratory's progress with automation and technology initiatives again in 2016.
---
David McCormick is the managing editor of Medical Lab Management.
Like what you've read? Please log in or create a free account to enjoy more of what www.medlabmag.com has to offer.
Recent Popular Articles
Current Issue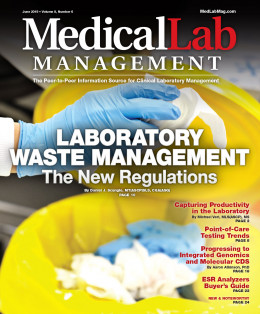 Subscribe to our Email Newsletters!
In The Loop!
Digital Edition
Special Announcements