Impact of Lab Design On Safety, Health, and Productivity
March 2016 - Vol. 5 No. 2
- Page #6
Article Category:
There is a common misconception that simply maintaining OSHA standards will result in a safe laboratory workplace. The reality is that OSHA standards are generic in nature in order to cover a wide variety of workplaces and operations. Furthermore, each workplace is different, even when providing similar services. Managers, staff members, and work cultures also differ, and regulations can become outdated due in part to the rigorous procedures regulatory agencies must follow to change them. Within the laboratory, policies and procedures (P&Ps) and materials can change many times over the life of a facility. Given the multitude of variables that make each laboratory operation unique, management must be closely involved with the design, operation, and maintenance of this vital workspace.
Incorporate Safe Design
Depending on the size, scope, and makeup of a lab, safety risks fluctuate, but in most clinical labs, there remains the potential for fire, explosion, asphyxiation, poisoning, infection, and radiation exposure. Injuries have resulted from more common accidents, such as falls, burns, electrocution, and encounters with broken glassware and falling objects. Although some of these events are inherent to clinical laboratory operations, many practitioners work in laboratories that are obsolete in design or that fail to incorporate modern-day safe design principles. Unless laboratory directors have had the good fortune of an architecture or engineering background coupled with observation of well-designed laboratories, they may be ill-equipped to assist architects, engineers, and health and safety professionals in properly customizing a new or renovated laboratory being prepared for their use. Likewise, few architect-engineers are specialists in laboratory safety and usually need and welcome the active participation of the scientists for whom the laboratories are being designed.
Accident statistics confirm that laboratories can become dangerous workplaces if they are not properly designed, operated, and maintained. TABLE 1 lists some of the potential safety and health hazards that may be encountered in the laboratory, whereas TABLE 2 indicates the types of injuries commonly seen in this environment. The design of the laboratory can either help minimize the potential for these injuries or contribute to the likelihood they will occur. While operational and procedural practices can affect these outcomes, careful consideration of worker safety remains an essential part of laboratory design processes.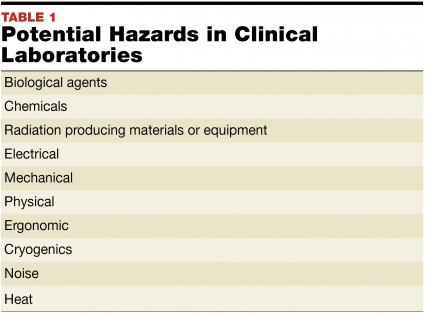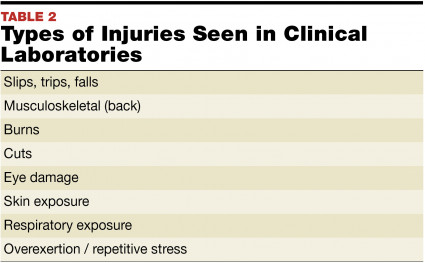 Unique to Clinical Laboratories
Unlike research laboratories, clinical laboratories are more process oriented and are designed to provide desired test results quickly and efficiently. Because of this, process-engineering concepts should be adopted into clinical lab design. The continued adoption of automated, computer-controlled testing instruments in busy hospital laboratories has reduced the need for time-consuming and error-prone manual manipulations. However, this has resulted in the demand for increased testing speed and scope, and faster and more robust processing and results delivery. These practice changes have impacted traditional laboratory space requirements and orientations, and altered approaches to environment and personnel safety.
A 2013 OSHA report1 indicates that in 2011, injury and illness rates for hospitals (157.5 per 100,000 full-time employees) were higher than for the construction and manufacturing industries (147.4 and 111.8, respectively). It should be noted that clinical laboratory technicians and technologists represent a fraction of those injured or stricken ill in the hospital environment. Nonetheless, the report indicates many injuries and illnesses do occur in hospital laboratories.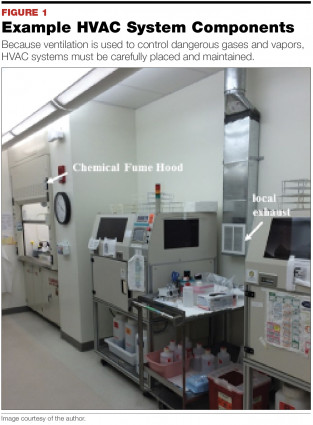 Important Lab Design Considerations
The design and construction of new laboratory workspaces, and the renovation of old ones, require close communication between laboratory users, project engineers, architects, construction engineers, and environmental health and safety personnel. With a multitude of needs to be addressed, all too often health and safety conditions are overlooked or slighted, and laboratories may be built in a manner that results in unanticipated hazards, such as inadequate storage that results in housekeeping issues or potential chemical spills, inadequate ventilation that results in excessive odors or exposure to toxic materials, or poorly designed and marked emergency egress routes, Therefore, all health and safety considerations must be evaluated carefully, and protective measures must be incorporated into the design wherever needed.
There are several laboratory building design decisions that can significantly affect building and individual laboratory operating procedures, and facilitate compliance with environmental health and safety regulations. It is advantageous to consider these during the design phase and obtain feedback from those who will occupy and maintain the facility.
The three componentps of laboratory design that directly impact the operations, productivity, level of cleanliness, and health and safety in the clinical laboratory are the heating, ventilating, and air condition (HVAC) systems; the laboratory's physical layout, including architectural considerations; and emergency management and response infrastructure and equipment. A brief overview of each is presented here, but for more details, several additional references are available for consultation.2-6
HVAC Systems
The HVAC system is designed to precisely manage the environment's temperature and humidity, and control the level of cleanliness by providing clean air. Operations involving the use of hazardous material that may become airborne (chemical, biological, or volatile radioactive materials) must be performed in ventilated enclosures or exhaust devices. FIGURE 1 illustrates a typical lab layout for a fume hood and exhaust ductwork, which would be paired with biological safety cabinets (BSCs) and glove boxes commonly seen in microbiology laboratories. BSCs are necessary in many clinical labs to handle infectious specimens and should be ventilated in accordance with the requirements outlined in National Sanitation Foundation Standard 49.7
Many hospital clinical labs use Type-A BSCs that permit recirculation of air back into the laboratory rather than requiring a direct exhaust connection to the exterior of the facility. When volatile chemotherapy drugs are associated with clinical specimens, it is best to use Type-B cabinets that totally exhaust to the facility's exterior. In these cases, design, operation, and maintenance must be carefully controlled, and there are several codes and standards that specify their operational parameters.6-8
It is best to locate BSCs in low-traffic areas to minimize airflow turbulence in the hood and accidental contact with staff working at the hood. Likewise, locate supply air diffusers such that they do not disrupt airflow into the hood.
Laboratory Layout and Architectural Considerations
The layout of the laboratory should be deliberate in order to facilitate workflow and minimize the potential for accidents. In the event of an accident, there must be a clear egress for staff to either leave the area or respond to the area to provide appropriate relief. Thus, when designing a lab, it is important to locate equipment and furniture so as to minimize impeding egress during emergencies.
The spatial arrangement of equipment and benches must be accomplished in an economical manner to reduce traffic among employees and minimize opportunities for work disruption. Critical to an efficient lab design and layout is adequate and accessible storage space. All too frequently storage is minimal, resulting in materials being stored in egress paths, in close proximity to equipment, or overloaded on shelves. Such conditions often result in trips and falls and other accidents.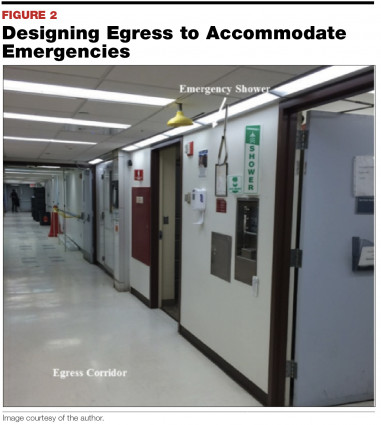 Health and Safety Design Features
Laboratory health and safety practices and operations should influence lab design. The more robust the facility's health and safety plan, the more the designer can rely on ideal-state procedures, as opposed to other expensive or complex controls or design features. Instilling the tenets of a strong health and safety plan involves fostering awareness among laboratorians on proper facility operations and practices, training on the proper use of hazardous materials and safety equipment, performing maintenance on mechanical systems, and creating a process to determine when significant changes in operations will occur and how to adjust facilities and practices accordingly.
Emergency equipment obviously is necessary in the event of a chemical spill or other similar health-and-safety-adverse event. In the case of a chemical or biological spill or splash on the body, immediate access to an emergency eye wash and emergency shower is needed (see FIGURE 2).
Fire detection, alarm, and suppression systems also are required, and their operational specifications are provided in building codes.9 Storage space for emergency spill kits and first aid kits must be provided and clearly labeled. A checklist of items that should be considered during the laboratory design phase is provided in TABLE 3 . All of these may not apply to every laboratory, but are worth consideration in any case. References 2, 3, and 4 provide more details on each listed item.
Conclusion
The laboratory director's role in operating and maintaining a safe and compliant laboratory is substantial, and, to the degree possible, this influence should extend to the design of the lab. If a facility is planning a new build or redesign of existing workspace, the laboratory director must have a voice in representing the best interests of the lab and its users. The concepts mentioned herein are basic necessary elements; each lab will require its own unique customizations. Determining a best-case workflow and ergonomic design for the lab is necessary for the long-term health and safety of both employees and the lab itself.
References
Occupational Safety and Health Administration. Facts About Hospital Worker Safety. September 2013. https://www.osha.gov/dsg/hospitals/documents/1.2_Factbook_508.pdf. Accessed February 1, 2016.
DiBerardinis LJ, Baum JS, First MW, et al, eds. Guidelines for Laboratory Design: Health, Safety, and Environmental Considerations. 4th ed. John Wiley & Sons: New York; 2013.
McCunney RJ, ed. Medical Center Occupational Health and Safety. Chapter 23, Control of Health Hazards. Lippincott Williams & Wilkins: Philadelphia; 1999.
Baum JS, DiBerardinis LJ. Open Laboratories: Operational and Safety Issues or How to Determine if Open Laboratories Will Work for You. J Chem Health Saf. 2006;13(1):15-19.
Battisto D. Designing a Clinical Laboratory to Accommodate Changes. 2004 International Conference on the Design, Planning and Construction of Healthcare Facilities (PDC). March 2004; Tampa, Florida.
Streitberg GS, Bwititi PT, Angel L, and Sikaris KA. Automation and Expert Systems in a Core Clinical Chemistry Laboratory. J Lab Autom. 2009;14:94-105.
NSF/ANSI 49 – 2012: International Standard for Biosafety Cabinetry. Biosafety Cabinetry: Design, Construction, Performance, and Field Certification.
ANSI/AIHA/ASSE Z9.5-2012. American National Standard for Laboratory Ventilation. American Society of Safety Engineers. Park Ridge, Illinois.
National Fire Protection Association. NFPA 45: Standard on Fire Protection for Laboratories Using Chemicals. Quincy, Massachusetts.
---
Louis J. DiBerardinis, BS, MS, CIH, CSP, is the director of environment, health, and safety at Massachusetts Institute of Technology. He is a visiting lecturer at Harvard University School of Public Health and adjunct professor at the University of Massachusetts, Lowell, in the Department of the Work Environment. He received his BS in chemical engineering from Northeastern University and an MS in industrial hygiene from Harvard University.
Like what you've read? Please log in or create a free account to enjoy more of what www.medlabmag.com has to offer.
Current Issue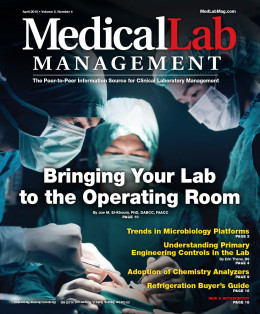 Subscribe to our Email Newsletters!
In The Loop!
Digital Edition
Special Announcements