The Lab Quality Continuum
July-August 2016 - Vol. 5 No. 6
- Page #8
Article Category:
As a laboratory quality professional specializing in building best practice quality programs from the ground up and revamping existing programs, I am often asked for advice on how to improve quality systems for a specific laboratory. The formulation of my recommendations for improvement take into account the laboratory's current level of quality, which involves an assessment of the culture of quality, the existing quality management system (QMS) framework, and the lab's ability to effectively implement a quality program. Building on existing models1,2 and incorporating years of experience in quality management assessing a plethora of labs, distinct phases of laboratory quality were identified and organized into phases comprising a continuum. The Lab Quality Continuum (see FIGURE 1) is a useful tool in determining a lab's current level of quality, as it categorizes phases of laboratory quality along an ascending scale, and delineates the characteristics of each phase. Understanding where a clinical laboratory currently stands and the characteristics associated with its current level enables the organization to identify ways to move up the continuum.
Oblivious—Facing the Unknown
When the quality continuum was originally developed, the concept of obliviousness was not included on the continuum. However, in the time of its development, it became apparent that some labs are wholly unaware of the complexities surrounding quality and regulatory compliance for clinical laboratories. Laboratories in the oblivious stage on the quality continuum are naive to the regulatory quality requirements for the clinical laboratory. Moving out of this phase and into the next requires education on these requirements and the beginning stages of plan building for compliance with the essential elements. Those lab facilities on the earliest stages of the continuum bring to light the importance and value of employing laboratorians with professional quality knowledge in applicable regulations and accreditation requirements. When it comes to compliance with requirements, organizations are not permitted to plead ignorance.
Phase 1
Analytical Quality (AQ)—Focus on Quality of the Analytical Phase
Historically, laboratorians have focused on and performed very well in the areas of analytical quality.3 After all, this is the main area of training and expertise for clinical laboratory professionals. In the AQ phase of the lab quality continuum, laboratories solely focus on activities that ensure analytical quality, such as quality control, validations and verifications, instrument-to-instrument comparisons, linearity, and proficiency testing. Analytical quality is often the first area that laboratories address when building a quality program.
Solely focusing on analytical quality is fraught with problems, as the gamut of the lab testing process does not occur in the analytical phase alone. In fact, only approximately 10% of laboratory errors occur in the analytical phase.3 By focusing only on analytical quality, laboratories subordinate the areas where the remaining 90% of errors occur.3 As the saying goes, garbage in, garbage out; if, for example, we fail to properly address quality in the pre-analytical phase by mixing-up or mishandling patient specimens, it does not matter how well the analysis is performed. Studying laboratories that are operating in the AQ phase of the continuum sheds light on the importance of implementing a well-balanced quality program that spans the Total Testing Process (inclusive of all phases of testing; see FIGURE 2).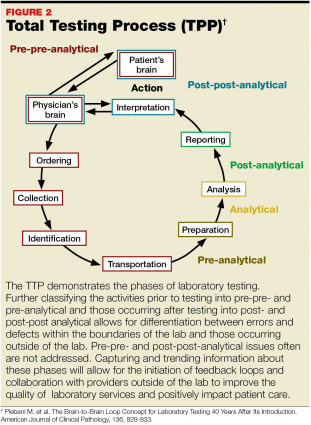 Phase 2
Quality Assurance (QA)—The Checklist Mentality
In the quality assurance phase of the continuum, labs are focused on meeting minimum regulatory requirements. Laboratories operating at this level often have quality programs that span all phases of testing within the boundaries of the laboratory (ie, pre-analytical to post-analytical), yet these laboratories focus on building policies and procedures that fulfill minimum requirements and nothing more. Indications of this phase tend to include the compiling of evidence binders organized by checklist requirements, and earmarking cherry-picked examples of the lab's very best performance, essentially organizing the lab's quality program around inspections. Inspection preparation for labs in the QA phase tends to be a mad dash in the weeks leading up the inspection. During inspections, lab management and staff can become defensive and a lack of transparency tends to reveal itself.
While metrics are commonly captured at this phase, they tend to be scant per lab section and are not particularly meaningful or actionable, as they lack thoughtful analysis. Arbitrary and emotional decision-making based on singular occurrences with no trend analysis also is characteristic of labs in this phase. The de facto goal at this level is to keep the laboratory in business and pass inspections, not necessarily to provide the best patient care and service possible. Labs at this phase often are reactive, waiting for problems to surface before addressing deficiencies. Commonly, even larger labs in the QA phase employ a single FTE (or fewer) to manage comprehensive quality and compliance activities, and this person is usually not deemed a member of senior management. Such under-provision of resources reflects a lack of executive emphasis on quality in organizations in the QA phase. In such organizations, the quality professional is seen more as a compliance officer—a sheriff that polices compliance with requirements.
As said by Judith Yost, former director of the Division of Laboratory Services at the Centers for Medicare and Medicaid Services (CMS), "remember, CLIA is a minimum".4 In health care, where the quality of our services directly impacts patient lives, it is our duty to do the very best we can, not just aim to meet minimum requirements. The quality goal of medical laboratories should not be to pass inspections.
Phase 3
Quality Management (QM)—A Formalized Quality Management System
In the quality management phase of the continuum, the laboratory's quality management system (QMS) has taken shape. No longer is the quality program centered on checklist requirements; rather, systems are built based on the comprehensive needs of laboratory operations and a set of self-established quality requirements for the services it provides. At this level, CLSI's 12 Quality System Essentials (QSEs),4 and/or other standards and guidelines, are incorporated into the quality program with policies and procedures describing the quality framework. The key element at this stage is that the lab's focus is on building a robust, comprehensive quality management system that enables the laboratory and its workflow to practice at its optimal level and is not merely aimed at meeting minimum regulatory requirements.
There are a few important milestones that labs operating in the QM phase achieve before moving on to the next phase in the continuum. Organizational honesty, which is established during this phase, is achieved when the organization is able to see itself objectively. It ceases to be fearful and defensive that it will receive deficiencies during inspections, learning instead to embrace them as opportunities for improvement. This shift in thinking comes with the confidence of knowing that the lab's goal is not simply to meet minimum requirements. Once a lab builds quality and operational systems that are aimed at best practice and conformance to best practice guidelines and standards, the fear of identification of failures disappears. Inspections are no longer dreaded and perceived as punitive, but become outlets to demonstrate achievements and to identify opportunities to further elevate the lab's quality program.
With organizational honesty comes operational transparency and informed decision making. Only after a lab begins to embrace its shortcomings can it begin to improve. This requires that the laboratory quantitatively measure its performance to determine its baseline and subsequently, demonstrate the improvement it seeks to achieve. This often is the phase wherein laboratories begin to track the costs associated with quality, both good and bad, and can demonstrate a return on investment (ROI) for their quality program and initiatives. Laboratories in the QM phase capture and trend a comprehensive set of metrics across all phases of testing within the boundaries of the lab, have established a QMS framework, and put in considerable effort to achieve operational transparency.
Phase 4
Total Quality Management (TQM)—Incorporating the Voice of the Customer
The QM phase (phase 3) requires a comprehensive, lab-centric QMS, and entering the Total Quality Management (TQM) phase advances the QMS to become customer (or patient) centric. This is the phase where a laboratory's quality management program can truly hit its stride and is characterized by the establishment of a culture of quality that permeates throughout the organization. A true culture of quality requires careful planning and total employee involvement. This phase is not characterized by a solitary quality manager simply maintaining quality documentation for regulatory compliance, but by a comprehensive, fully ingrained, top down culture of quality with all staff working toward the same goal. Laboratories in phase 4 foster a culture where employees are encouraged to report non-conformities in order to improve lab operations and quality. Trust is achieved through the effective implementation of quality principles such as systems thinking and Just Culture.
In the TQM phase, a thoughtful analysis of a comprehensive set of metrics spanning the Total Testing Process is performed to enable fact-based decision making (see FIGURE 2). This phase includes benchmarking the lab's performance on a given metric against an industry standard. Benchmarking allows the organization to understand its competitive position of its metrics in the context of nation-wide industry performance. Feedback loops based on this analysis and benchmarking are initiated to inform internal and external stakeholders of strengths and opportunities for improvement. The organization is no longer fearful of sharing such information as all parties involved understand that corrective action based on this information is the catalyst to meeting and exceeding customer requirements. Labs in this phase may seek external validation for their quality achievements through voluntary accreditation programs such as CAP 15189, which assesses conformance to ISO 15189, the gold standard for quality and competence in the clinical lab. The TQM phase focuses on the idea that the lab only exists to deliver on the promise of quality lab services for the benefit of patients.
Phase 5
Performance Excellence—The Pursuit of Excellence
The performance excellence phase is the culmination of the laboratory quality continuum. At this level, quality begins to transcend the typical boundaries of a lab quality program and reaches into every aspect of the laboratory's business. This phase is aimed at achieving excellence for the entire organization and all management systems, including leadership, strategy, customers, measurement systems and analysis, knowledge management, workforce, operations, and results.5 During this phase, the organization continuously strives to operate at a best-practice level and to achieve recognitions that differentiate their lab as world-class, such as the National Malcolm Baldrige Quality Award. Organizations in this phase often use data as predictive tools to act preemptively with the goal of best-in-class results and benchmarking across industries. These organizations foster innovation, continuous improvement, achieving/exceeding benchmarks, and long-term success.
Laboratories in this phase have successfully embedded quality into the fabric of their organizations such that the evidence of quality is apparent in every aspect of their business. The performance excellence phase is the pinnacle of quality, as reaching this stage demonstrates both effective implementation of management systems and, mostly important, the organization's success through quantifiable results.
Conclusion
The lab quality continuum details the different phases of laboratory quality and their associated characteristics. As the lab industry faces impending challenges, such as shifting reimbursement models and increasing patient awareness of lab quality and access to associated data, demonstrating quality is becoming increasingly important. The lab quality continuum is a tool that laboratories can utilize to classify their current phase of quality and identify next steps to climb the quality ladder.
Resist the urge to realize short-term savings by cutting funding to your lab's quality program. It is a well-researched and thoroughly documented fact that investment in quality pays off (see SIDEBAR). It is incorrect to assume that expending fewer resources towards quality will save money for the lab. Continuous progression along the lab quality continuum will reduce costs, result in the strategic advantage of differentiation in the marketplace through quality, while providing the peace of mind that comes with offering the very best care for your patients.
References
Clinical and Laboratory Standards Institute. QMS01-A4 Quality Management System: A Model for Laboratory Services; Approved Guideline – Fourth Edition. Wayne, PA: CLSI; 2011.
Operational Excellence Consulting. Total Quality Management (TQM). 2012 Presentation. www.slideshare.net/oeconsulting/total-quality-management-by-operational-excellence-consulting. Accessed 6/23/16
Plebani M. Errors in clinical laboratories or errors in laboratory medicine? Clin Chem Lab Med. 2006;44(6):750-59.
Yost J. CLIA Experience Laboratory Director's Responsibilities. APHL Annual Meeting, 2006. www.aphl.org/conferences/proceedings/Documents/2006_APHL_Annual_Meeting/Yost.pdf. Accessed 6/23/16
Baldrige Performance Excellence Program. 2015. 2015–2016 Baldrige Excellence Framework (Health Care): A Systems Approach to Improving Your Organization's Performance. Gaithersburg, MD: US. Department of Commerce, National Institute of Standards and Technology. www.nist.gov/Baldrige. Accessed: 6/23/16
---

Jennifer Dawson, MHA, LSSBB, CPHQ, DLM(ASCP)CMSLS, QLCCM, QIHCCM, is the vice president of quality and regulatory affairs for Sonic Reference Laboratory (SRL), Sonic Healthcare USA's premier esoteric reference lab, in Austin, Texas. Jennifer built SRL's quality program from the ground up embedding ISO 15189 conformance, and is responsible for oversight of a strategic approach to a robust, best practice quality management system and regulatory compliance for the lab. She serves on the CLMA Board of Directors, the ASCLS Patient Safety Committee, the CLSI Expert Panel on Quality Management and General Practices, and the National Malcolm Baldrige Quality Award Board of Examiners.
---
To see where your lab ranks on the quality continuum, take Jennifer's free assessment at: www.lableaders.com/quality

Brought to you in partnership by MLM and LabLeaders—a Roche initiative that brings together today's leading industry innovators to share insights and strategies on shaping the future of the lab.
---
SIDEBAR
Relationship Between Quality and Cost*
Sigma levels correspond to the number of defects per million opportunities (DPMO) for a given process—the higher the sigma level, the lower the DPMO. Six Sigma is a world-class goal and reflects a very low level of variability. Interestingly, there is a correlation between defect rates and cost of quality. Organizations with high defect rates experience very high costs of quality. This is due to an increased cost of poor quality resulting from a very high percentage of rework and rectifying defects. Labs achieving a high level of quality expend fewer dollars on total cost of quality. This is due to the majority of their quality costs coming from costs of good quality, such as prevention and appraisal. Cutting resources to the quality program will result in short-term savings, but will cost the lab significantly more in the long term.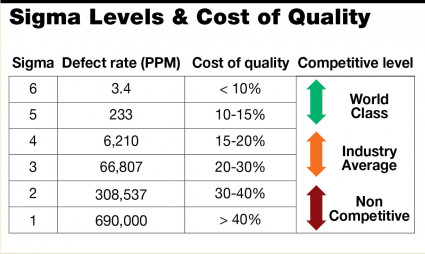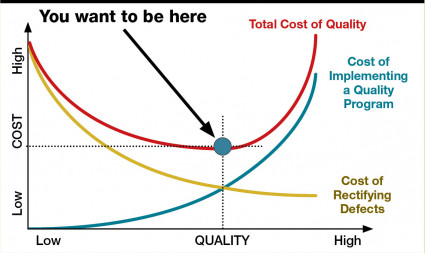 *Available at: https://www.isixsigma.com/implementation/financial-analysis/cost-quality-not-only-failure-costs/
Like what you've read? Please log in or create a free account to enjoy more of what www.medlabmag.com has to offer.
Current Issue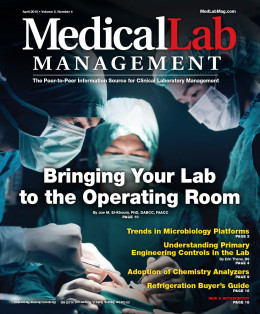 Subscribe to our Email Newsletters!
In The Loop!
Digital Edition
Special Announcements