Optimizing Automation Options
State of Laboratory Technology 2016 - Vol. 5 No. 9
- Page #2
Today's clinical laboratories rely on a complex system of advanced technologies coupled with the expertise and experience of talented, dedicated personnel in order to ensure success. A narrow margin for error is implicit in the health care environment, and few disciplines are under the microscope more than the clinical lab.
There is little doubt that the functions of the clinical lab will continue to depend heavily on technology advancements, comprising a variety of both automated and manual diagnostic instruments, manifold middleware, software-based algorithms, and nascent methodologies yet to fully mature. Given this dependence, MedicalLab Management seeks to examine the place of these technologies in the context of clinical laboratories.
In the third quarter of 2016, MLM polled a random, nationwide sample of laboratory directors and administrators. We asked about technology adoption rates, satisfaction with technology vendors, and plans to purchase new systems. Responses were solicited via email and a total of 376 responses from hospital-based facilities were received, yielding a confidence interval of 4.88 (95% +/– 4.88) based on the total population of laboratory directors nationwide. After tabulating the results, we are encouraged by the specifics of the findings.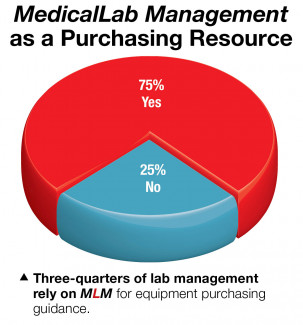 System Satisfaction
As technology budgets for clinical laboratories continue to expand, facility decisions regarding consolidation and outreach can create greater opportunities for labs to acquire heretofore unjustifiable instruments and automation. Many of the technology types covered in this survey project high rates of upgrade or replacement within 2-3 years, suggesting both a heavy workload and the introduction of new capabilities.
Of the technologies in use today, hematology and coagulation analyzers are among the diagnostic tools with the highest satisfaction rates. More advanced systems, such as microbiology platforms and flow cytometry, also receive strong satisfaction ratings, while the most straightforward technologies, such as centrifuges and refrigerators, also are held in high esteem.
Top Satisfaction Ratings
1. Hematology Analyzers
2. Centrifuges
3. Coagulation Analyzers
4. Microbiology Platforms
5. Refrigerators & Freezers
6. Flow Cytometry
Conclusion
As the health care landscape continues to shift and reveal both expected and unexpected changes in laboratory practice, we will continue to monitor laboratory technology and automation acquisition trends, and delve into the ways in which new systems may both enrich and complicate clinical laboratory practice. Given the relative parity of many clinical practices and the reduction in cost of previously esoteric testing instruments, laboratory directors have more options than ever before to acquire truly tailored technology and automation packages. With these choices comes the responsibility to make informed decisions with input from staff and facility administration.
In order to best serve our readers, MLM has made available a PowerPoint slide package of the data found here. You are welcome to use it to support technology acquisition proposals and augment education presentations. Please visit www.medlabmag.com/slides for more information.
We look forward to what 2017 has in store for laboratory technology, and we hope you will continue to turn to MLM for the answers you need.
---
David McCormick is the managing editor of MedicalLab Management.
---

Like what you've read? Please log in or create a free account to enjoy more of what www.medlabmag.com has to offer.
Current Issue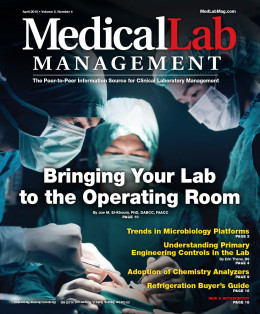 Subscribe to our Email Newsletters!
In The Loop!
Digital Edition
Special Announcements