The Building Blocks of Laboratory Outreach
January-February 2017 - Vol. 6 No. 1
- Page #6
Article Category:
In any activity there are fundamental aspects that must be in place in order to be perpetually successful. Certain actions undertaken by clinical laboratories—pointedly, laboratory outreach—require a dynamic view and approach to these fundamentals. Laboratory outreach is not a new concept; rather, it has proven to be a crucial endeavor for the majority of community-based laboratories in the US for over 40 years. Given this rich history, a set of laboratory outreach fundamentals or building blocks can be delineated; these elements are necessary to ensure the sustained success of a robust outreach program. Although clinical laboratory practice has adapted to significant industry changes, outreach fundamentals have tended to remain constant. From the initiation of a test order to the receipt of result, to payment, current processes range from rudimentary to sophisticated, yet at the core, the end goals are the same. That said, the most highly differentiated and successful programs are those that are able to build upon the fundamentals, play to their unique strengths, add nuances, and leverage their competitive advantage in a busy marketplace.
To read the full article, please log in or register.
Current Issue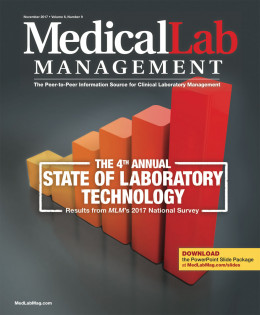 Subscribe to our Email Newsletters!
In The Loop!
Digital Edition
Special Announcements