Clinical Core Lab Design: From Looking Up to Looking Down
March 2017 - Vol. 6 No. 2
- Page #8
Article Category:
Over the last few decades, it is amazing to have observed the nature of clinical core laboratory work evolve from manual functions involving beakers of liquids, specimens, and compounds being manipulated on countertops to a significant dependence on sophisticated equipment running prepackaged reagents, electronic services, and software packages that manage all aspects of clinical laboratory workflow. As new testing technology continues to develop apace, the clinical laboratory working environment must continue to evolve as well, and part of this evolution requires a flexible response from the lab's physical structure.
The rapid development and evolution of both clinical assays and the testing equipment platforms they are performed on may lead to expensive and disruptive, yet necessary changes in the clinical core lab when implemented. Fortunately, new building technology and careful design can generate a flexible lab capable of accommodating ongoing changes. Culminating with its opening in 2015, Geisinger Medical Laboratories had the opportunity to design and build a new Laboratory Medicine building. Early in the design phase, it was deemed critical to identify the factors driving practice change and incorporate lab-based solutions to address these factors. It was obvious from the beginning that the Laboratory Medicine building would include new workflows and advanced technologies that would require a flexible structure in support of an ever-shifting laboratory environment. Achieving flexibility in modern clinical lab design begins by gaining an understanding of why the laboratory needs to be flexible.
Factors Driving Change
Working collaboratively, representatives from Geisinger Health System's lab leadership engaged the design and architecture firm EwingCole to help identify the common forces that tend to preempt changes in lab workflow and operations, as well as scenarios that hinder growth.
Clinical laboratories tend to face significant space constraints, so the lab design must be efficient in how it allots space to each department.
Consistent changes in lab technology and instrumentation facilitate greater efficiency in testing while accommodating higher volumes. Concomitant pressure for faster turnaround times (TATs) helps drive device innovation, which in turn leads to frequent updates and changes to testing technology, and therefore changes in the lab.
The pressure to reduce TAT is usually driven by the health care facility's mission to constantly improve patient care. As disease diagnoses and treatment strategies are increasingly driven by laboratory test results, lab staff is thereby ingrained into the treatment stream and their role is expanded beyond the core lab.
Many facilities now frequently incorporate Lean assessments for continuous improvement initiatives, which tend to affect workflow and occasionally require rearranging lab orientation.
Changes in volumes and instrumentation can result from expansion or contraction of testing due to changes to in-house testing versus outsourcing.
Traditionally, lab design was based on a compartmentalization approach where each department or functional area had a dedicated and separate space for instruments and staff. These department boundaries, reflected in the laboratory layout, led to mitigated space, staffing, and workflow design options.
Staffing constraints contribute to the need to maximize workflows; particularly on second, third, and weekend shifts.
Flexibility Essentials
Reconfiguration: The most common design change made to the laboratory involves the reconfiguration of casework, equipment, and instruments to accommodate additional work spaces or technologies, or to reorganize existing instruments in a more efficient manner responsive to factors driving workflow change. Moving and reconfiguring existing casework into new patterns and layouts often requires additional construction.
Spatial Organization: Operational changes, such as moving from a compartmentalized layout to an open lab plan, may require spatial reorganization and differentiation. Accommodating a new operational model may lead to a major laboratory renovation project.
Infrastructure Changes: Spatial reorganization and layout changes may necessitate changes to certain infrastructure, such as plumbing, electrical, pneumatic, and IT systems. Services and utilities should be designed to adapt to equipment, instrument, and casework reconfigurations and changes. When new instruments are implemented, placement is often dictated by available floor space and availability of infrastructure services and utilities. Maximizing lab design flexibility allows for a more customized response to serving new and reconfigured casework and equipment.

Assessing Flexibility Options
Enabling ongoing flexibility in laboratory design such that changes can be made in response to new workflows and technology implementations is a significant challenge to traditional lab construction. In most fixed structures, service and utility lines (ie, electrical, plumbing, etc) cannot be easily accessed or changed once in place. To address this issue, modern design elements are now available to lab designers and builders that enable greater flexibility to expected changes. In most lab designs, lines and utilities flow either from the ceiling or the floor. The following elements outline various options that combine both traditional and modern design options:
Looking Up: Services and utilities flow down from the ceiling through service columns to casework enabling horizontal distribution through casework systemTraditional clinical labs tend to be composed of fixed or flexible benchwork against a fixed service core, or floor-mounted equipment and instruments attached to a fixed service core (see FIGURE 1.1). Service and utility lines are routed vertically down from the ceiling through service columns to service cores housed in casework for horizontal distribution to each bench- or floor-mounted instrument. Service columns and horizontal cores are fixed and flexibility is limited to the geometry of the cores. Moving cores and service columns can be a major expense and is extremely disruptive to operations. Mobile bench work can be moved and reconfigured, but only within the boundaries of the fixed service columns and cores.
Looking Up: Services and utilities are distributed from the ceiling via fittings fixed on the ceiling or suspended from the ceilingThe ceiling panel approach (see FIGURE 1.2) involves suspending service and utility lines from the ceiling, which allows floor-mounted equipment and casework to be easily reconfigured, but this may require relocating the service drops to support reconfiguration. This has the potential to become a major project necessitating the relocation of infrastructure systems, such as plumbing. This approach, as with the service column approach, can lead to a virtual forest of vertical obstructions, thereby detracting from popular open-lab concepts.
Looking Up: Services and utilities distributed from structures suspended from the ceiling and floating above casework, equipment, and instrumentsA common approach for research labs, this method has been used in some clinical lab applications and does begin to free up floor space for easier reconfiguration of casework and equipment (see FIGURE 1.3). However, flexibility remains limited by the location and reach of the suspended utility structure, and relocating the services structure to accommodate reconfiguration of the lab could be a major project. Of note, suspended structures can be difficult to clean and maintain in an antiseptic environment.
Looking Down: Services and utilities are distributed from below the floor via a lab-rated, raised access-floor systemThis new approach involves a services and utilities distribution system that utilizes the space below the flooring of a raised access-floor system (see FIGURE 2). This approach allows the facility to create a true, visually open lab that readily supports easy reconfiguration. Services and utilities do not rely on a connection to the ceiling; rather, they are routed under the access floor and interface with equipment and instruments from floor-mounted access points.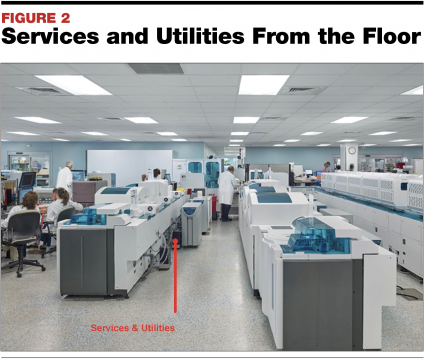 Benefits of Access Floor Design
Access floor manufacturers have developed a laboratory-grade, access-floor system that employs serpentine mating surfaces with tight joints that prevent liquids from penetrating into and contaminating the cavity below the floor. The cavity provides ample space to route all horizontal services—including power, IT lines, plumbing, vents, gas lines, and pneumatic lines—required for today's testing instruments and auxiliary equipment. Device connections are made at strategically placed floor boxes for power and data transmission, and grommet-type couplings are likewise placed for piped services and funnel drains or short stand pipes for various wasting requirements (see FIGURE 3).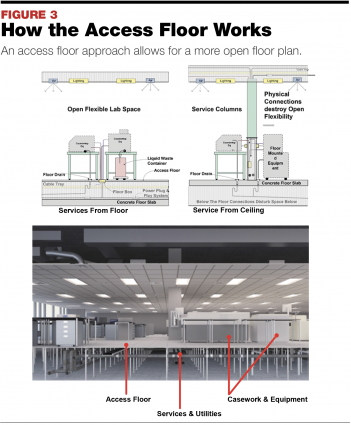 Eliminating the reliance on access to the ceiling for all input and output of services allows the lab more freedom to employ modular casework that does not need to be anchored to any utility cores, columns, or the ceiling itself. Instruments, computers, and support equipment can be grouped and oriented according to the best use of space at any time allowing for a significant number of simple casework configurations (see FIGURE 4).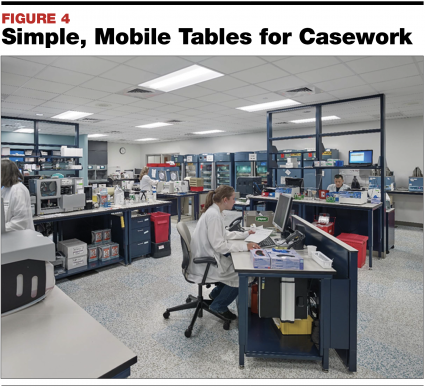 Managing Design Change at Geisinger
Within the last two years, the clinical laboratory at Geisinger underwent the following examples of both major and minor design changes (among others) and an assessment of the impact of the change.
Minor Change
After the lab was in operation for about a year, it was determined that the critical testing area needed to be reconfigured to meet greater efficiency goals. Some casework and table-top instruments were relocated and a sink was added. One floor box was relocated, but the work was completed without major disruption to the lab (see FIGURE 5).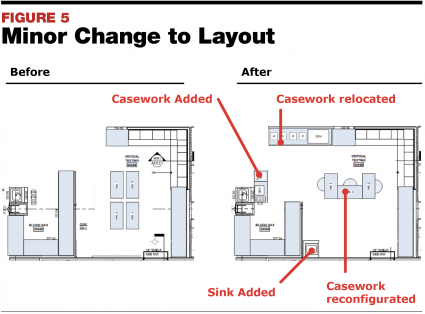 Major Change
Approximately three-quarters of the way through the lab building construction project, the lab decided to purchase a new automated testing system comprising chemistry, hematology, coagulation, and immunology, and this required a new configuration for the core lab. Several services and utilities had already been installed, so adjustments were made for a new layout. Differences between the services and utilities for the original layout and the new layout included moving 10 floor boxes and adding eight new boxes (see FIGURE 6). Due to the ease of reconfiguration afforded by the access floor system, design changes were incorporated with no distruptions to the overall schedule and less than a 2% increase in cost.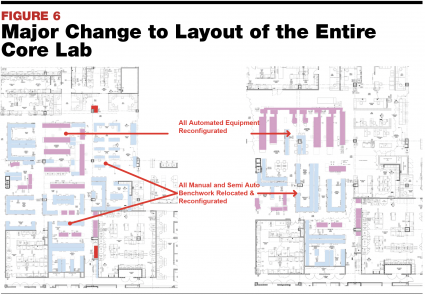 Conclusion
Spatial compartmentalization and managing services and utilities to equipment and casework vastly influence flexibility in most clinical core laboratories. Traditional distribution of services is from the ceiling down through column structures and then horizontally through the casework, or from the ceiling down to structures hovering above the casework in the pattern of the casework. If significant changes are made to the configuration of casework or floor-mounted equipment, expensive changes may be required to relocate ceiling structures or service columns. These options require looking up to the ceiling for services. Analyzing an access floor system; looking down to floor boxes and service fittings for services is a potential alternative. Each option provides varying levels of flexibility but looking down may be the most flexible, as evidenced by the response to both major and minor changes at Geisinger. This approach certainly provides another option when looking to design flexibility into your clinical core lab.
---

Tammy Germini, MT(ASCP), is the director of operations of Clinical Pathology at Geisinger Health System in Central Pennsylvania. After earning a BS in Medical Technology from the University of North Carolina-Greensboro, she attended Moses H. Cone School of Medical Technology, and was certified American Society of Clinical Pathologist in July 1995.

Theodore Newell, AIA, NCARB, AABB, is an Architect and Principal at EwingCole, Architects and Planners in Philadelphia. He is a laboratory design innovator with over 30 years of experience and leadership in the programming, planning and design of complex facilities for clinical and anatomic pathology facilities. Investing time to understand the business of laboratories, Ted interacts extensively with each client and key project stakeholders to build laboratory spaces and places.

Sara Eastman, AIA, is an Architect and Principal at EwingCole. Sara has diverse experience in programming, planning, and managing major projects through all phases of design and construction. With a broad background in interior architecture, her specialty is the detailed planning and programming of specialized laboratory spaces. She is recognized for proactive problem solving and expediting contract schedules.
Like what you've read? Please log in or create a free account to enjoy more of what www.medlabmag.com has to offer.
Recent Popular Articles
Current Issue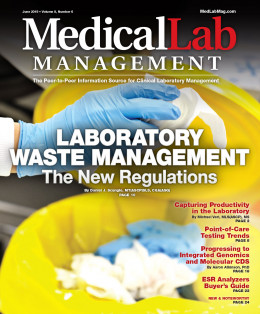 Subscribe to our Email Newsletters!
In The Loop!
Digital Edition
Special Announcements