Making Sense of MACRA
May 2017 - Vol. 6 No. 4
- Page #2
Article Category:
If you work in clinical laboratory management, chances are you have heard the acronym MACRA. You may have heard of MIPS and APMs as well (see FIGURE 1). Equal to these chances are the odds that the alphabet soup presented by MACRA and its implications on the lab remain confusing. In 2015, former US Health and Human Services Secretary Sylvia Burwell made the historic announcement of the agency's intent to shift 90% of fee-for-service (FFS) payments to quality and cost measures within a few years.1 MACRA is part of this push toward pay-for-performance, also called value-based reimbursement, and gaining an understanding of MACRA's impact on clinical labs is certainly worthwhile. These service models represent the future of healthcare and their influence will be wide ranging.
To read the full article, please log in or register.
Current Issue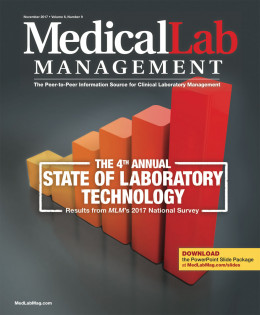 Subscribe to our Email Newsletters!
In The Loop!
Digital Edition
Special Announcements