Making Sense of MACRA
May 2017 - Vol. 6 No. 4
- Page #2
Article Category:
If you work in clinical laboratory management, chances are you have heard the acronym MACRA. You may have heard of MIPS and APMs as well (see FIGURE 1). Equal to these chances are the odds that the alphabet soup presented by MACRA and its implications on the lab remain confusing. In 2015, former US Health and Human Services Secretary Sylvia Burwell made the historic announcement of the agency's intent to shift 90% of fee-for-service (FFS) payments to quality and cost measures within a few years.1 MACRA is part of this push toward pay-for-performance, also called value-based reimbursement, and gaining an understanding of MACRA's impact on clinical labs is certainly worthwhile. These service models represent the future of healthcare and their influence will be wide ranging.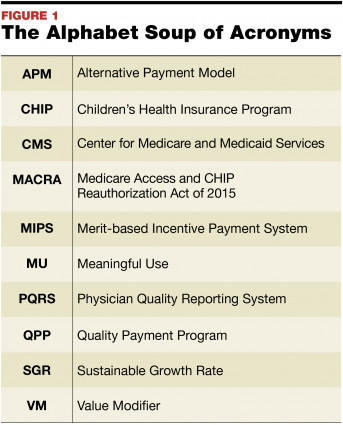 What is MACRA?
MACRA is an acronym for the Medicare Access and CHIP Reauthorization Act of 2015 (comically: note the acronym within the acronym). This act served to repeal previous legislation governing Medicare's complicated sustainable growth rate (SGR) formula, which calculated payments for providers. It also created a new framework intended to incentivize physicians to provide higher quality care. MACRA seeks to accomplish this by establishing two tracks for payment—a Merit-based Incentive Payment System (MIPS) and Alternative Payment Models (APMs).2 Further, the Quality Payment Program (QPP) is an umbrella term used to describe the new reimbursement program established under MACRA.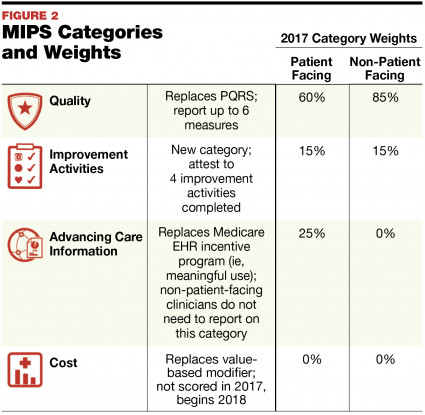 What is a MIPS?
MACRA combines four programs into one under MIPS: a Physician Quality Reporting System (PQRS), a Value-based Payment Modifier (VBPM), Meaningful Use (MU), and a new performance category called Improvement Activities (IA). Providers earn a payment adjustment based on evidence-based and practice-specific quality data. Scores from the four primary programs are combined to establish a final numeric score (ranging from 0 to 100) that will be used by CMS to determine provider reimbursements. FIGURE 2 indicates the categories and associated weights that make up the MIPS final score for 2017; these scores will affect 2019 reimbursements. The cost category will be calculated in 2017, but will not be used to determine your payment adjustment. In 2018, CMS will start using the cost category to determine your payment adjustment. The size of provider payments in 2019 will depend on participation level and performance in 2017.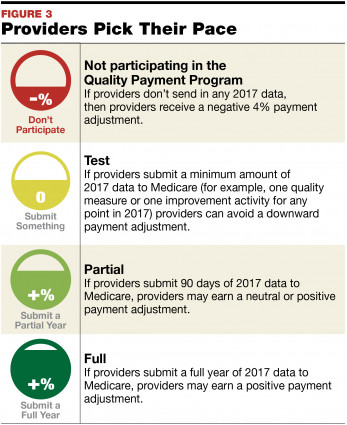 What are APMs?
An APM is a payment approach that provides added incentive payments according to the provision of high-quality and cost-efficient care. APMs can apply to a specific clinical condition, a care episode, or a population. Advanced APMs are a subset of APMs, and allow practices to earn more for assuming some of the risk related to their patients' outcomes. Providers may earn a 5% incentive payment by going further in improving patient care and taking on risk through an Advanced APM.
What Does MACRA Mean for Pathologists?
The most obvious effects that MACRA will have on the lab pertain to pathologists, as they qualify as providers. Medicare requirements for reimbursements have long been geared toward primary care physicians and riddled with complex challenges.3 The MACRA draft legislation overlooked the unique needs of non-patient-facing physicians such as pathologists.3 Furthermore, the MIPS program is estimated to have a $1.5 billion overall impact on the pathology specialty beginning in 2019.2 Fortunately, the College of American Pathologists' advocacy successfully added a provision to MACRA that ensures pathologists have flexibility to participate in new reimbursement models. Because of the CAP's advocacy success, category weights are different for non-patient-facing providers; therefore pathologists can avoid penalties and are eligible for bonuses if they report correctly.3 Providers may select measures for MIPS reporting from a list of around 300 recycled PQRS measures. These include all eight previously established pathology-specific measures. As an alternative, providers can develop measures for reporting under the Qualified Clinical Data Registry (QCDR) reporting option, as well as report CMS-established specialty measures sets. CMS intends to uphold all of the reporting options currently available under PQRS for 2017.4
Given that the MACRA requirements became effective January 1, 2017, it is important for pathologists to implement a plan for QPP participation (see FIGURE 3). This will enable them to avoid a negative payment adjustment in 2019. Pathologists participating in the program have several options for reporting their 2017 data under the two tracks—MIPS and advanced APM. Although the 2017 reporting timeline is intended to be flexible, thereby accommodating varying levels of participation, pathologists have limited time to ensure maximum reimbursement. Laboratory pathologists and billers need to work quickly to select appropriate applicable measures for 2017, as the revenue cycle management implications of MACRA continue to broaden.
CAP continues to advocate for the broadest number of pathologists qualifying for the distinction of non-patient-facing physicians and the incorporation of a wide array of services for demonstrating credit toward clinical practice improvement activities. Additionally, CAP is exploring alternative pathology measures for controlling use of health care resources and advancing care through health information technology and research into pathology-specific, physician-focused payment models as an APM for pathologists.3
Ways the Lab Can Leverage MACRA
Clinical laboratories are rich in patient data. More than 200,000 CLIA-certified labs in the US conduct over 4,000 different laboratory tests for clinical use, of which, Medicare reimburses over 1,000.5 The laboratory industry in the US performs more than 7 billion clinical lab tests per year,6 yet accounts for only approximately 2% of Medicare expenditures.5 Since the introduction of pay-for-performance reimbursement (and in keeping with the lab industry's recognized need to become more patient centric), the holy grail of lab quality has become the clear demonstration of the laboratory's direct, positive effect on patient outcomes.
Forward thinking laboratories are figuring out how to leverage patient data collected as part of the daily business of running a lab, and correlate these data with patient outcomes. This process will help prove the value of laboratory testing, both to the patient and to the health care system overall. Additionally, if the data already being collected is the same as what is required for MIPS quality measures (either process or outcome measures), laboratories can actually help providers fulfill their reporting requirements by compiling said data. Another effective approach is to partner with a QCDR to leverage patient data and outcome measures to enable providers to meet their requirements under MIPS, achieve maximum reimbursement, and most important, prove the value of lab testing to improved patient care. I recently worked with a lab and a QCDR to propose multiple testing-related outcome measures to CMS for inclusion in the MIPS program. Other labs should consider following suit.
All clinical labs could benefit significantly from an analysis of how testing affects patient care and outcomes, as well as by ensuring all testing/specialties are represented in the MIPS quality measures. A survey of 600 doctors revealed that almost half of US physicians were unfamiliar with MACRA as of July 2016. Further, nearly 8 out of 10 were resistant to the pay-for-performance model, instead favoring traditional the fee-for-service model.7 Looking forward, labs have an opportunity to evaluate how they can partner with the physicians and other providers they serve to positively affect patient outcomes, facilitate reporting of quality measures, and maximize reimbursement for all services on specific patient care teams.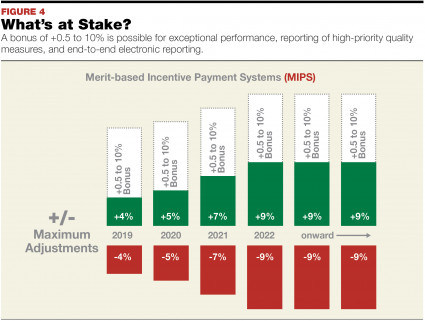 Looking Ahead
CMS states the following on the QPP website: We are working together toward a big goal, so we are starting slow. We are listening and want your input on how to improve the Quality Payment Program. As the program grows, so does the possibility of being rewarded for providing better care. These kinds of smarter payments give you more time to spend with your patients and to care for them in the way you think is best.6 The intent behind MACRA and this newest set of reimbursement requirements is to influence health care to become more patient-centric by rewarding better care instead of more care. This is a concept we all can get behind, but do not forget that MACRA is a zero sum game; thus, strategy is of utmost importance for sustained success.
---

Jennifer Dawson, MHA, LSSBB, CPHQ, DLM(ASCP)SLS, QLC, QIHC, is the Senior Director of Quality for Human Longevity, Inc in San Diego, CA. She has provided quality management systems consulting to organizations such as Baylor University Medical Center and Geisinger Medical Laboratories. Jennifer is a member of the CLSI Quality Management Systems & General Practices Expert Panel, the Cardinal Health Advisory Board, the ASCLS Patient Safety Committee and the AACC Management Sciences & Patient Safety Division Executive Committee. She recently completed a 2 year term on the CLMA Board of Directors and also serves on the National Malcolm Baldrige Quality Award Board of Examiners. Her areas of interest include ISO 15189 and Baldrige Framework deployment, real-time quality metrics, cost of poor quality, electronic management of non-conformities, creating a culture of quality, and quality in the pre-analytical phase. Jennifer earned her MHA with a concentration in quality and patient safety from Regis University in Denver, Colorado, where she is an affiliate faculty member.
---
References
1. Centers for Medicare & Medicaid Services. Better Care, Smarter Spending, Healthier People: Paying Providers for Value, not Volume. CMS website. Accessed April 18, 2017. https://www.cms.gov/Newsroom/MediaReleaseDatabase/Fact-sheets/2015-Fact-sheets-items/2015-01-26-3.html
2. College of American Pathologists. Statline; April 27, 2016. Accessed: March 3, 2017 www.cap.org/web/home/involved/advocacy/statline/statline-issue?contentID=1-129966&_afrLoop=1402903436874034#!%40%40%3F_afrLoop%3D1402903436874034%26contentID%3D1-129966%26_adf.ctrl-state%3Dmgxromdm7_17
3. College of American Pathologists. Advocating for Payment Programs That Work for You. Accessed: March 3, 2017 www.cap.org/ShowProperty?nodePath=/UCMCon/Contribution%20Folders/WebContent/emktg/html/pdf/advocating-payment-program.pdf
4. American Society of Clinical Pathology. ePolicy News May 2016. Accessed: March 9, 2017 https://www.ascp.org/content/Advocacy/epolicy-news-may-2016
5. Wolcott J, Schwartz A, Goodman C. Laboratory Medicine: A National Status Report. The Lewin Group. May 2008. Accessed April 18, 2017. https://wwwn.cdc.gov/futurelabmedicine/pdfs/2007%20status%20report%20laboratory_medicine_-_a_national_status_report_from_the_lewin_group_updated_2008-9.pdf
6. Centers for Medicare & Medicaid Services. Quality Payment Program website. Accessed April 18, 2017. https://qpp.cms.gov
7. Siwicki B. MACRA, what's that? Half of doctors don't know, Deloitte says. HealthcareITNews website. Accessed April 18, 2017. www.healthcareitnews.com/news/macra-whats-half-doctors-dont-know-deloitte-says
---
The first performance year began January 1, 2017 and impacts payment in 2019
MACRA and QPP will be the reimbursement model for 2019 and beyond
Under MACRA, there will be two payment options: MIPS or APM
All providers, including physicians, physician assistants, nurses, clinical nursing specialists, and certified registered nurse anesthetists, will report under MIPS in 2017. (Exceptions include being new to Medicare in 2017, current utilization of an advanced APM, care for fewer than 100 Medicare patients a year or bill less than $30,000 in Medicare part B allowed charges a year)
MIPS combines existing pay-for-performance programs (PQRS, VM, and MU)
The performance period for the QPP tracks the entire year, not just 90 days
MIPS payment adjustments are complex (see FIGURE 4). MIPS scores comprise the following categories: Quality, Cost, Care Coordination, EHR Use.
Under MIPS, most clinicians will see a payment adjustment (CMS anticipates that most independent practices will experience a pay cut)
Reporting under MACRA will not be cheap and will be time consuming
MACRA scores will be public and posted to the Physician Compare website with the physician's score in each of the four categories
Providers can choose to start collecting performance data anytime between January 1, and October 2, 2017
2017 reporting must be done before March 31st, 2018
Current Issue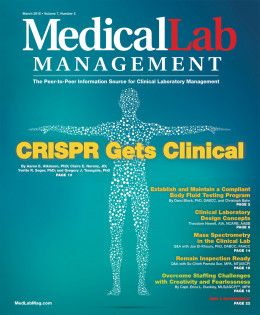 Subscribe to our Email Newsletters!
In The Loop!
Digital Edition
Special Announcements