Centrifuge Buyer's Guide
May 2017 - Vol. 6 No. 4
- Page #7
Article Category:
The use of centrifuge technology is critical for the separation of liquid and solid components in the clinical laboratory setting. Laboratories performing biochemical analyses on body fluids routinely use centrifuges to separate blood cells from serum/plasma, separate sediment from urine, measure the volume fraction of erythrocytes in blood (the hematocrit), and separate bound from free components in protein binding and immunoprocedures. Less routinely, centrifugation is used for separation of lipoproteins in reference procedures for their measurement, separation of cellular components, and separation of DNA fragments.
To read the full article, please log in or register.
Current Issue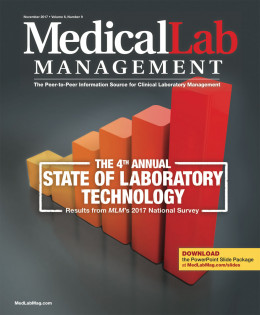 Subscribe to our Email Newsletters!
In The Loop!
Digital Edition
Special Announcements