Water Purification Buyer's Guide
May 2017 - Vol. 6 No. 4
- Page #16
Article Category:
The PURELAB Chorus from ELGA LabWater provides water quality ideal for clinical laboratory purity requirements. ELGA's range of pure and ultrapure water purification systems manage either a few liters or up to thousands of liters of water per day. The Chorus features full recirculation for the highest microbial purity, real-time TOC (total organic carbon) monitoring, and PureSure technology, which ensures accurate results with uninterrupted workflow. The systems also have the ability to configure a number of dispensers to allow for multiple users and provide flexible dispensing in six different ways. These reliable units are constructed from high quality components to ensure optimal purity and have built-in economical processes, which result in low consumable costs with the high water quality and precision.
To read the full article, please log in or register.
Current Issue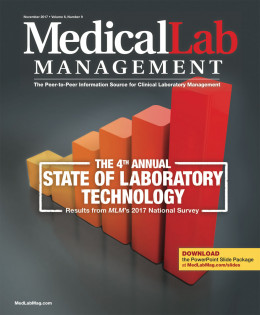 Subscribe to our Email Newsletters!
In The Loop!
Digital Edition
Special Announcements