The Impact of PAMA on Laboratory Outreach
May 2017 - Vol. 6 No. 4
- Page #18
"If you dislike change, you're going to dislike irrelevance even more."
– General Eric Shinseki (ret.), Fmr. Chief of Staff, US Army
With the passage of the Protecting Access to Medicare Act (PAMA) in 2014, the entire laboratory industry was effectively put on notice that change is coming. As a result of PAMA, the Centers for Medicare and Medicaid Services (CMS) will change the way it sets payment rates for clinical diagnostic laboratory tests beginning January 1, 2018 (see FIGURE 1). Implementation of this rule is expected to lower Medicare spending on Clinical Laboratory Fee Schedule (CLFS) services by $360 million in the first year (fiscal year 2017) and $5.14 billion over a ten-year period.1 Industry experts believe this represents the most significant disruption in the medical laboratory industry in the last three decades.
CMS pays for laboratory tests under the CLFS and it is estimated that Medicare Part B payments for laboratory tests totaled $7 billion in 2015. Of that amount, $4.1 billion (59%) was spent on the top 25 high-volume tests.2 It is precisely these tests that will hit the chopping block first. Not surprisingly, laboratory directors running outreach programs are concerned about sustainability following Medicare fee cuts under PAMA, as these are the very tests that make up the majority of their labs' volume.3
Impact of Data on Payer Rates
In 2011, the Department of Health and Human Services' Office of Inspector General performed an analysis of Medicare payment rates compared to those of other health care service payers. The results, published in 2013, indicated a broad-based assertion that Medicare paid between 18% and 30% more than other insurers for the top high-volume, high-spend laboratory tests.4 It is worth noting that the analysis only compared rates to a small cross-section of data including state Medicaid and Federal Employees Health Benefits (FEHB) fee-for-service programs, but not managed care plans. Analyses conducted both within and outside the laboratory industry suggest that private payer rates are substantially less than those of government payers.5
New payment rates for laboratory tests will be based on private payer data provided by approximately 5% of laboratories.2 The other 95% that are not reporting data include many hospital and most outreach laboratories. Only laboratories billing under their own National Provider Identifier (NPI) are designated as 'applicable laboratories,' which excludes the vast majority of hospital-based laboratory services that typically bill under the hospital's NPI. In short, the data produced by most outreach laboratories will not be taken into consideration, nor have significant impact on reimbursement adjustments.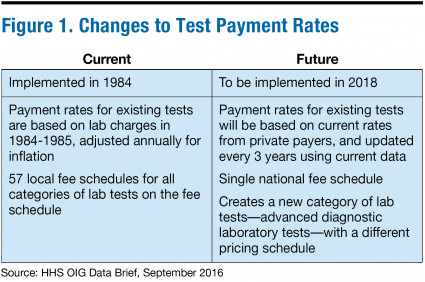 Reimbursement Reductions
Beginning in 2018, CMS will adjust the CLFS to more closely align with private payer rates from health insurance companies, Medicare Advantage plans, and Medicaid managed care organizations. On a per test basis, CMS will use the median of private payer rates, weighted by test volumes, to set new payment rates. From 2018 to 2020, payment rates could be reduced by up to 10% each year. Thereafter through 2023, reductions could be as high as 15% per year (see FIGURE 2).
Laboratory outreach is big business in the United States. On average, a hospital-based outreach program generates $24.9 million in annual net revenue for the hospital, with a 23.5% contribution margin.5 This multi-billion dollar market segment represents approximately one-fifth of the total laboratory industry and a financial impact of this magnitude does not go unrecognized in an industry increasingly under pressure to cut costs, preserve the bottom line, and move toward fee-for-value models.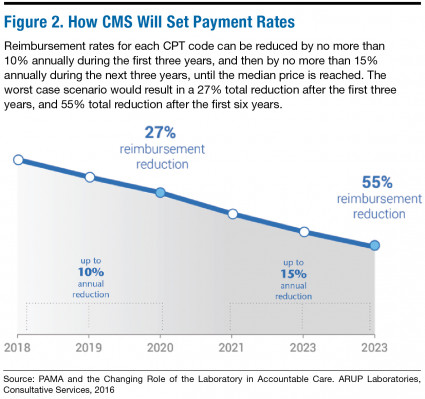 Laboratory Business Decisions
Increasingly, health care organizations are asking three key questions:
1) Should we outsource or sell part or all of our laboratory services before reimbursement drops?
2) Does a partnership or joint venture with a commercial laboratory make more sense economically?
3) Do we want to maintain ownership and control of our laboratory services?
Large, publicly traded commercial laboratories must grow by acquisition to maintain healthy profit margins and satisfy stockholders. Hospital laboratories represent almost 70% of the total laboratory industry and are attractive potential assets to these companies. National commercial laboratories can exert financial leverage and offer a variety of options to hospital executives including the outright purchase of lab outreach business, managing laboratories within the hospital, or forming partnerships where the hospital and the commercial entity jointly share ownership. This trend is expected to continue in an industry that is dynamically reshaping the way care is provided, who provides it, and how it is paid.6
Looking through another lens, laboratory outreach remains a profit center in many organizations and represents one of the last segments of clinical laboratory testing largely untouched by bundled or capitated payments. Unlike outpatient testing paid for under the Outpatient Prospective Payment System (OPPS), outreach work continues to be reimbursed by the CLFS. Beyond reimbursement, outreach programs that are operated like for-profit businesses, with effective billing and collections practices, and monthly profit and loss statements, are positioned to remain profitable under fee-for-service. Moreover, programs focused on cost containment will continue to deliver value to the hospital even as reimbursement shifts from volume to value based models. Looking ahead to 2020, the forecast for outreach suggests that smaller, less sophisticated programs will not be sustainable under increasing financial pressure. The outreach sector is expected to contract, with fewer but much larger programs.7
The impact of reimbursement decisions made by government payers and implemented under PAMA will likely be most significant during the first three years. As reported by Laboratory Economics,8 CMS projects overall savings during this period estimated at 12.4%, with detail as follows:
- Year 1: 6.4% savings
- Year 2: 5.0% savings
- Year 3: 1% savings
While CMS can reduce test prices 10%/year during the first 3 years and 15% thereafter, the Laboratory Economics study projected a savings of less than 10%/year during the first 3 years. After these initial cuts, CMS projects Medicare reimbursement for laboratory testing will stabilize through 2026.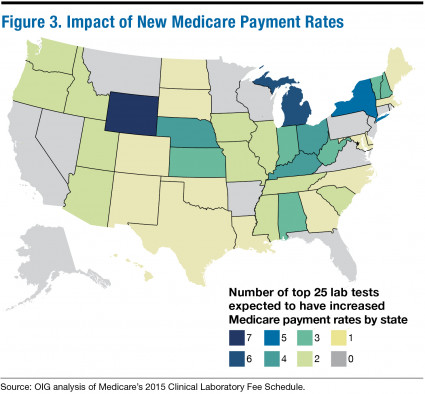 Reductions in Revenue Per Test
Chi Solutions conducted a similar study with findings that corroborate those posted by Laboratory Economics, with overall savings during the first three years estimated at 12.2%.5 Chi Solutions extended the analysis to examine the impact of PAMA on outreach specifically, using two assumptions:
1) Medicare payments account for an estimated 24% of an average hospital laboratory outreach program's collected revenue5
2) Average outreach net revenue per test is $19.795
Segregating outreach revenue that comes just from CMS and applying average CMS savings of 12.3% indicates that outreach programs can expect an estimated reduction of 3% in outreach revenue per test. While any impact to the bottom line is unwelcome, this estimate suggests a much more moderate, rather than an extreme adjustment.
Conclusion
Is the sky falling on lab outreach, or is there a silver lining to these developments? The answer lies somewhere in between. In some regions of the US, Medicare payment rates could actually increase for 22 of the top 25 tests. Further, Medicare rates may go up for as many as seven of the top 25 tests in 38 states; rate increases range from as little as $0.02 up to $30.27 per test (see FIGURE 3).2
On the other hand, Medicare payment rates are expected to decrease overall. Measuring the impact on a per laboratory basis will be largely dependent on factors including the percentage of the top 25 tests in the laboratory's total test volume, laboratory size, legal structure, location, and dependency of the laboratory on serving market segments comprised largely of Medicare patients. In the shadow of regulatory evolution one thing is certain: Change is coming.
References
1. Rudolf PM, Gustafson TA, Madsen JB, Cassidy A. Changes to Medicare Payment for Clinical Lab Tests: Part 1. Law360 website. Accessed March 21, 2017. https://www.law360.com/articles/713018/changes-to-medicare-payment-for-clinical-lab-tests-part-1
2. Murrin S. HHS OIG Data Brief: Medicare Payments for Clinical Diagnostic Laboratory Tests in 2015: Year 2 of Baseline Data. Department of Health and Human Services. Office of Inspector General. OEI-09-16-00040. September 2016.
3. McBride M. Coming PAMA price cuts to Medicare clinical lab fees expected to be heavy financial blow to hospital laboratory outreach programs. Dark Daily website. December 12, 2016. Accessed April 10, 2017. www.darkdaily.com/coming-pama-price-cuts-to-medicare-clinical-lab-fees-expected-to-be-heavy-financial-blow-to-hospital-laboratory-outreach-programs-212#axzz4dsd0iPtd
4. Levinson DR. Comparing Lab Test Payment Rates: Medicare Could Achieve Substantial Savings. Department of Health and Human Services. Office of Inspector General. OEI-07-11-00010. June 2013.
5. Chi Solutions, Inc. Strategic Implications of Chi Laboratory Outreach Survey Findings. Updated, 2016. Accessed March 22, 2017. https://www.chisolutionsinc.com/wp-content/uploads/2014/06/2016_0920_Strategic-Implications-Chi-Laboratory-Outreach-Survey_Final.pdf
6. Jahnle C. Overview of 2013-2014 Laboratory Industry Transactions. Haverford Healthcare Advisors. April 29, 2014. Accessed April 11, 2017. www.haverfordhealthcare.com/wp-content/uploads/2012/01/Overview-of-2013-2014-Laboratory-Transactions-Deal-Values-and-Multiples-and-Forecasting-of-Anticipated-Trends1.pdf
7. Murphy KA. Where Do We Go From Here? Laboratory Outreach in a Value-Based Era. Viewics. April 28, 2016. Accessed April 11, 2017. https://viewics.com/resources/where-do-we-go-from-here-laboratory-outreach-in-a-value-based-era/
8. Klipp J (ed). Proposed Rule Excludes Data From Most Hospital Labs to Reprice Lab Tests. Laboratory Economics. October 2015;10(10):4.
---

Suzanne Carasso, MBA, MT(ASCP), is an accomplished medical technologist and business professional with more than 25 years of technical, management, and consulting experience in the healthcare industry. She is Director of Business Solutions Consulting with ARUP Laboratories.
Like what you've read? Please log in or create a free account to enjoy more of what www.medlabmag.com has to offer.
Recent Popular Articles
Current Issue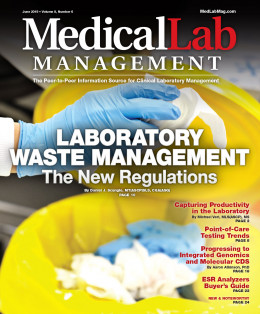 Subscribe to our Email Newsletters!
In The Loop!
Digital Edition
Special Announcements