The Impact of PAMA on Laboratory Outreach
May 2017 - Vol. 6 No. 4
- Page #18
"If you dislike change, you're going to dislike irrelevance even more."
– General Eric Shinseki (ret.), Fmr. Chief of Staff, US Army
With the passage of the Protecting Access to Medicare Act (PAMA) in 2014, the entire laboratory industry was effectively put on notice that change is coming. As a result of PAMA, the Centers for Medicare and Medicaid Services (CMS) will change the way it sets payment rates for clinical diagnostic laboratory tests beginning January 1, 2018 (see FIGURE 1). Implementation of this rule is expected to lower Medicare spending on Clinical Laboratory Fee Schedule (CLFS) services by $360 million in the first year (fiscal year 2017) and $5.14 billion over a ten-year period.1 Industry experts believe this represents the most significant disruption in the medical laboratory industry in the last three decades.
To read the full article, please log in or register.
Current Issue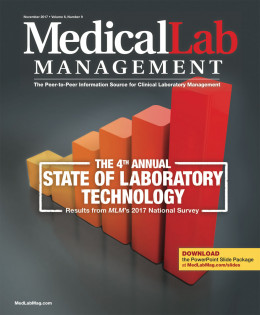 Subscribe to our Email Newsletters!
In The Loop!
Digital Edition
Special Announcements