Riding The Water or the Wave
July-August 2017 - Vol. 6 No. 6
- Page #1
A favorite quote asks, "Ultram bibis? Aquam an Undam?" ("What are you drinking? The water or the wave?") I think of this quote when imagining the undulating waters of clinical laboratory practice and how challenging it must be to stay the course in strong seas. One way to interpret this metaphor is to ask whether you feel consumed by professional waters ("I'm just keeping my head above the surface!"), or do you look for ways to rise above the surface and ride the wave, instead of being overwhelmed and directed by it.
In this month's issue, we examine process improvement from a number of angles. Acknowledging, examining, and preventing laboratory errors (see our cover story on page 12), constantly looking for ways to improve in all laboratory disciplines (see page 2), examining practices outside of your own to help maintain an open mind about the future (see page 20 for this month's CLMA article); these are all ways to ride the undulating waves of the clinical lab landscape.
The idea is to let breakthroughs in clinical practice, advancements in diagnostic instrumentation and technology, and conscientious dialogue among colleagues serve as both the buoyancy and ballast for the lab in the face of stormy and calm seas alike.
Serving as one of several guidance beacons is the forthcoming 69th Annual AACC Scientific Meeting & Clinical Lab Expo. This year's events, taking place in San Diego, California, feature a host of educational sessions, networking opportunities, and hands-on demonstrations of the latest in clinical diagnostic and laboratory management tools. As the old saying goes, if you have a question, it's more likely than not that others have the same question. We hope to see you in San Diego to find the answers you're looking for.
While visiting the expo, please stop by booth #1022 and say hello. Our mission at MedicalLab Management is to serve as another form of support; another harbor in the tempest. We want to continue helping clinical laboratory professionals to ride the wave and not feel consumed by it.
With best regards,
David McCormick
Managing Editor
Like what you've read? Please log in or create a free account to enjoy more of what www.medlabmag.com has to offer.
Current Issue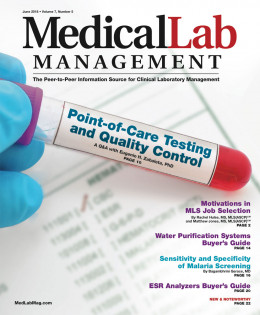 Subscribe to our Email Newsletters!
In The Loop!
Digital Edition
Special Announcements