Improving the Chromatographic Method for Quantitative TDP
July-August 2017 - Vol. 6 No. 6
- Page #2
Article Category:
Most clinical laboratories are encouraged by their administration to address problems with systematic solutions that fall within the organizational structure. In order to benefit the overall system, it is important to be enthusiastic about process improvement. This includes fostering and practicing a culture of continuous improvement through such practices as establishing benchmarks, using real-time analytics, incorporating Lean and Six Sigma methodologies and deployments, and performing daily management huddles where improvement projects are discussed and issues are addressed directly between management and staff.
To read the full article, please log in or register.
Current Issue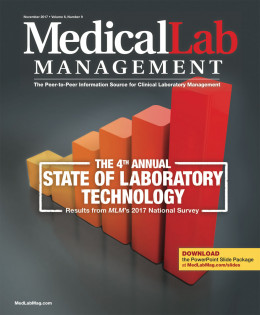 Subscribe to our Email Newsletters!
In The Loop!
Digital Edition
Special Announcements