Improving the Chromatographic Method for Quantitative TDP
July-August 2017 - Vol. 6 No. 6
- Page #2
Article Category:
Most clinical laboratories are encouraged by their administration to address problems with systematic solutions that fall within the organizational structure. In order to benefit the overall system, it is important to be enthusiastic about process improvement. This includes fostering and practicing a culture of continuous improvement through such practices as establishing benchmarks, using real-time analytics, incorporating Lean and Six Sigma methodologies and deployments, and performing daily management huddles where improvement projects are discussed and issues are addressed directly between management and staff.
With a plethora of process improvement tools at a lab's disposal, it can be confusing as to which tool(s) to choose. When the analytical chemistry department at Sonic Reference Lab, an esoteric testing facility based in Austin, Texas, was faced with the challenge of improving the chromatographic method for quantitative determination of thiamine diphosphate (TDP), the project team went back to the basics by employing the Plan-Do-Study-Act (PDSA) model, also known as the Deming Cycle (see FIGURE 1). When faced with operational problems or shortfalls, it can be easy to overcomplicate remediation and improvement processes, but as is often the case, the simplest methods are best.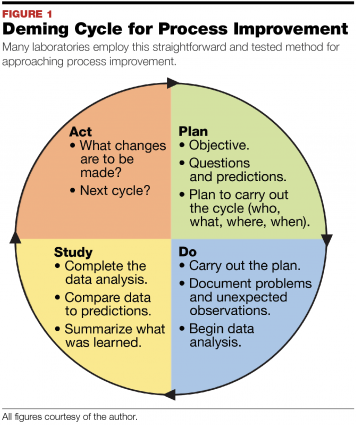 Key Improvement Processes
The primary objective of this project was straightforward: to validate a new chromatographic method attached across at least 5 separate runs. As with any project, the first steps can be daunting, but it is important to establish a realistic framework. A process improvement (PI) team, each with designated responsibilities, should be assembled to establish the project scope. See FIGURE 2 for a simple table we used to assign PI team responsibilities to keep team members on task. In addition to the author, our team consisted of three research scientists, one of whom served as development lead in the implementation of the polymeric stationary phase (as opposed to a silica-based phase). The other two scientists played integral analytical roles in support of the project rollout under the direction of the associate technical director. The quality manager and the laboratory director both reviewed the validation plan to ensure all regulatory requirements were meet. Once the plan was approved and validation and technical work were complete, the data was again reviewed by the laboratory section manager, the laboratory medical director, the associate technical director, and the quality manager before the validations were finally approved.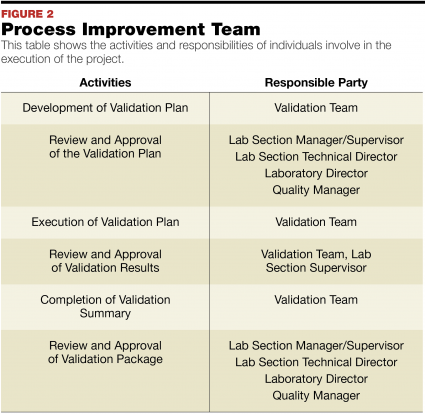 Plan: The purpose was to describe and validate a change in high-performance liquid chromatography (HPLC) column, mobile phase, and instrument conditions to improve the chromatographic method for the quantitative determination of TDP in whole blood by HPLC with fluorescence detection (HPLC-FLD). The primary issue involved a stationary phase that was not robust enough to cope with the derivatization conditions inherent to our validated Vitamin B1 (TDP) assay (see FIGURE 3). Specifically, we were experiencing a loss in retention and peak broadening within a single analytical run. The project was assigned to a senior scientist and monitored by the associate technical director for a three-month period.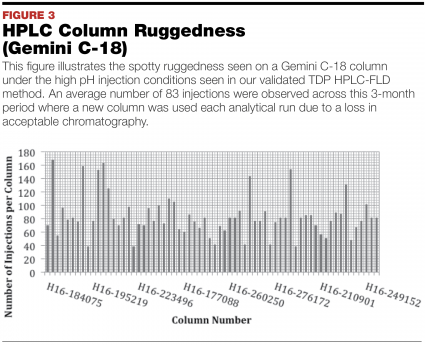 A possible cause for the column degradation is likely due to the 0.04% K3[Fe(CN)6] in 15% NaOH (aq) solution used in the derivatization TDP into a highly fluorescent thiochrome (see FIGURE 4). A highly basic injection can accumulate within the HPLC column and damage silica-based stationary phases and results in higher background signal, loss of column efficiency, and peak shape problems.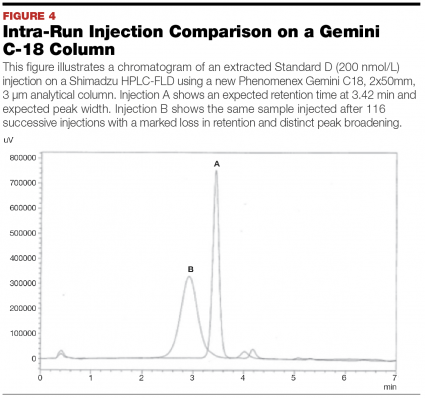 Do: PolymerX columns consist of a polystyrene divinylbenzene polymer as a stationary phase. This polymer makes this an analogous reverse phase analytical column to a C-18 bonded silica column. Furthermore, since there is no bonded silica within the PolymerX column, any secondary interactions or degradation due to high pH is avoided (see FIGURE 5).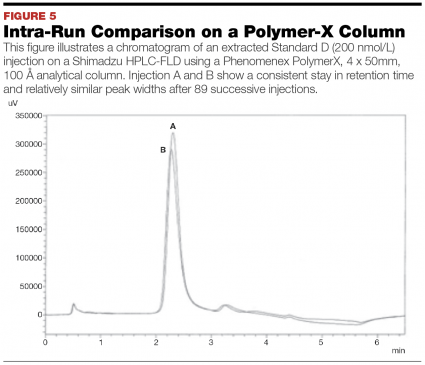 Check: A validation of this new chromatographic method has been completed, indicating improved HPLC column robustness and quantitation of 25 patient samples within our specified total allowable error window of ±20% when compared between a Gemini C-18 and a Polymer-X HPLC column. Additionally, this chromatographic method was compared against a third-party lab with results within our error margins.
The intra-run comparison conducted on the Polymer-X column was carried out on the same HPLC column used during development and validation of this new chromatographic method. So far, we have injected in excess of 800 patient samples without a loss of retention and minimal peak widening.
Act: Fully validated method has been implemented and standardized with the new chromatographic system. An observed average of 1050 injections has been seen across lots of PolymerX columns before a decrease in the chromatographic quality in the production environment.
Conclusion
By simplifying the way the departments engage continuous improvement projects and avoiding a one-size-fits-all mentality, the laboratory can ensure problems are solved in a timely and efficient manner. Establishing a culture of utilizing key process improvement tools will help fuel the success of continuous process improvement initiatives in the clinical lab. As with most process improvement projects, there is an expected return on investment; in this case, the B1 project was able to save Sonic Reference Lab $120,000, annually. Cost savings is attributed to decreased inventory during the year time frame.
The authors would like to thank Rachel Link and Jason Block as fellow research scientists involved in this project.
---

Claude G. Sawney, MS, MLS(ASCP), is the quality manager at Sonic Reference Laboratory based in Austin, Texas. He received his BS in clinical laboratory science from Midwestern State University and his MS from Tarleton State University. Claude has Six Sigma certification from the University of Michigan and been involved in many continuous improvement projects throughout his career. He is passionate about laboratory efficiency, continuous improvement, developing meaningful quality benchmarks, establishing Cost of Poor Quality systems, and patient safety advocacy.
Edwin Escobar, BS, is a development scientist in the analytical chemistry department at Sonic Reference Laboratory. He obtained a BS in biochemistry from the University of Texas at Austin and is Lean Six Sigma Green-Belt certified. Edwin is involved in the development of LC-MS/MS and HPLC-FLD clinical chemistry assays for therapeutic drug monitoring, endocrine targets, and toxicology.
Current Issue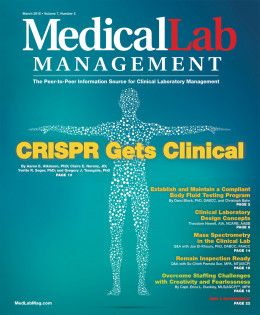 Subscribe to our Email Newsletters!
In The Loop!
Digital Edition
Special Announcements