Clinical Temperature Management of Blood Products
July-August 2017 - Vol. 6 No. 6
- Page #8
Article Categories:
Q&A with Robert A. DeSimone, MD
Transfusion Medicine Fellow
New York Blood Center, New York, NY
MedicalLab Management: What are the risks and benefits of accepting and reissuing returned blood cell concentrates?
Dr. DeSimone: Blood products are a precious resource in health care, and as transfusion medicine physicians, we have tremendous respect for our blood donors and their provision of this valuable resource to our hospitals and patients. To demonstrate this respect, one of the essential roles of transfusion medicine laboratory physicians and staff is working to limit blood product wastage.
To read the full article, please log in or register.
Current Issue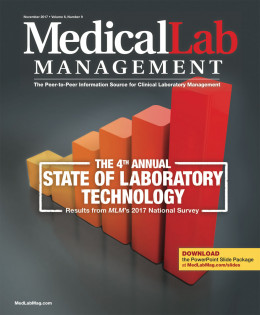 Subscribe to our Email Newsletters!
In The Loop!
Digital Edition
Special Announcements