What's Your CoPQ? Quantifying the Value of Laboratory Quality
July-August 2017 - Vol. 6 No. 6
- Page #12
Article Category:
The concept of quality in clinical laboratory operations is omnipresent, yet it is a nebulous term. All laboratory professionals agree that quality is important, but what does the term really mean, and how is it defined and measured? More specifically, how does one measure return on investment for quality activities in the lab and how is perpetual investment in quality justified to those who make the financial decisions? It is inherently difficult to measure something that is not clearly defined, and even more so to calculate a return on investment for something that you do not know how to measure. From a managerial standpoint, the inability to clearly and influentially demonstrate the financial feasibility of your quality program means that you will not get the funding necessary to support it. Fortunately, application of the concept of Cost of Poor Quality (CoPQ) can help.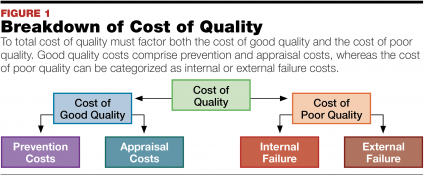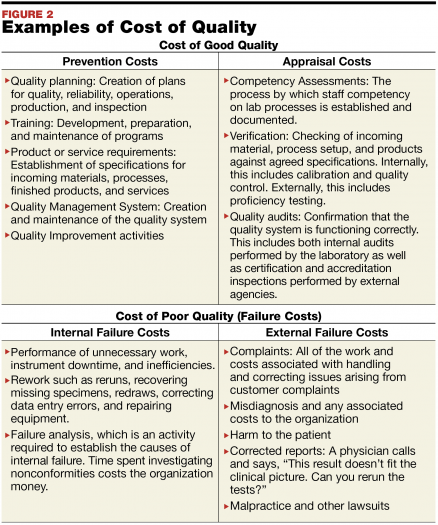 Nonconforming Event Management is Key
The first step is to look at nonconforming events, also referred to as nonconformities, occurrences, adverse events, and incidents. In the clinical lab setting, nonconformity tracking is required, per CLIA Standard §493.1239, General Laboratory Systems Quality Assessment. The ISO definition of a nonconforming event is the failure to meet a requirement, but I prefer the less formal definition, that is when something in the laboratory does not go as planned.
The purpose of nonconforming event management is to identify and characterize problems that arise in the lab, perform an investigation, identify root cause(s), and formulate and implement appropriate corrective and preventive actions. Corrective actions are intended to eliminate the root cause of a nonconformity that has already occurred. Optimally, preventive actions mitigate potential gaps. Proactive identification of potential issues can prevent negative events from happening in the first place. Many laboratory professionals have been participating in this risk management activity without even realizing it was risk management. Corrective and preventive actions improve patient safety, employee health and safety, and operational efficiency. These actions thereby benefit the overall quality of the business and its laboratory services.
Acknowledging the need for nonconforming event management is one thing; implementing an effective system is another. Anyone involved in logging and investigating problematic events, implementing corrective actions, and performing follow-up effectiveness checks is well aware of the difficult and often thankless nature of this work. It is a challenge to impel employees to report events, thus a significant effort must be made to encourage employee empowerment and build a culture of trust in which employees feel safe and motivated to report. If you are successful in creating a reporting culture, there is likely to be an initial flood of nonconforming event reports. The subsequent processes of triaging, performing investigations, establishing and implementing corrective actions, and following up to ensure effective root cause elimination can seem overwhelming. However, persistence will pay off, as these events will dwindle as quality improves.
Having been engaged by numerous clinical laboratory professionals on this topic, a common theme is the universal frustration with the use of basic spreadsheets for nonconforming event management. Many struggle to justify investment in event management software that would allow for a streamlined and automated electronic process. Likewise, laboratory leadership often struggles to gain the personnel resources necessary to effectively run a quality program. Depending on the size of the lab, it can take significant resources to perform nonconforming event management in a timely and efficacious manner, remain abreast of regulatory requirements and ensure compliance, and track metrics, not to mention sustain the overall maintenance and progression of quality programs.
Cost of Quality
The cost of quality concept has existed for at least 60 years (a description of which is ascribed to Dr. Joseph Juran), but remains extremely relevant given the economies expected of clinical labs today.1 The total cost of quality is equal to the cost of good quality plus the cost of poor quality. The cost of good quality comprises prevention costs and appraisal costs, whereas CoPQ is divided into internal and external failure costs (see FIGURE 1).2
Prevention costs are incurred to prevent or avoid quality problems. These costs are associated with the design, implementation, and maintenance of the quality management system and should be planned for and incurred before actual operation. As with any such project, these costs must be justified prior to program initiation.
Appraisal costs involve quality measuring and monitoring activities and are associated with supplier and customer evaluation of purchased materials, processes, and products, as well as services to ensure these items conform to specifications.
Internal failure costs are incurred to correct defects discovered before the product or service is delivered to the customer. These costs occur when the results of work fail to reach quality standards and are detected before being transferred.
External failure costs are incurred to remedy defects that are discovered by customers. These costs occur when products or services that fail to reach quality standards are not detected until after they reach the customer. See FIGURE 2 for Cost of Quality examples.
Calculating CoPQ: Hard Versus Soft Costs
It is useful to understand the difference between hard and soft costs when calculating CoPQ. This is where my methodology deviates from conventional CoPQ calculation. Hard failure costs are those costs that an accountant would be interested in and are generally associated with waste as a result of rework (when something is not done correctly the first time). Cost accounting tends to be simple for wasted reagents, supplies, and tech time. It is also fairly easy to calculate the amount of time dedicated to investigations and management's involvement in corrective actions (eg, time spent writing and implementing new policies, processes, and procedures).
In contrast, a soft internal failure cost would be a cost of poor quality for which it is not so easy to derive an actual cost for, but that we know has a negative impact on the financials of the organization. An example of this is low morale among employees. Although we know low morale has a negative effect on productivity (and, therefore, the organizational bottom line), it is a challenge to meaningfully measure staff morale and correlate that measurement to monetary losses. That said, soft failure costs can be conservatively estimated. An accurate measurement of soft failure costs is elusive, but their financial impact can be significant; therefore an attempt should be made to form a conservative estimate key stakeholders can agree upon. For example, a laboratory may estimate a loss of $2500 for every day over the established turnaround time for viral load testing. Obviously this would depend on volume, but if your clients and patients rely on results within a certain timeframe, this is likely a rather low estimate. I have seen much larger estimates, but the key here is management buy in, so conservative estimates are preferable.
External failure costs can be either hard or soft, and examples of the former include litigation and client attrition. For example, take an infectious disease testing laboratory that settled a lawsuit over incorrect reports related to switched specimens. In terms of process improvement, this settled lawsuit resulted in an external failure cost of $100,000, which could be counted as an external failure cost for one event, or it could be divided by the number of switched-specimen events reported throughout the course of the year and be considered the CoPQ attributed for the external failure cost for each switched specimen event moving forward. For example, if the overall cost of litigation related to switched specimens is $100,000, divide that by the number of switched specimen errors recorded in the nonconforming event management system. If this error occurred ten times over the course of a year, the approximate soft failure cost per instance of switched specimens is $10,000. Fortunately, external failure costs involving patient harm or litigation are generally rare, but when they do occur, they can be quite costly to an organization. Applying a specific cost to each failure, even if it is an estimate, and acknowledging the potential for further incursion of such failure costs helps the organization maintain focus on the financial implications of downstream and less tangible failure costs related to lab quality.
Other external failure costs, such as reputational damage and certain types of patient harm, can be difficult to attribute a cost to in the absence of hard data. However, it is easy to agree that these types of failures result in some degree of financial harm to an organization. Some quality experts do not agree with estimating these soft costs, but I believe doing so at least provides a placeholder to serve as a starting point in quantitating the actual cost of poor quality in our laboratories.
Calculating CoPQ
When I first started including CoPQ as part of corrective and preventive action forms in nonconforming event management software, I listed some hard failure cost considerations to include and asked staff members to make estimates regarding these costs. Many staff struggled with this and ultimately abandoned the practice due to uncertainty regarding their estimates. To provide standardization, a simple Excel-based tool was introduced to calculate CoPQ on an event-by-event basis. Referred to as the CoPQ Calculator, it lists possible CoPQ classifications for any given event, including hard and soft internal and external failure costs. For hard internal failure costs, staff are asked to enter the number of hours spent on error remediation, any wasted items or other applicable units, the cost per unit (eg, hourly wage or cost per vial of reagent), and calculate a total for each line. The totals are then added to provide an overall hard internal failure cost. I recommend developing your own CoPQ calculator.
It is worth noting here: Do not become too wrapped up in trying to ascertain exact dollar figures. What is important is gaining a close approximation. For example, there is no need to represent the exact hourly wage of the specific tech who performed the rework; a position-level average will certainly suffice. It is most important that close approximations for every event are tracked rather than getting bogged down in granularity. The goal is for management to agree that these numbers are being calculated conservatively and include the correct considerations.
The CoPQ Calculator tool also can be used for soft costs (both internal and external failure costs), but conservative estimates should be used unless more specific and creative calculations can be incorporated. I total all of the hard costs to create a figure that matters to my finance department. I also total the soft costs to create a conservative estimate of the CoPQ for those things that are harder to quantitate, but which we know have an effect. The total CoPQ associated with a particular nonconforming event is calculated by adding the internal and external failure costs. The totals for each nonconforming event are then complied into management reports to produce the big picture of overall CoPQ in the lab.
Lab compliance software vendors are beginning to build in the ability to track and trend CoPQ into their products. The major advantage of doing this in software over a spreadsheet, aside from simply avoiding the burdensome task of having to complete and save a spreadsheet for each event, is that capturing CoPQ in an electronic database allows for the efficient trending of data. As a quality manager or a lab manager involved in putting together metrics, how many hours do you spend crunching data and producing graphs? Tracking CoPQ electronically will allow you to just cut and paste directly into your metric report.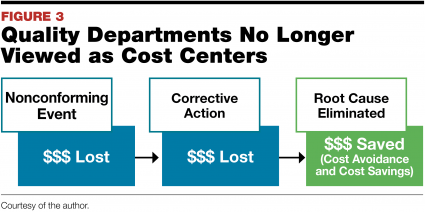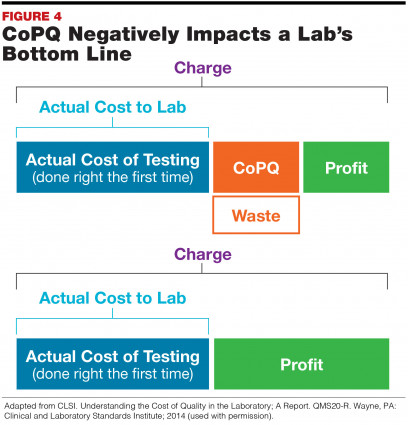 Why Track CoPQ?
When a nonconforming event occurs, a root cause analysis is performed and a corrective action is implemented, thereby eliminating the event's root cause. Capturing the CoPQ in this process allows us to understand the cost avoidance or cost savings that can be realized by eliminating that root cause. Presenting cost avoidance and cost savings to management and the C-suite is an effective way to demonstrate the value provided by a quality program (see FIGURE 3). Quantitating the benefit of a quality program in dollars is the language of those who hold the keys to the resources the laboratory needs for its quality initiatives.
FIGURE 4 is adapted from CLSI's Report QMS20-R entitled Understanding the Cost of Poor Quality in the Laboratory.3 On the top is the actual cost of testing if performed correctly the first time and includes the CoPQ (pure waste), followed by profit margin. The net cost of testing to the lab is the actual cost of testing done right the first time, plus any CoPQ. If we mitigate or eliminate CoPQ, as shown on the bottom of the figure, it is clear that the actual cost of testing done right the first time remains the same; the charge will remain the same in most cases. However, profit increases through CoPQ reduction, we actually increase our profit margins. CoPQ negatively impacts bottom line and drives down profits.
Conclusion
Capturing the CoPQ associated with each nonconforming event or near miss allows laboratory leadership to quantitate the financial benefit of quality initiatives. This further allows lab leadership to speak the language of key executives in the organization whose interest invariably lies in the financial bottom line. Approaching executive management armed not only with quality and patient safety benefits, but also with an indication of financial benefit will allow the lab to sell proposed quality initiatives effectively. Poor quality and rework create unnecessary financial losses to an organization. Assigning a monetary value to that waste provides the motivation to eliminate it.
Clinical laboratory practice has lagged behind other industries in the capturing of Cost of Quality data and there is not a significant amount of published information on this subject in the clinical lab context. As an industry, clinical laboratories need to begin capturing CoPQ to demonstrate the value of quality initiatives. Doing so will facilitate the shift in thinking of our quality efforts as being a cost center, an expensive and necessary evil for regulatory compliance, to a function that provides cost savings and cost avoidance. Labs must resist the urge to realize short-term savings by cutting resources to quality programs, as it is incorrect to assume that expending fewer resources toward quality will save the lab money. Continuous progression in quality will reduce costs, resulting in the strategic advantage of differentiation in the marketplace through quality, while providing the peace of mind that comes with offering the very best care for our patients.
If you are interested in learning more, additional resources include the American Society for Quality (www.asq.org), as well as the CLSI Report on Understanding the Cost of Quality in the Laboratory. CLSI also has a certificate program on implementing the Cost of Quality in the lab (https://clsi.org/education/coq/).
For more information on CoPQ, see Jennifer's most recent webinar, Calculating an ROI for Your Lab's Quality Program: www.whitehatcom.com/cardinalhealth
References
History of Cost of Poor Quality. Accessed 8/7/17. http://www.quality-improvement-matters.com/costofpoorquality-history.html
Buthmann A. Cost of Quality. Not Only Failure Costs. Accessed 8/7/17. https://www.isixsigma.com/implementation/financial-analysis/cost-quality-not-only-failure-costs/
CLSI. Understanding the Cost of Quality in the Laboratory; A Report. CLSI document QMS20-R, PA: Clinical and Laboratory Standards Institute; 2014.
---

Jennifer Dawson, MHA, LSSBB, DLM(ASCP), is the Senior Director of Quality for Human Longevity, Inc in San Diego, California. She has provided quality management systems consulting to organizations such as Baylor University Medical Center and Geisinger Medical Laboratories. Jennifer is a member of the CLSI Quality Management Systems & General Practices Expert Panel, the Cardinal Health Advisory Board, the ASCLS Patient Safety Committee and the AACC Management Sciences & Patient Safety Division Executive Committee. She recently completed a 2-year term on the CLMA Board of Directors and also serves on the National Malcolm Baldrige Quality Award Board of Examiners. Her areas of interest include ISO 15189 and Baldrige Framework deployment, real-time quality metrics, cost of poor quality, electronic management of nonconformities, creating a culture of quality, and quality in the preanalytical phase. Jennifer earned her MHA with a concentration in quality and patient safety from Regis University in Denver, Colorado, where she is an affiliate faculty member.
---
Example: Demonstration of Quality Program Return on Investment Through CoPQ Calculation
---
Lowest Total Cost of Quality
Like what you've read? Please log in or create a free account to enjoy more of what www.medlabmag.com has to offer.
Recent Popular Articles
Current Issue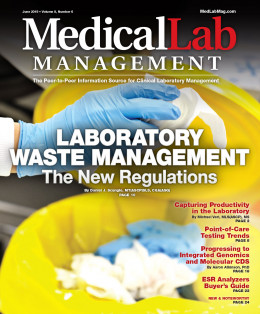 Subscribe to our Email Newsletters!
In The Loop!
Digital Edition
Special Announcements