Improving CBC Utilization
September 2017 - Vol. 6 No. 7
- Page #2
Article Category:
Having worked as a medical technologist for over 30 years, I have had the privilege of experiencing numerous advancements in hematology automation as new methods and devices have evolved from theories to everyday clinical use. Automation relieved technologists from performing hand counts and began performing complete cell counts; the first automated slide differential counters were developed, followed by three-part differentials as part of the automated count, and now the 5-part differentials with basic review of RBC and platelet morphology are commonplace. Along with these advancements came greater test utilization, and a greater need for proper utilization.
Automation Use
Beaufort Memorial Hospital in Beaufort, South Carolina, is a 197-bed not-for-profit, acute care hospital with a core laboratory operating 24/7. With approximately 42 FTEs in the primary lab and 7.4 FTEs in satellite labs, the department runs approximately 202,000 chemistry tests, 120,000 hematology tests, and 33,500 urinalysis tests on an annual basis.
In the hematology laboratory, two high-definition cellular analyzers are utilized for complete blood count (CBC) and cellular morphology analysis. We have opted not to attach automatic slide staining devices to these analyzers given that less than 10% of the CBCs performed in our laboratory require the performance of manual slide reviews.
To address issues of test utilization, numerous triggers have been established for auto-rerun and reflex testing. The analyzers are programmed to automatically rerun all critical values, platelet counts below 100, and all specimens that have analyzer testing flags. In addition, the analyzers are programmed to only print reports when defined criteria require a technologist to review the results and/or perform reflex (manual slide review), if indicated. By eliminating review of the normal or within-acceptable-limit specimens, the techs are enabled to focus on abnormal specimens that require further review, such as patients with severe anemia, immature white blood cells, and thrombocytopenia.
Results Interpretation
The clinician is provided the complete CBC report on all specimens and if indicated, we eliminate the automated differential and report the manual differential results with RBC morphology and platelet estimate. By programing the automated analyzer
to print a report only for specimens that fall outside of the normal/acceptable parameters, the techs can focus their time on providing detailed information from manual slide review. Detailed slide review of RBC morphology provides clinical information that is helpful in determining hemolytic disease and types of anemia (eg, iron deficiency versus B12 or folate deficiencies).
In order to augment our current dual analyzers, our laboratory leadership is reviewing whether we should acquire additional technology to provide more detailed WBC and RBC information that can be used to assist with the potential anemia and even sepsis diagnoses. Our current analyzers directly measure MCV and MPV, providing insight on RBC morphology related to various anemias and enabling the analyzer to flag for platelet clumping and giant platelets. Ideally, the new technology would provide additional information on RBC morphology that could flag for possible hemolytic disease. In addition, improved analysis of the WBC morphology could provide flagging related to sepsis and identifying immature cells found in leukemias.
Conclusion
As one of the most common tests ordered in a clinical laboratory, CBCs are used as initial screening of, and to monitor therapy for, a variety of conditions. Accordingly, a strong standardization and automation protocol is necessary for accurate and consistent results.
When we are ready to upgrade our hematology analyzers, we will be looking for computer assisted analysis that will provide additional information on RBC and WBC morphology, to assist in early detection of disease, and for screening to eliminate the need for technologist review of patient samples considered normal.
---

Richard Cole, MT(ASCP), is the hematology coordinator at Beaufort Memorial Hospital in Beaufort, South Carolina.
Current Issue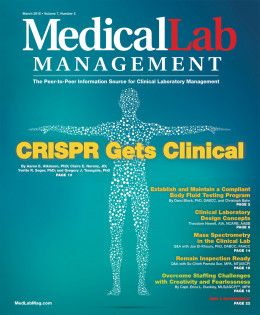 Subscribe to our Email Newsletters!
In The Loop!
Digital Edition
Special Announcements