Safe Use of Biological Safety Cabinets
September 2017 - Vol. 6 No. 7
- Page #4
Article Category:
Q&A with Daniel J. Scungio, MT(ASCP)SLS, CQA(ASQ)
Laboratory Safety Officer
Sentara Healthcare
MedicalLab Management: What protections do engineering controls such as biological safety cabinets (BSCs) offer clinical laboratorians and pathologists?
Daniel Scungio: BSCs represent an important engineering control in the clinical laboratory that often serves to protect users from airborne pathogens (most commonly, tuberculosis). These devices also protect users from bloodborne pathogens or chemical exposure/splash via built-in structural protections offered by the sash mechanism. Essentially, BSCs are valuable hardware tools intended to protect both users and the specimens and substances under manipulation by the user.
To read the full article, please log in or register.
Current Issue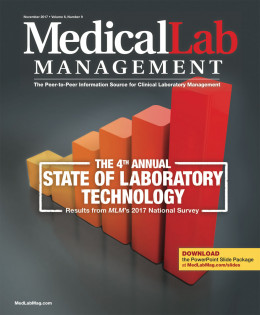 Subscribe to our Email Newsletters!
In The Loop!
Digital Edition
Special Announcements