Implementation of a Phlebotomy Career Ladder
September 2017 - Vol. 6 No. 7
- Page #10
Article Category:
The practice of phlebotomy is integral to all clinical laboratory operations; one that has always required an intimate interaction with patients, many of whom may be experiencing very challenging circumstances. In this regard, phlebotomy remains as perhaps the most front-facing action of the clinical lab, and despite the relative simplicity of phlebotomy in a vacuum, the process can be unexpectedly challenging. As with many rote processes in the lab, phlebotomy is expected to be performed flawlessly, thereby producing wholly viable samples for clinical testing; yet phlebotomists are rarely given appropriate recognition or opportunities to distinguish themselves professionally. As all seasoned laboratorians from the director to the bench tech know: qualified, sensitive, experienced, and reliable phlebotomists are indispensible to clinical laboratory operations.
To read the full article, please log in or register.
Current Issue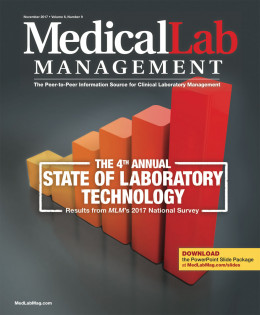 Subscribe to our Email Newsletters!
In The Loop!
Digital Edition
Special Announcements