Product Spotlight: DxONE from Beckman Coulter
September 2017 - Vol. 6 No. 7
- Page #18
Article Category:
The positive impact of new laboratory technology developments cannot be overstated. Yet, the technological explosion of the last half-century has had questionable effects as well, one of which is the ongoing separation between a skilled laboratory staff member and the actual mechanics of a test. Great skill and acumen is still required to operate and maintain advanced diagnostic instruments, but by removing the practitioner from the actual steps of the task, certain detrimental variables, such as waste, become less obvious.
To read the full article, please log in or register.
Current Issue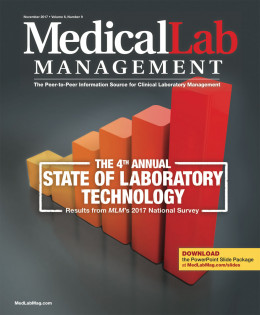 Subscribe to our Email Newsletters!
In The Loop!
Digital Edition
Special Announcements