ESR vs. CRP: Appropriate Test Utilization in Pediatric EDs and Urgent Care Clinics
September 2017 - Vol. 6 No. 7
- Page #20
Article Category:
In an ongoing effort to decrease unnecessary testing, Children's Mercy Hospital (CMH) Kansas City, through its utilization committee, has invested in educational programming to promote clinical effectiveness. As part of this overall program, laboratory management decided to look at a utilization issue related to the monitoring of patient response to therapy and the various approaches to this task. It is generally understood that both C-reactive protein (CRP) and erythrocyte sedimentation rate (ESR) are nonspecific indicators of inflammation and neither are proven to have a positive predictive value for any specific disease.1 Specific to this case, CMH has designated CRP as its preferred marker for monitoring patient response to therapy after the primary diagnosis of invasive infectious or inflammatory diseases, for monitoring patients after major surgical procedures, and for monitoring patients with serious burns.2 However, given the wide availability of ESR testing, it has become a ubiquitous test for many emergency department (ED) and urgent care (UC) physicians at CMH, thus serving in a similar capacity as CRP.
To read the full article, please log in or register.
Current Issue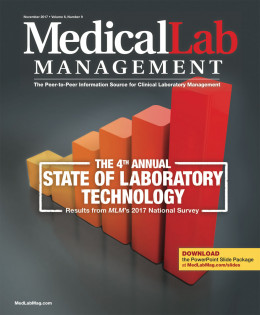 Subscribe to our Email Newsletters!
In The Loop!
Digital Edition
Special Announcements