ESR vs. CRP: Appropriate Test Utilization in Pediatric EDs and Urgent Care Clinics
September 2017 - Vol. 6 No. 7
- Page #20
Article Category:
In an ongoing effort to decrease unnecessary testing, Children's Mercy Hospital (CMH) Kansas City, through its utilization committee, has invested in educational programming to promote clinical effectiveness. As part of this overall program, laboratory management decided to look at a utilization issue related to the monitoring of patient response to therapy and the various approaches to this task. It is generally understood that both C-reactive protein (CRP) and erythrocyte sedimentation rate (ESR) are nonspecific indicators of inflammation and neither are proven to have a positive predictive value for any specific disease.1 Specific to this case, CMH has designated CRP as its preferred marker for monitoring patient response to therapy after the primary diagnosis of invasive infectious or inflammatory diseases, for monitoring patients after major surgical procedures, and for monitoring patients with serious burns.2 However, given the wide availability of ESR testing, it has become a ubiquitous test for many emergency department (ED) and urgent care (UC) physicians at CMH, thus serving in a similar capacity as CRP.
In studying laboratory practice for both CRP and ESR, CMH has found that providing CRP testing in addition to ESR testing in ED and UC clinic settings throughout the Children's Mercy system has improved proper test utilization. However, clinicians continued to commonly order both tests unnecessarily. By investigating the root cause of this issue and applying the knowledge and expertise of our laboratory directors and staff to educate clinicians on the appropriate use of CRP versus ESR, the hospital has seen a more balanced decrease in ESR reporting and an increase in CRP reporting at all locations, improving clinical effectiveness and overall patient care.
Body of Knowledge: Medical Decision Support
Medical Decision Support presents healthcare providers with information regarding the effective utilization of laboratory services. However, this support requires an analysis and evaluation of a range of services that is patient-focused and results in positive outcomes.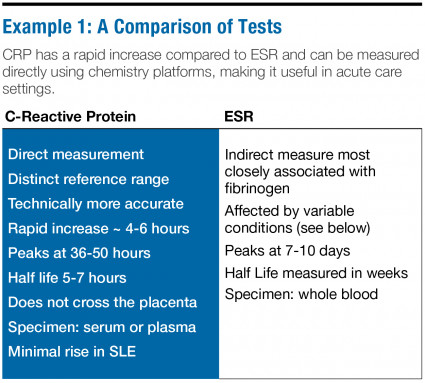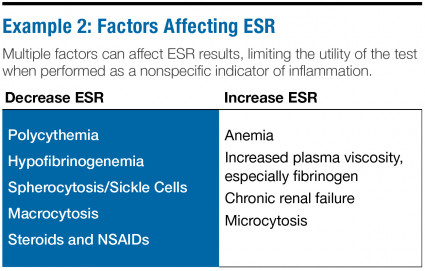 Test Background
ESR is a nonspecific indicator of inflammation without a positive predictive value for any specific disease and is commonly ordered in pediatric settings. The test is low cost and readily available in most laboratories throughout the country. Alternatively, CRP is a nonspecific substance produced by the liver in response to inflammation, which can be directly measured by chemistry instrumentation and which elevates in circulation faster than ESR.2 While CRP elevates within hours, ESR is an indirect measurement and does not peak until almost seven days after the event, when CRP levels begin dropping off. In addition, ESR's decline is delayed in comparison to that of CRP, making it a less useful in acute settings in many cases.
The Children's Mercy study focused on the differential use of CRP and ESR and how commonly both CRP and ESR were ordered together. It was agreed that differences between the two tests include interfering conditions, which have the potential to alter the result and the rate of change of each analyte. While CMR has established CRP as the preferred marker for monitoring a patient's response to therapy after the primary diagnosis of an infectious or inflammatory disease, it also has been found to be helpful when monitoring patients after major surgical procedures or patients with serious burns.2 Conversely, ESR is the preferred test when following a patient with long term or chronic therapy needs, such as in osteoarticular infections and disseminated bacterial infections with a deep abscess. Inflammatory bowel disease (IBD) and some rheumatoid diseases also may be most effectively followed using ESR.
When used together, ESR and CRP can more explicitly reveal an acute exacerbation of a chronic disease such as rheumatoid disease or IBD. Yet, some identified diseases (eg, systemic lupus erythematosus) do not increase the CRP (see EXAMPLES 1 and 2). Given the dynamics of CRP and ESR use in the ED and other urgent care settings, our study was designed to examine whether communicating the differences between CRP and ESR testing, and encouraging appropriate ordering protocols for each type of test could reduce unnecessary ordering practices.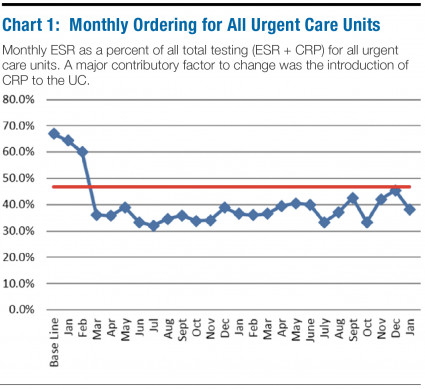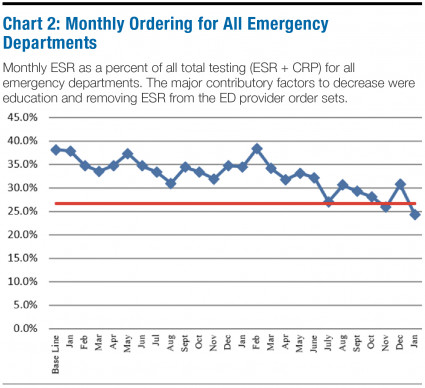 Intervention, Study Plan, and Measures
The CMH Utilization Committee, along with the hospital's clinicians, agreed the following tactics could help improve ordering patterns for CRP and ESR testing:
CRP was made available at all satellite laboratories associated with UC and primary care clinics in March 2015.
Educational information was sent to all CMH residents and physicians, including CHARTS 1 and 2.
ESR was removed from all order sets for ED/UC settings except musculoskeletal infections.
ED clinicians began reviewing musculoskeletal infections to determine whether ESR testing was necessary.
Emergency medicine adopted Appropriate Use of ESR as a goal in the 2016 academic year.
Results
Since the introduction of CRP testing, the limitation of ESR to certain order sets, and increased education directed to clinicians on appropriate use of CRP and ESR, there has been a significant improvement in test utilization. In comparing ESR tests to the total of ESR plus CRP tests, we saw an almost 30 percent reduction in ESR testing. Within the EDs, there was more than 12 percent reduction in ESR testing compared to CRP, and with the introduction of CRP testing at our satellite laboratories, orders have increased 200 percent compared to 2014 when testing was sent to the main campus.
Discussion and Lessons Learned
As the literature suggests, CMH has designated CRP as the preferred test for monitoring inflammation in the patient.2 Providing CRP testing in addition to ESR testing for the ED and UC throughout the Children's Mercy Hospital system has improved proper test utilization. Laboratory directors and staff now actively educate clinicians on appropriate use of CRP and ESR, and the removal of ESR from most physician orders sets has also reduced unnecessary testing. The laboratory will continue its educational programming with CMH clinicians and departments and begin to reach out to the clinicians in the community who refer patients to CMH pediatric clinics regarding this issue in particular, as well as proper test utilization as an overarching goal.
References
1. Fischbach FT. A Manual of Laboratory & Diagnostic Tests. 6th edition. Philadelphia, PA: Lippincott; 2000. 89-90,619-620.
2. Jaye DL, Waites KB. Clinical Applications of C-reactive protein in Pediatrics. Pediatr Infect Dis J. 1997;16(8):735-747.
---

Sean Tucker, MLS(ASCP), MBA, is the manager of Satellite Laboratories at Children's Mercy Kansas City and is the president of the Kansas City Chapter of CLMA.

Marilyn Hamilton, MD, PhD, is a medical director at Children's Mercy Kansas City, adjunct professor at the University of Missouri Kansas City School of Medicine, and Chair of the Children's Mercy Utilization Committee.
Current Issue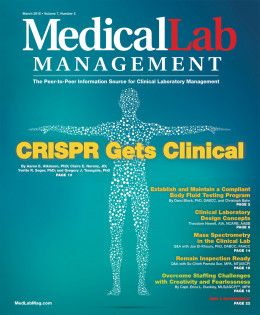 Subscribe to our Email Newsletters!
In The Loop!
Digital Edition
Special Announcements