Hematology Analyzers: Trends
October 2017 - Vol. 6 No. 8
- Page #6
Article Category:
As a preview of the excellent benchmarking data to come in our November issue, we are happy to present this section from our forthcoming annual State of Laboratory Technology survey issue. Hematology analyzers are clearly essential to clinical laboratory operations, and the enthusiastic satisfaction ratings for this technology is a positive sign for future utilization.
To read the full article, please log in or register.
Current Issue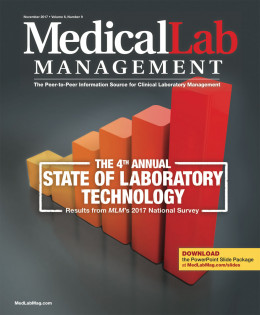 Subscribe to our Email Newsletters!
In The Loop!
Digital Edition
Special Announcements