Dispelling the 70% Claim with Laboratory's True Value
October 2017 - Vol. 6 No. 8
- Page #8
Article Category:
It is likely that the vast majority of clinical laboratory professionals have heard some version of the following claims at some point in their career: 70% of all medical decisions are based on laboratory results, or 70% of a patient's medical record consists of laboratory data. This claim is also seen throughout the literature, though the exact statistic and wording sometimes vary. On occasion, both versions of the claim are added together to create the so-called 70/70 Rule; 70% of all medical decisions are based on laboratory data and 70% of a patient's medical record is made up of laboratory data. In the face of such pervasive use, undoubtedly many laboratorians (and related health care professionals) take these statements as facts, despite a lack of any obvious attribution or correlation. Is it therefore time for clinical laboratories to stop touting this statistic and instead focus on real, established data depicting the impact of laboratory operations?
Sustaining the 70% Claims
It is notable that these claims are particularly common during Medical Laboratory Professionals Week (Lab Week). Some version of them can be found on the websites of large reference laboratories, academic medical center laboratories, and clinical laboratory associations, as well as in their literature and in Lab Week celebratory postings. Social media has provided a broader outlet and these claims are even commonly espoused in the form of a meme (such as a Lego figurine as a lab tech or Rosie the Riveter voicing the claim).
Furthermore, having attended two large clinical laboratory conferences this past spring, I heard multiple speakers take the spread of these well-traveled statements by referring to them as well known facts. However, is this claim really a well-known fact or simply an easily believable fallacy? A fact has the quality of being actual and hinges on evidence. We in the clinical laboratory strive to produce the most accurate and precise test results using evidence-based methods, so why do so many accept the 70% statement as fact without questioning the truth behind its claim?
Perhaps most compelling: It sounds plausible. Second, it is a statement intended to elicit positive feelings within the clinical laboratory industry, so when the statistic is heard, it is easily believed and repeated. As the old adage goes, "If you repeat a lie often enough, people will believe it, and you will even come to believe it yourself." This is known in psychology as the illusion of truth effect.1 While the 70% claim is not necessarily a lie, there is not much evidence to substantiate it as truth. Rather, the illusion of truth effect has taken root with this claim, allowing it to run rampant through our profession.
History of the Claim
In a 2011 study of the 70% claim from the United Kingdom, the author explains his research:2
The earliest published reference to the claim, and the one most frequently cited, is from 1996, by Forsman at the Mayo Clinic in the USA. The author states: "We know that, although the laboratory represents a small percentage of medical center costs, it leverages 60 – 70% of all critical decisions, eg, admission, discharge and therapy". The evidence for this is not provided in the paper, but in an interview with Clinical Laboratory News in 2004, Forsman is quoted as saying: "…the statements that have been made take two forms. The first is that the laboratory represents 5% of a health system's costs, yet it affects 95% of the remaining costs. The second statement is that the laboratory contributes 80% of the objective data in the clinical record and influences 60% – 70% of critical decision making. Unpublished sources for these statements include conversations with Dr. Peter Dysert at Baylor University in Houston, Texas, and Dr. Michael Becich at the University of Pittsburgh."
Performing a simple Google search on the 1996 Mayo article3 indicates it having been cited by 273 (and counting) related papers, as of September 2017. After scanning a random sampling of the papers that cited the Mayo paper, I found the 70% claim was usually quoted as fact with no further study or evidence to back it up. Whether the initial claim was based on a scientific study is irrelevant; without published data (ie, evidence), we as scientists cannot simply take the claim at face value and then cite it as fact.
Furthermore, the 70% claim is not just a US phenomenon. Notably, in a 2013 paper from Australia on the need for evidence based laboratory medicine, the author states, "There is also the very real concern that much of the research literature may not be reproducible so a critical appraisal of any paper is essential."4 It is interesting then, that this same paper quoted the 70% claim, with no apparent critical appraisal.
Another detailed article from 2009 describes the laboratory testing cycle and its importance in diagnostic decision making.5 Clinical performance concepts such as accuracy, precision, sensitivity, specificity, positive predictive value, and receiver-operator characteristic curves were discussed at length to assist the reader in assessing the accuracy of diagnostic tests. The article then concludes by quoting the 70% claim without further evidence or explanation.
The Fallacy of Data Volume
The 70% claim has two parts: 70% of medical decisions are based on laboratory diagnostics, and 70% of a patient's medical record is composed of lab data. Much like the first part described above, the second claim is debated in other anecdotal studies in the field of pathology informatics.2,6 This statement is better supported in the literature, although the percentages vary between articles.
It is important to not confuse the two claims, because the amount of data in the medical record is a poor proxy for the importance of the data in the care of an individual. The concept of the volume-equals-importance fallacy regarding laboratory data is another recent area of study. A 2016 paper remarked: "Among the variables that influence medical decisions, laboratory tests are considered to be among the most important and frequently used. The influence of laboratory tests on medical decisions has been difficult to estimate. The goal of this study was to estimate the number of patient encounters that included a laboratory test."7 The authors concluded, "Our observations support that it is not possible to use a single number to categorize the frequency with which laboratory tests occur in patient encounters."
These conclusions tend to beget further questions. Is the frequency of laboratory test occurrences in the patient medical record equal to the importance of each test result toward medical decision making? Does sheer volume of data correlate to high levels of influence on medical decisions? It is important to note that many of the studies purporting to claim that 70% of a patient's medical record is composed of laboratory data were published before the advent of digital radiology and when many hospitals largely utilized paper-based information exchanges (eg, notes from nursing or pharmacy to physicians) that were not necessarily added to an electronic medical record.2
Quality Over Quantity
With the shift from volume-based to value-based health care in the US, we should be concurrently shifting from volume-based ideas of the laboratory's importance to value-based realities. With this in mind, the 70% claims should be resisted in favor of more specific and evidence-based indices of value. The true value of laboratory testing resides in outcomes (in this case defined as the results of medical interventions in terms of health or cost),8 which provide the only real measure of impact.
A 2009 Lewin Group report on the value of laboratory tests notes that, "In order to influence outcomes, a laboratory test must be ordered, conducted, returned with results on a timely basis, appropriately interpreted, and affect a decision for further diagnosis or treatment that results in changes in outcomes."9 However, as noted by Hallworth, "It's clear to everyone who works in laboratories that, unless we help them, clinicians use lab tests badly. No matter how good a lab test is, if it isn't used properly, it will never contribute to improved outcomes."6
Though an easy target for laboratorians, it is not always the fault of clinicians that lab test results are poorly used. The laboratory does not always facilitate correct test ordering, provide the result in a timely or necessary manner, or assist in interpreting the test result or its potential implications on a patient's outcome. Left alone, clinicians face a laboratory world consisting of thousands of tests, frequently referred to by multiple names in various capacities. This persists in light of the fact that most physicians do not receive substantial education or training in laboratory medicine in medical school; a 2014 report on the current state of laboratory education in US medical schools found that the median number of hours of required course work in laboratory medicine was 12.5 hours.10 This is a small amount of course work during 4 years of medical school; unfortunately, today's medical students graduate with the impossible challenge of ordering the correct tests, and only the correct tests, from the thousands of expensive assays on the clinical laboratory test menu, with little or no education on the topic prior to graduation.11
This could be one of the reasons for the large number of unnecessary test orders at many facilities. A 2013 meta-analysis found that just over 20% of 1.6 million lab test orders were unneeded.12 Again, such findings decrease the magnitude of the 70% claims based on test result volume in a medical record.
The True Stakeholders
Clinicians are not the only stakeholders looking for value from the laboratory. The ultimate consumer, the patient, is demanding value for their health care dollars. Difficult stories abound, such as those reported in the 2013 Time magazine article Bitter Pill: Why Medical Bills are Killing Us.13 Detailing stories of patients paying exorbitant prices for lab testing, the article describes one patient having to pay several thousand dollars for laboratory testing, whereas if the patient had Medicare, the laboratory would have been paid a few hundred dollars for those same tests. The consumer cannot care less if 70% of medical decisions are made using lab tests. They want expediency and accuracy, but they also want transparency related to cost and resulting value toward their health outcomes.
The government and insurance companies loom large as stakeholders looking for value when paying for laboratory testing. In 2008, the Institute for Healthcare Improvement (IHI) published its report discussing the Triple Aim Vision, "Improving the US health care system requires simultaneous pursuit of three aims: improving the experience of care, improving the health of populations, and reducing per capita costs of health care."14 Subsequently, the US government passed the Affordable Healthcare Act in an attempt to move toward realizing the Triple Aim goals. In light of the Triple Aim, we as laboratorians must be able to demonstrate our positive impact in improving the health of the community while reducing costs; otherwise, we risk our seat at the table.
Be an Information Source
Facing the interminable question of how clinical laboratorians can add value and contribute to improved outcomes, Hallworth, et al, have said, "Medicine in the 21st century needs a flexible information resource that facilitates selection of the right test on the right patients at the right time, with results delivered in a timely fashion to the right place accompanied by context-specific impetration and, where appropriate, linked to guidance on agreed action to be taken."15 Laboratory professionals could and should be that information source. We are uniquely positioned to help clinicians identify the most effective testing protocol and interpret the results accurately and in a timely fashion. Clinical laboratorians can further reduce health care costs by developing new, more precise tests to personalize patient care and creating computerized clinical decision support interventions to aid test selection and interpretation.16
Many researchers and organizations are working on clinical support programs that will help laboratories educate clinicians and provide the tools necessary to positively affect outcomes and provide real value. One such program, Project Santa Fe, was established to provide thought leadership and to help develop the evidence base for the valuation of clinical laboratory services in the next era of American health care.17
Conclusion
As Forsman noted in his 1996 paper, the clinical laboratory represents a small percentage of the total health care expenditure, yet it has the potential to impact the total cost of care, including hospitalizations, emergency room visits, and pharmaceutical costs. Thus, laboratories can provide value toward outcomes by using real time actionable data to affect executive level policy decisions, care management workflow, provider engagement, and individual patient treatment decisions.
All health practitioners agree the laboratory is vital to overall health care, but I believe it is time for laboratory professionals to drop the 70% volume-based claim in favor of evidence-based indices of added value that focus on collaborative caregiver group models, thereby impacting patient outcomes and costs. By doing so, clinical laboratorians can demonstrate to the world the true value of laboratory medicine through their actions instead of words.
References
Stafford T. How Liars Create the 'Illusion of Truth.' British Broadcasting Corporation. October 26, 2016. Accessed 9/19/17. www.bbc.com/
future/story/20161026-how-liars-create-the-illusion-of-truth
Hallworth MJ. The '70% Claim': What is the evidence base? Ann Clin Biochem. 2011;48(6):487–8. PMID: 22045648.
Forsman RW. Why is the laboratory an afterthought for managed care organizations? Clin Chem. 1996;42(5):813–6.
Badrick T. Evidence-Based Laboratory Medicine. Clin Biochem Rev. 2013;34(2):43-46.
Wians FH. Clinical Laboratory Tests: Which, Why, and What Do the Results Mean? Lab Med. 2009;40(2):105-113.
Hallworth M. The (True) Value of Laboratory Medicine. The Pathologist. Issue 1015. Accessed 9/19/17. https://thepathologist.com/issues/1015/the-true-value-of-laboratory-medicine/
Ngo A, Gandhi P, Miller WG. Frequency that Laboratory Tests Influences Medical Decisions. J App Lab Med. Accessed 9/19/17. http://jalm.aaccjnls.org/content/early/2016/11/08/jalm.2016.021634
Bissell MG. Laboratory-related measures of patient outcomes: an introduction. Washington: AACC Press; 2000. p 194.
The Lewin Group. The Value of Laboratory Screening and Diagnostic Tests for Prevention and Health Care Improvement. http://www.lewin.com/content/dam/Lewin/Resources/Site_Sections/Publications/Lewin_Value_LabTesting_Sept_2009.pdf. Accessed 06/09/2017.
Smith BR, Kamoun M, Hickner J. Laboratory Medicine Education at U.S. Medical Schools: A 2014 Status Report. Acad Med. 2016;91(1):107-12.
Laposata M. Insufficient Teaching of Laboratory Medicine in US Medical Schools. Acad Pathol. 2016;3:1-2.
Zhi M, Ding EL, Theisen-Toupal J, et al. The landscape of inappropriate testing: a 15-year meta-analysis. PLoS One. 2013;8(11):e78962.
Brill, S. Bitter pill: how outrageous pricing and egregious profits are destroying our health care. Time. 2013;181(8):16-24,26,28.
Berwick DM, Nolan TW, Whittington J. The Triple Aim: Care, Health, and Cost. HealthAffairs. 2008;27(3):759-69.
Hallworth MJ, Epner PL, Fantz CR, et al. Current evidence and future perspectives on the effective practice of patient-centered laboratory medicine. Clin Chem. 2015; 61(4):589-99.
American Association for Clinical Chemistry. Advancing Value-Based Healthcare: Laboratory Medicine's Essential Role. May 30, 2017.
https://www.aacc.org/health-and-science-policy/advocacy/position-statements/2017/advancing-value-based-healthcare-laboratory-medicines-essential-role. Accessed 9/20/17.
Crawford JM, Shotorbani K, Sharma G, et el. Improving American Healthcare Through "Clinical Lab 2.0": A Project Santa Fe Report. Aca Path. April 2017;4:1-8.
---

Michael J. Hiltunen, MBA, MT(ASCP), CLC(AMT) is president of MedStar Consultants and the executive director of the GreatLakes Laboratory Network. A certified laboratory consultant, as well as a certified sales coach and trainer with over 30 years of experience working in a variety of hospital laboratory settings, Michael has held positions ranging from medical technologist to outreach client sales rep, through outreach client services manager and laboratory director. He formed MedStar Consultants in 2013 to provide laboratory consulting services to clinical laboratories that wish to leverage outreach services to maximize revenue potential.
Like what you've read? Please log in or create a free account to enjoy more of what www.medlabmag.com has to offer.
Current Issue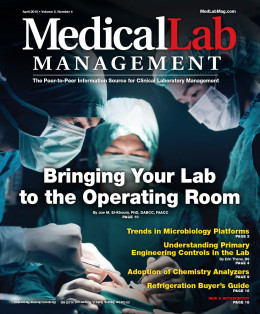 Subscribe to our Email Newsletters!
In The Loop!
Digital Edition
Special Announcements