The ABCs of IQCPs
October 2017 - Vol. 6 No. 8
- Page #16
Individualized Quality Control Plans (IQCPs) represent a documented strategy that uses risk management techniques to prevent failures and detect non-conformities before reporting incorrect results. Building on testing device quality, current policies and procedures, and risk reduction features, an IQCP allows for the development of lab-specific, customized QC taking into consideration the environment, laboratory operators, and patient population. These plans often serve to save money for the overall organization through a reduction in waste. If your laboratory is researching the option of QC that differs from the Clinical Laboratory Improvement Amendments (CLIA) minimum of two levels each day of testing, consider the implementation of an IQCP when manufacturer instructions recommend a QC frequency less than that of CLIA.
To read the full article, please log in or register.
Current Issue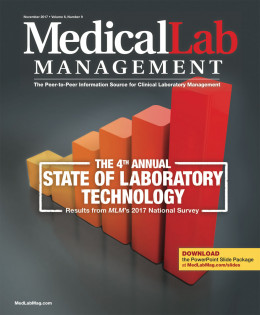 Subscribe to our Email Newsletters!
In The Loop!
Digital Edition
Special Announcements