Bridging Technologies for Operational Equilibrium
State of Laboratory Technology 2017 - Vol. 6 No. 9
- Page #4
As technological breakthroughs continue to be made in laboratory science, clinical labs remain reliant on fundamental technologies to manage day-to-day operations; one glance at the list of Key Technologies on page 5 bears this out. However, as these stalwart technologies also continue to grow in sophistication and features, there remains a need to unite data producing instruments together in order to harness the significant power of transparent, near-real-time operations information. Moving forward, clinical laboratory operations will continue to depend heavily on technology advancements, comprising a variety of automated and manual diagnostic instruments, bridging middleware, software-based algorithms, and developing methodologies. Given this dependence, MedicalLab Management will continue to examine the context of these technologies.
To read the full article, please log in or register.
Current Issue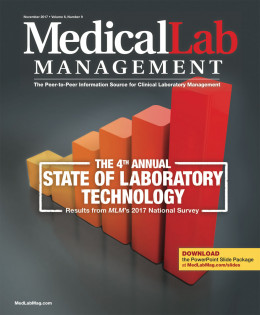 Subscribe to our Email Newsletters!
In The Loop!
Digital Edition
Special Announcements