LIS
State of Laboratory Technology 2017 - Vol. 6 No. 9
- Page #11
Article Category:
The laboratory information system (LIS) serves as the central information hub and clearinghouse for most clinical laboratories. Given the wide range of clinical lab sizes and degrees of sophistication, LIS providers of all sizes and specialties have market appeal. As clinical testing and information systems become more advanced and further intertwined, continual refinement of the LIS is imperative to the success of lab operations.
To read the full article, please log in or register.
Current Issue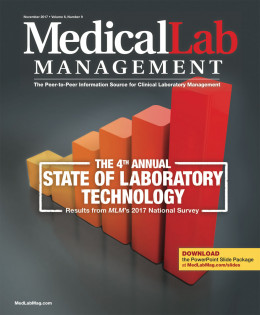 Subscribe to our Email Newsletters!
In The Loop!
Digital Edition
Special Announcements